Wondering what the best brightening serum on the market right now is? You aren't alone! If you're looking to lighten and brighten your skin for 2024, getting that desired skin glow doesn't have to be a struggle. In fact, we at Speaking Skincare have compiled the absolute BEST top 10 brightening serums that you definitely need to check out!
We have tried, tested, and reviewed every product on this list, so you can rest easy knowing we've done our homework! So sit back, relax, grab a cup of tea (or a glass of wine) and take your pick from these shining star brightening serums.
*Whispers*… And keep your eyes open for some exclusive discount codes!
1. The Bright & Quenched Serum by Deascal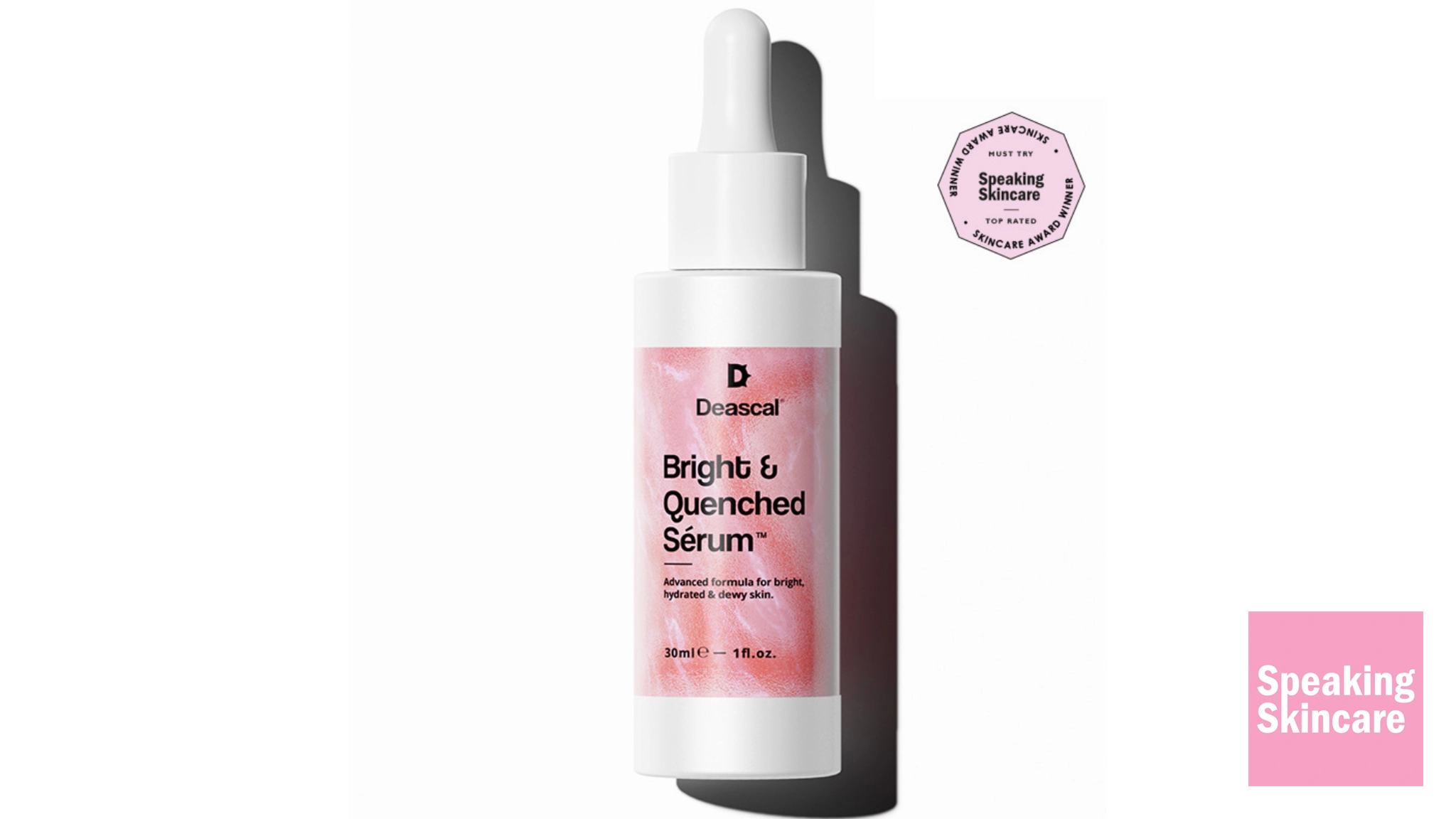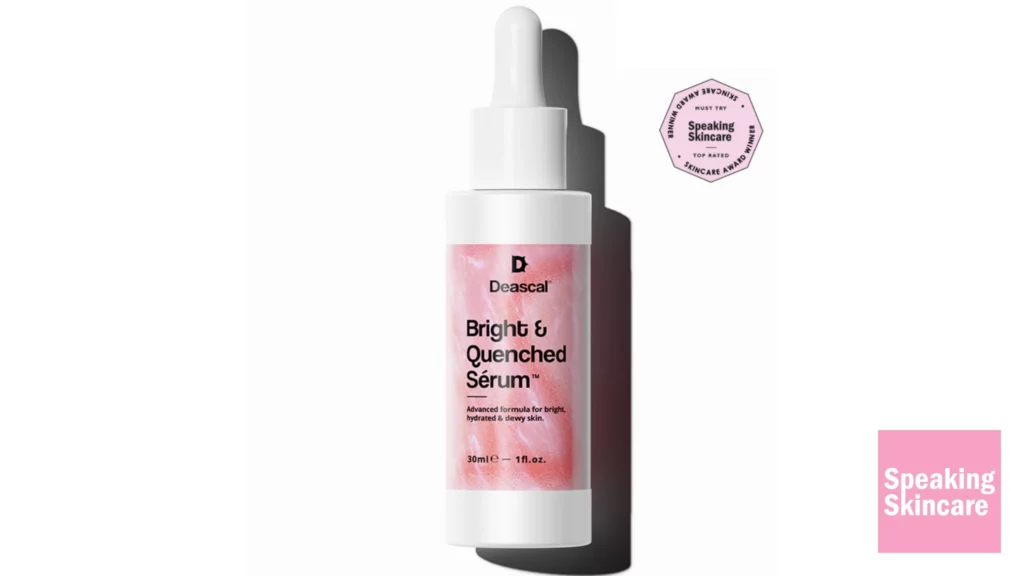 Navigating the world of brightening serums can feel overwhelming, but the Bright & Quenched Serum by Deascal stands out like a gleaming diamond. Here's a snapshot of why it's causing waves in the beauty community:
Meet the Bright & Quenched Serum by Deascal
The serum is more than just a brightener; We're talking about a transformative elixir that actually delivers sensational radiance and deep hydration. Imagine waking up every morning with skin that feels as if you've just stepped out of a luxury spa. It's THAT good!
It's also cruelty-free! So, as you radiate, you know you're supporting ethical beauty. It's designed for most skin types, and with its 30ml capacity, it lasts a good while. Plus, Deascal? They're emerging as the beauty world's darling!
Super Key Ingredients
The magic lies in its potent mix:
Panthenol: Dive into a deep pool of hydration!
Allantoin: Let your skin soak in pure comfort and softness.
Succinic Acid: Wave goodbye to dullness and say hello to a brighter, more vibrant you!
Sodium Ascorbyl Phosphate: Even skin tone? Check! Radiant glow? Double check!
Liposomal Retinol: Refresh, renew, and rejuvenate! It's like hitting the reset button on your skin.
Each drop is formulated to make you feel like the best version of yourself, glowing from the inside out!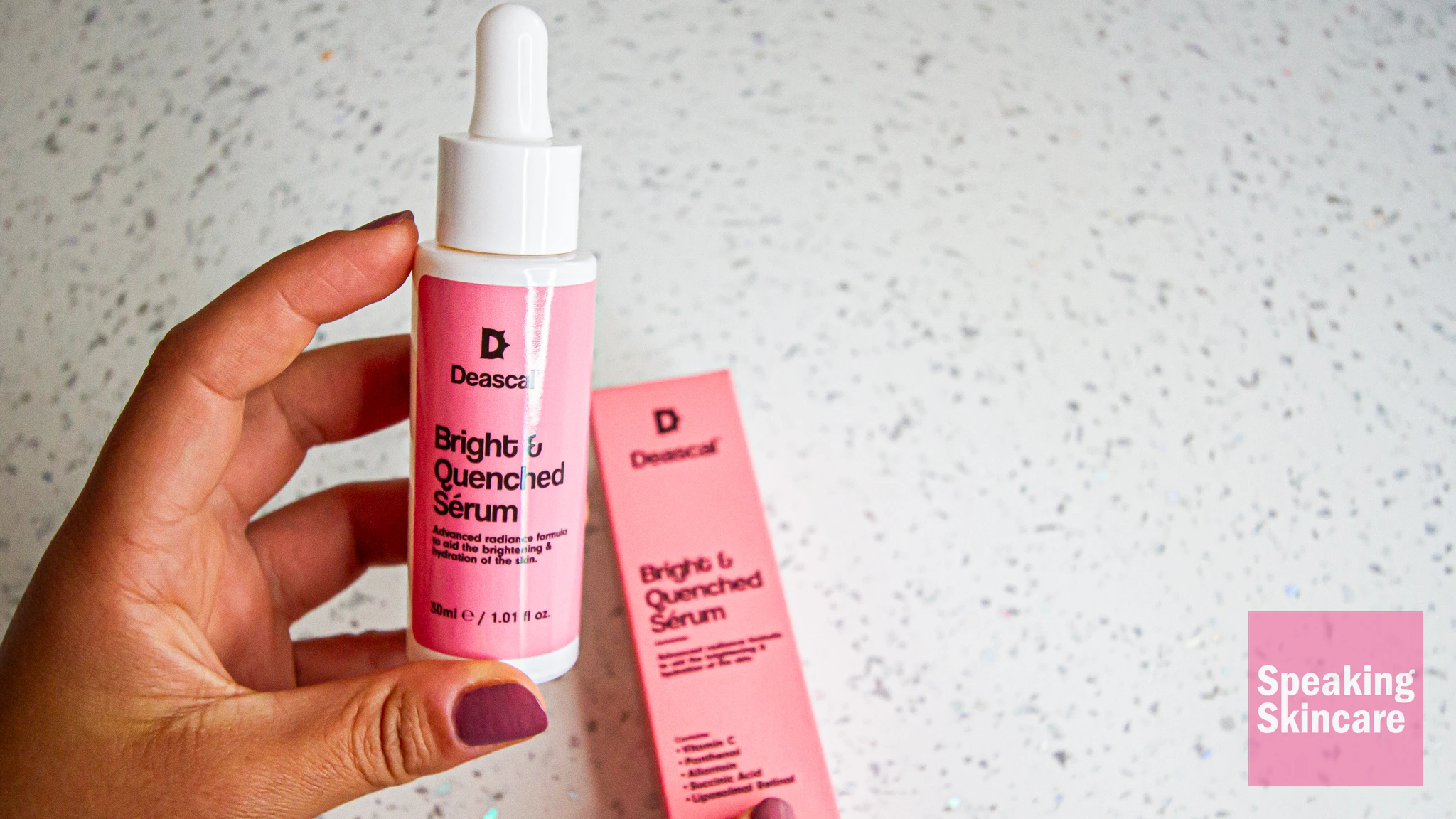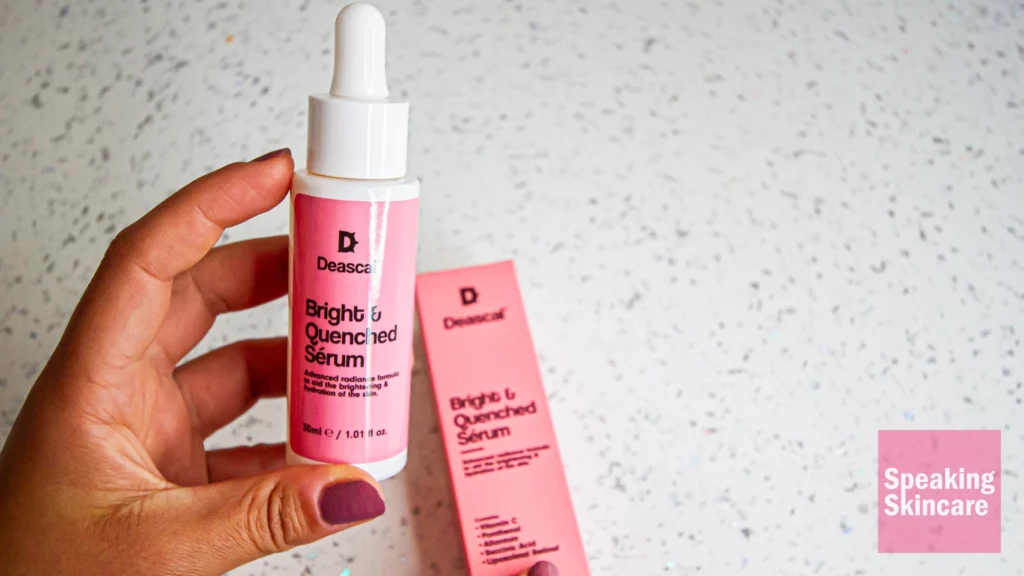 Experience the Magic, Firsthand! ✨
First impressions? Think liquid silk, an aroma that whispers luxury, and a transformation that shouts confidence! Over weeks, watch those stubborn dark spots fade, feel the texture of your dreams, and embrace the skin that doesn't just look alive—it IS alive, vibrant, and absolutely radiant. When even your video call buddies sit up and take notice, you'll know it's not just hype—it's REAL results!
It's Not Just a Serum; It's an Experience!
A consistent routine with Deascal's Bright & Quenched Serum isn't just skincare; it's self-care. The glow, the compliments, the confidence—it's all waiting for you. Want to know more? Check out our in-depth review of Deascal's Bright & Quenched Serum if you need help making your mind up.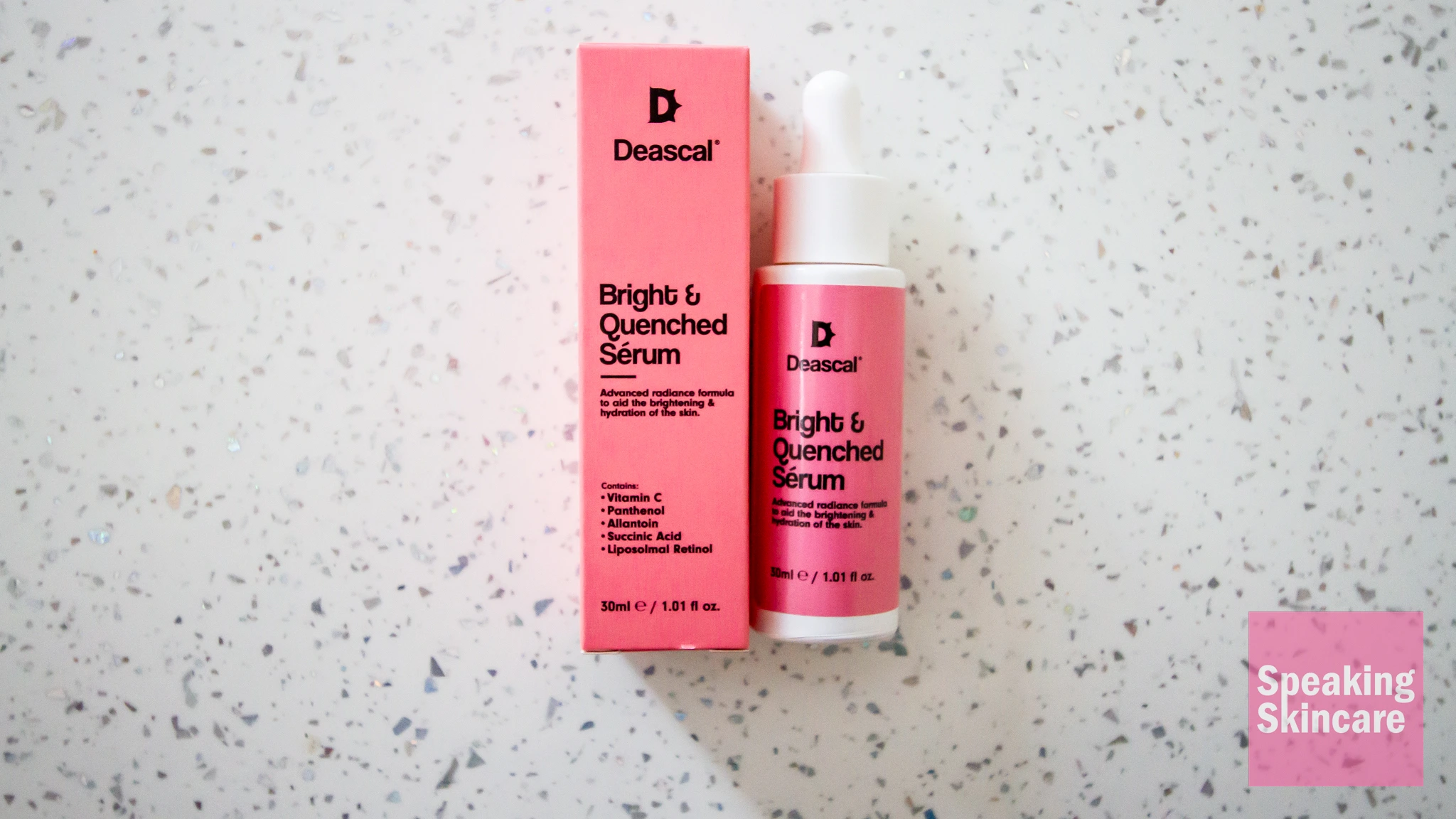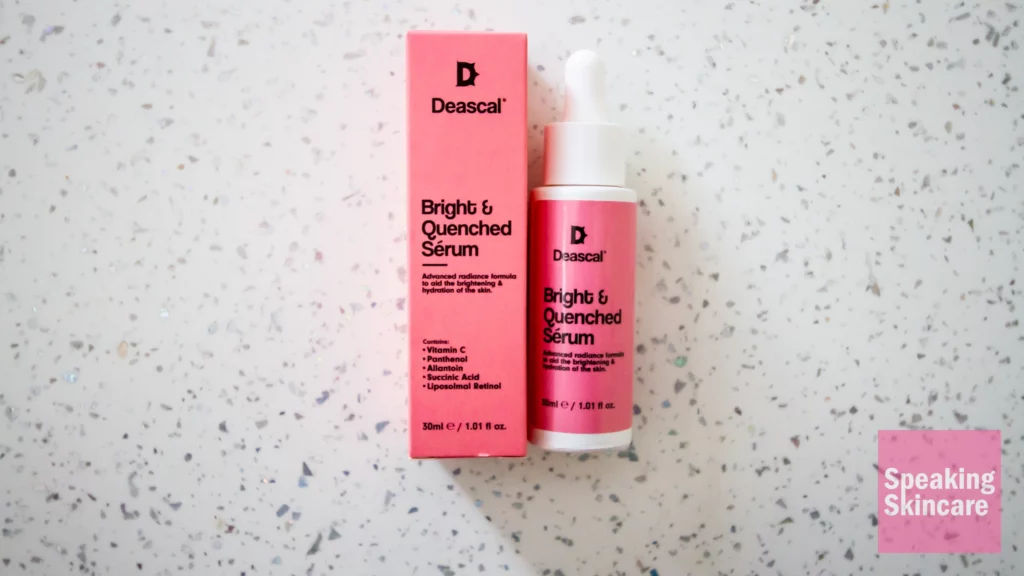 Final Thoughts
As a top-tier brightening serum, the Bright & Quenched Serum by Deascal earns a solid 10/10. Not only is the formula effective, but Deascal's reputation in the skincare realm amplifies trust. Anyone seeking a skincare transformation should definitely consider this gem. And a cherry on top? There's a 10% discount waiting with the code SpeakingSkincare10 on Deascal's website.
So, for those eager to embrace that glow, this serum is undoubtedly a must-try! It definitely deserves to be crowned as the best brightening serum for 2024.
Hats off, Deascal!
2. Beekman 1802 Golden Booster Amla Berry Face Serum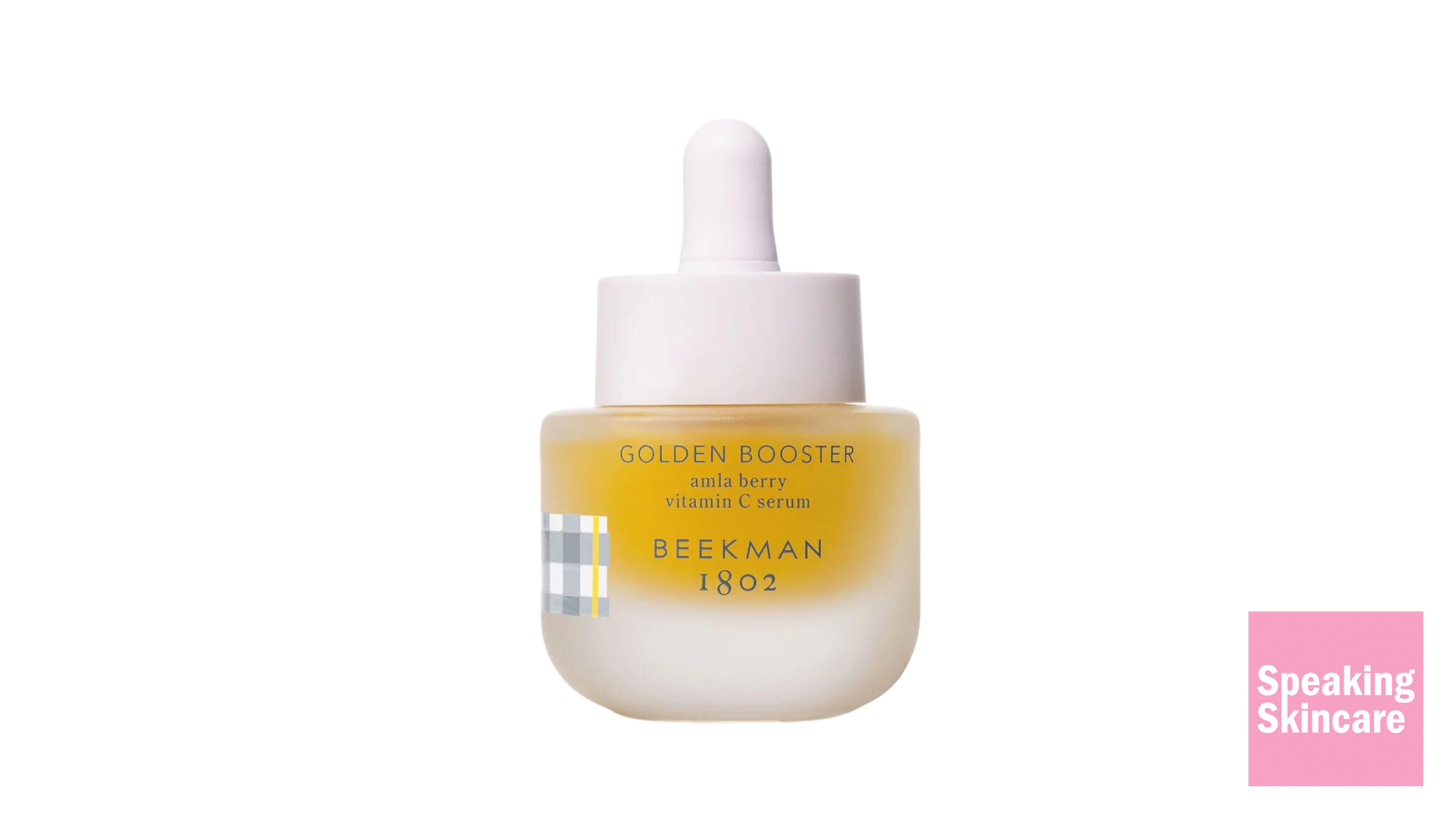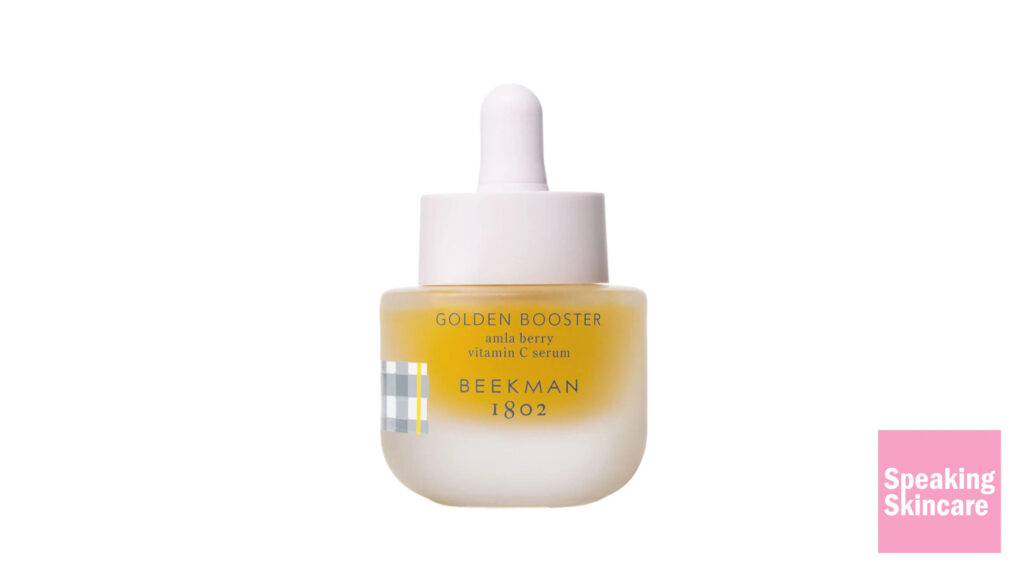 If you're seeking a serum to revitalize dull skin and achieve a more radiant complexion, the Golden Booster Amla Berry Face Serum from Beekman 1802 stands out! In fact, it's one of the best brightening serums out there on the market.
Why Choose Golden Booster Vitamin C Brightening Serum?
Proven Results: Many users, including professionals, have praised its ability to enhance skin brightness, even out complexion, and diminish dark spots.
Tailored for Sensitive Skin: It's a dream come true for those with dry and sensitive skin. And bonus, it's cruelty-free!
Star Ingredient – Amla Berry: Boasting 20 times more vitamin C than an orange, this natural ingredient is a game-changer.
Quick Absorption & Smooth Finish: Users love its non-greasy, silky finish, perfect for both makeup days and going natural.
Impressive Ingredients: Apart from amla berry, it's loaded with glycerin for moisture, licorice root extract to tackle dark spots, and niacinamide to boost skin elasticity.
After just two weeks of consistent use, noticeable improvements in skin texture and brightness can be observed. Although no serum can be hailed as flawless, the minor issues some users reported (like not fully eradicating dark spots) are overshadowed by its myriad of benefits.
For best results, it's recommended to use after cleansing and before moisturizing. With its luxurious feel, it swiftly becomes an integral part of daily skincare.
Would We Recommend It? Absolutely! It scores an impressive 8.5/10, thanks to its results, top-notch formula, and BEEKMAN 1802's stellar reputation. If you're on the hunt for a serum that delivers, especially for sensitive skin types, the Golden Booster is a solid choice. Still need convincing? Read our full hands-on review.
Ready to unlock brighter, rejuvenated skin? Give this serum a whirl. You can buy it now on Amazon.
3. CosMedix Simply Brilliant 24/7 Brightening Serum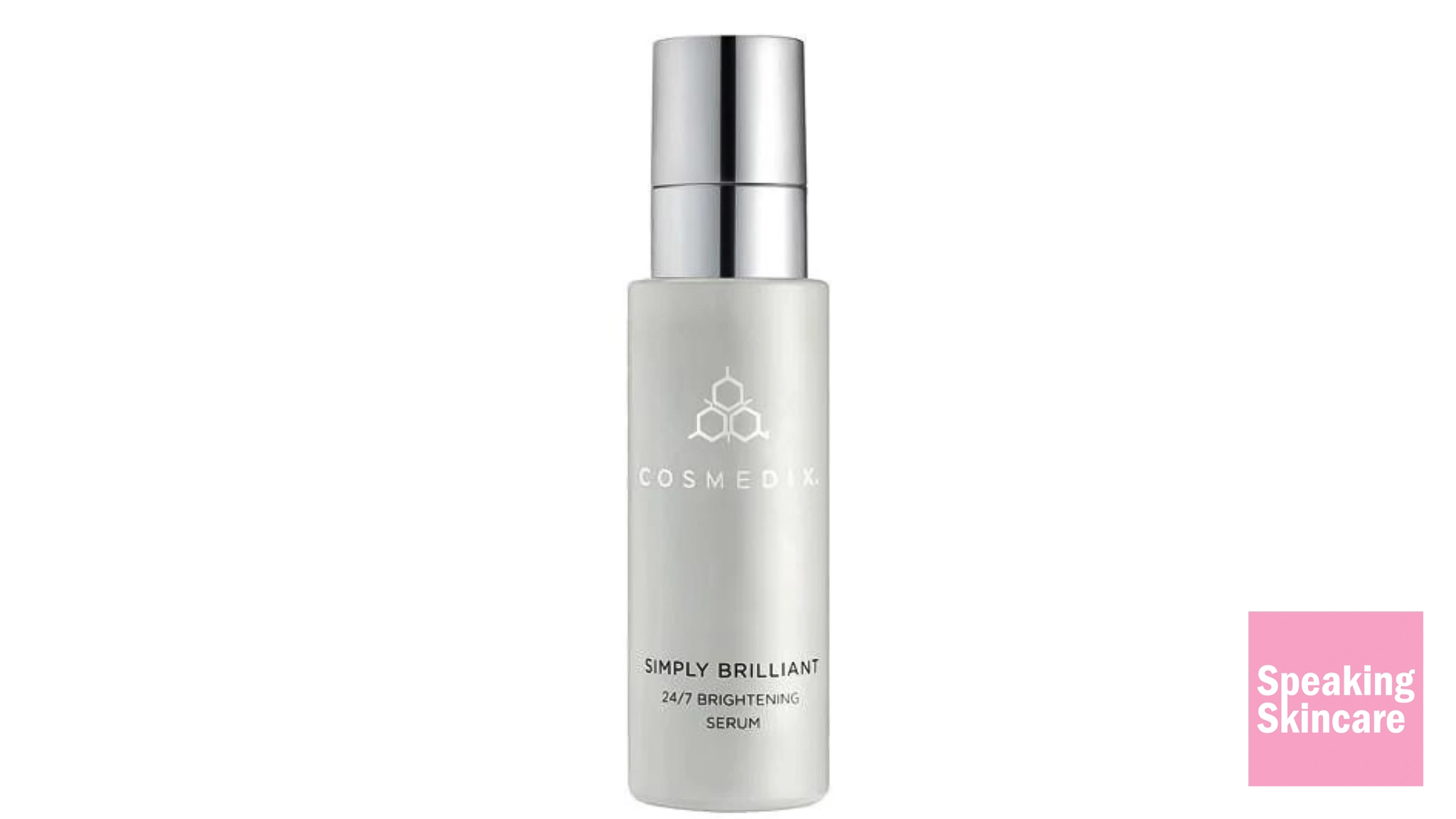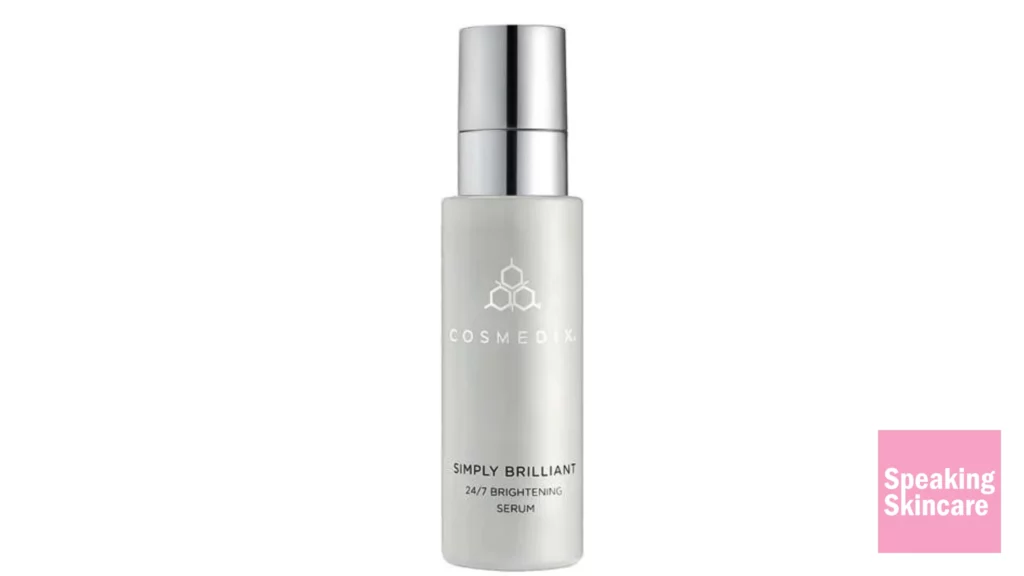 Looking for the ultimate solution to brighten dull, uneven skin? Let's dive into the standout product that's been turning heads: the Simply Brilliant 24/7 Brightening Serum by CosMedix.
This serum stands out not just for its name, but also for its results. It's specially formulated to transform dull and uneven skin into a radiant complexion. And guess what? It's cruelty-free, making it a perfect pick for those who care about our furry friends. Typically, a 30ml bottle will last around two months, and it's a great fit for most skin types. Just a heads up, if you have very sensitive skin, always do a patch test first, especially with ingredients like salicylic acid present.
CosMedix isn't new to the skincare game. They've established a strong reputation, with many swearing by their product efficacy. This serum, in particular, boasts potent ingredients such as lactic acid, niacinamide, and ferulic acid, all known for their skin-transforming properties.
So, how does it feel on the skin? Imagine ending a tiring day by treating your skin to this silky, refreshing serum. You wake up the next morning, and there it is, a glow that brightens your day even before it begins! Regular use sees that dullness fading, revealing skin that draws compliments from all corners. Sure, it has its minor downsides, like a bit of dryness or its price point, but the glowing results make these seem minuscule. Want to know more? Read our detailed review for all the tea!
Application is a dream. The serum's texture strikes the perfect balance, and it sinks into the skin like a charm. Just a pea-sized amount covers the face and neck, making each bottle a lasting investment. For best results, apply post-cleansing on dry skin to let the ingredients truly work their magic.
Let's talk ingredients:
Lactic Acid: Gently exfoliates, paving the way for brighter skin.
Niacinamide: A multitasker that reduces redness and evens out the skin.
Ferulic Acid: A top-tier antioxidant for fighting skin damage.
Salicylic Acid: Excellent for oily skin but to be approached with caution by sensitive skin.
Alcohol: Helps in enhancing penetration but might be drying for some.
In conclusion, if radiant, even-toned skin is what you're chasing, CosMedix's Simply Brilliant 24/7 Brightening Serum is a contender you shouldn't overlook. While skincare is deeply personal, and one size doesn't fit all, this serum's results speak for themselves. Ready to give your skin the boost it deserves? Grab yours from CosMedix's official website or trusted resellers. Don't miss out on brighter skin days ahead!
4. GOLDFADEN MD Brightening Elixir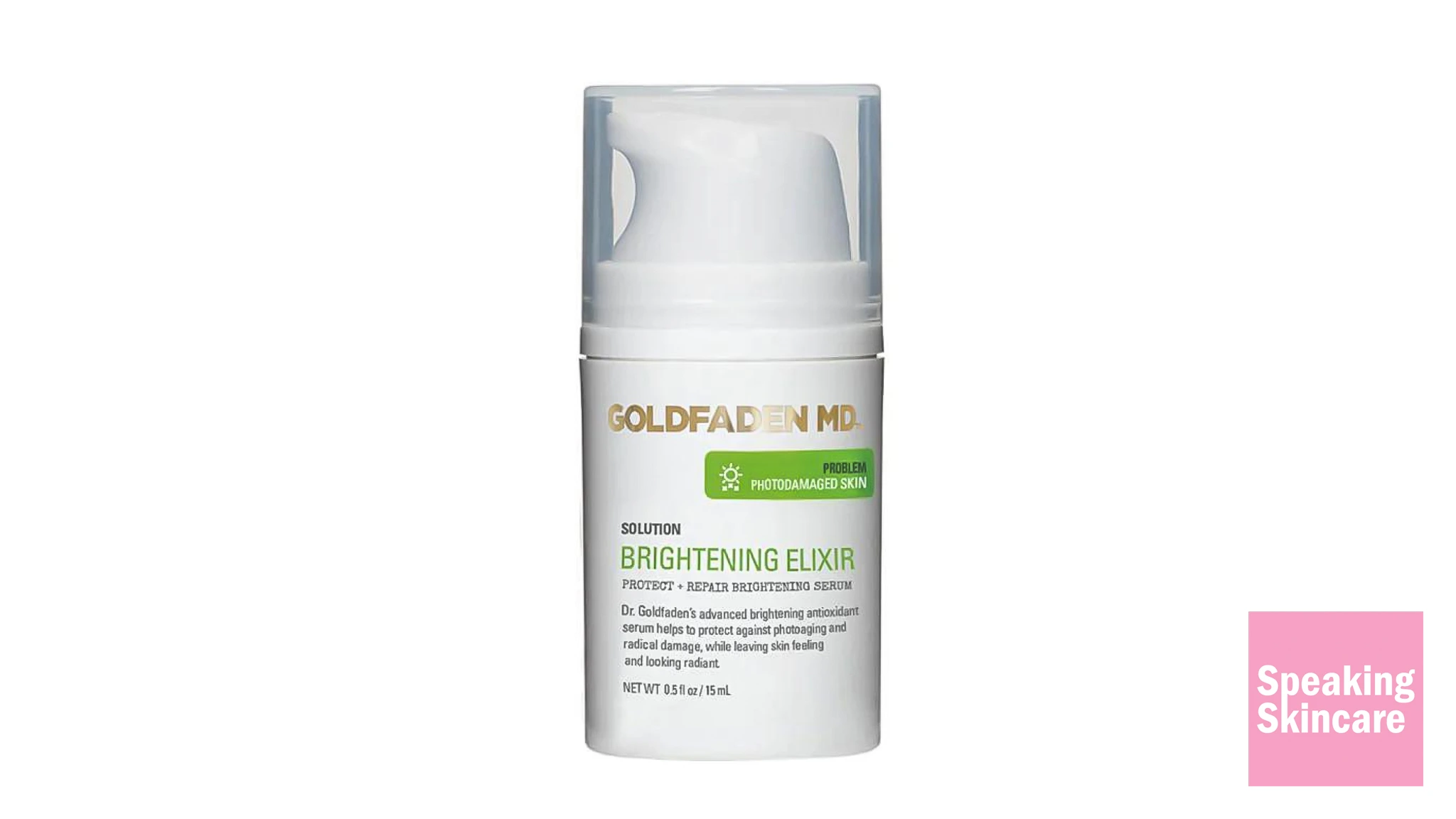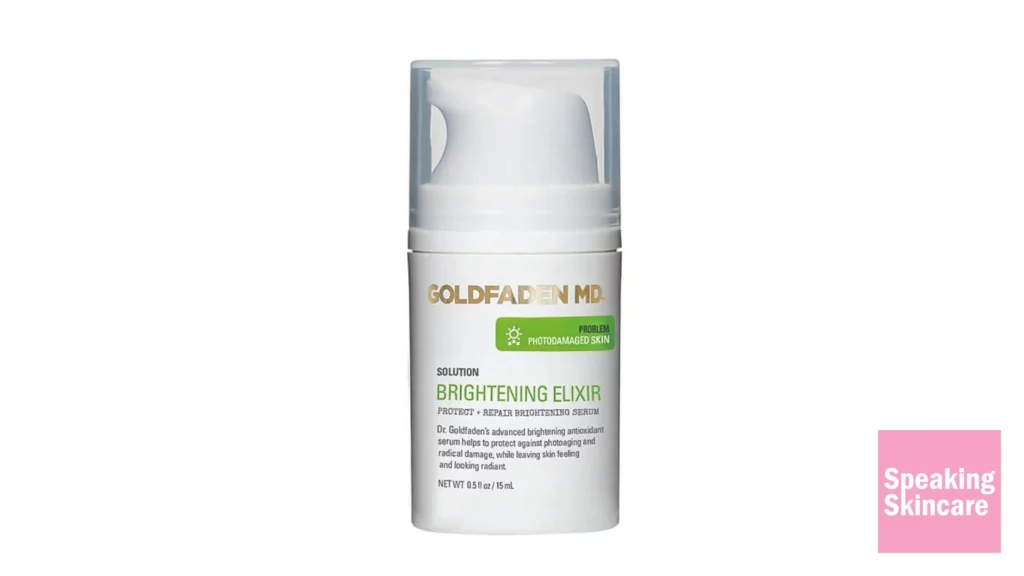 Finding that perfect product that rejuvenates your skin might seem impossible. But here's the scoop: Goldfaden MD's Brightening Elixir might just be the beacon of hope for those seeking radiant skin.
Goldfaden MD, a brand already celebrated for its exceptional products, offers this Brightening Elixir as a solution for dull and uneven skin tones. Suitable for the face, neck, and décolletage, this serum aims to reduce signs of aging. Its cruelty-free formulation is packed with powerful ingredients, promising results for 2-3 months of regular use. Though those with sensitive skin might want to proceed with caution, for many, this elixir could be a game-changer.
There's always that anticipation: will this product be a miracle worker or just another disappointment? For many, the Goldfaden MD Brightening Elixir proves to be the former. With regular application, this serum provides an immediate glow, eventually fading fine lines and evening out the skin tone. The only hiccup? A slightly sticky feel upon application and a price tag that might make some hesitate. But let's be real, the radiance and nourishment it offers make the splurge worthwhile.
Packaged in a sleek bottle, the Brightening Elixir is more than just a product; it's a skin therapy session. Three drops in the morning after cleansing can do wonders. Its potent blend of antioxidants and hydration sets the stage for any subsequent skincare layers.
But what makes it tick? A closer look at the ingredients reveals powerhouses like Sodium Hyaluronate for deep moisturization, Sodium Ascorbyl Phosphate (a form of Vitamin C) for skin regeneration, and Ferulic Acid to boost the efficiency of other vitamins. The list goes on, solidifying its position as a top-tier product.
In conclusion, while Goldfaden MD's Brightening Elixir might not dethrone everyone's favorite serum, it certainly stands tall with a commendable 8.5/10 rating. If radiant skin is what you're after, give this elixir a shot. You can find it on AMAZON today!
Need some extra convincing? Read our full review for more information.
5. HERBIVORE Nova Brightening Serum for Face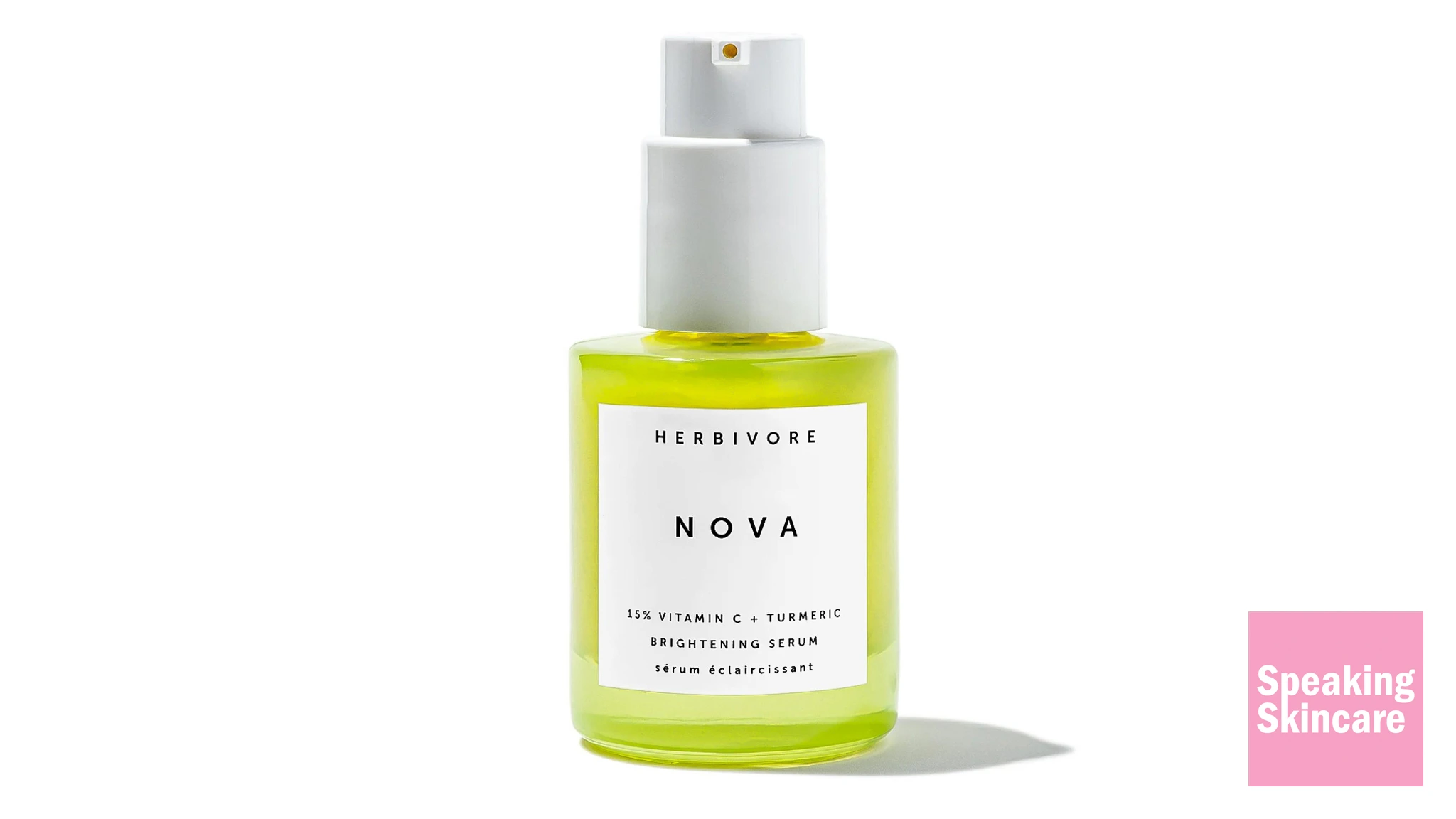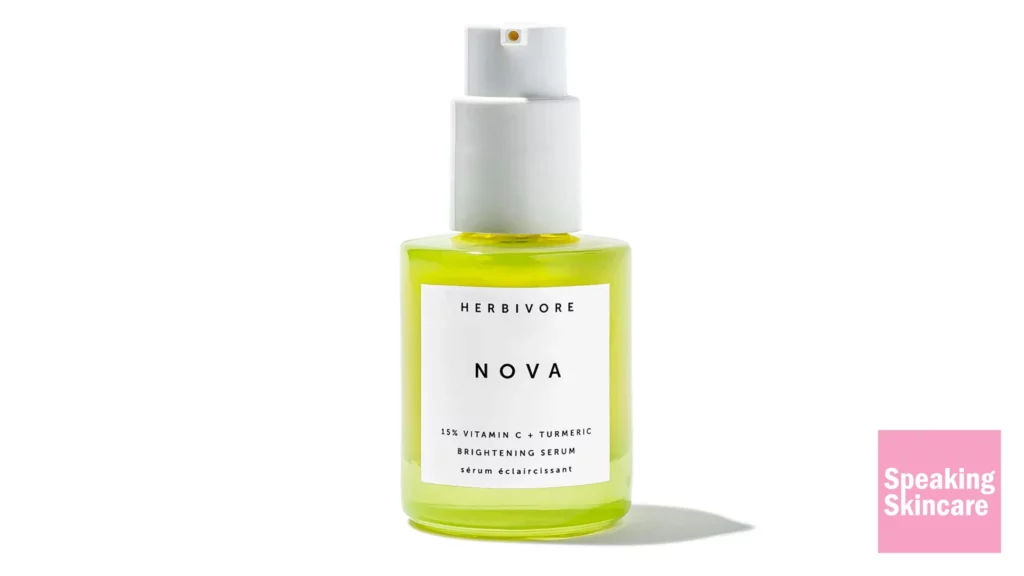 Dive into the world of the NOVA 15% Vitamin C + Turmeric Brightening Serum by Herbivore Botanicals!
NOVA isn't just another serum; it's a game-changer for those battling hyperpigmentation. A product by the trusted Herbivore Botanicals, NOVA promises deep skin penetration to target those dark spots. As a bonus, it's cruelty-free and free from synthetic ingredients. More good news? A 30ml bottle can be your skin's buddy for two months, suitable even for sensitive skin types.
So, what's the magic behind NOVA? THD vitamin C and turmeric are the star performers. But it doesn't stop there. Other key ingredients like Sodium Hyaluronate keep the skin hydrated and plump, while Squalane ensures moisture without clogging those pores.
But does it really work? Well, many have incorporated this golden-hued serum into their nightly routine and have seen brighter and more even-toned skin in just a month. Some even received compliments on their rejuvenated, glowing complexion during virtual meet-ups! Don't believe us? Read our full review for proof! But remember, every product has its quirks. With NOVA, while the results are praiseworthy, the unique scent might take a moment to grow on you, and the price might be a tad on the higher end.
For the best results, after cleansing and toning, apply 3-4 drops of NOVA before your moisturizer, letting those active ingredients sink deep.
So, should you grab this serum? The evidence leans towards a confident "yes!" The blend of standout ingredients promises effective results. Just keep in mind the price and scent before diving in. Ready to give it a shot? Find NOVA 15% Vitamin C + Turmeric Brightening Serum by Herbivore Botanicals on AMAZON today. Give your skin the glow it deserves!
6. Grown Alchemist Age-Spot Corrector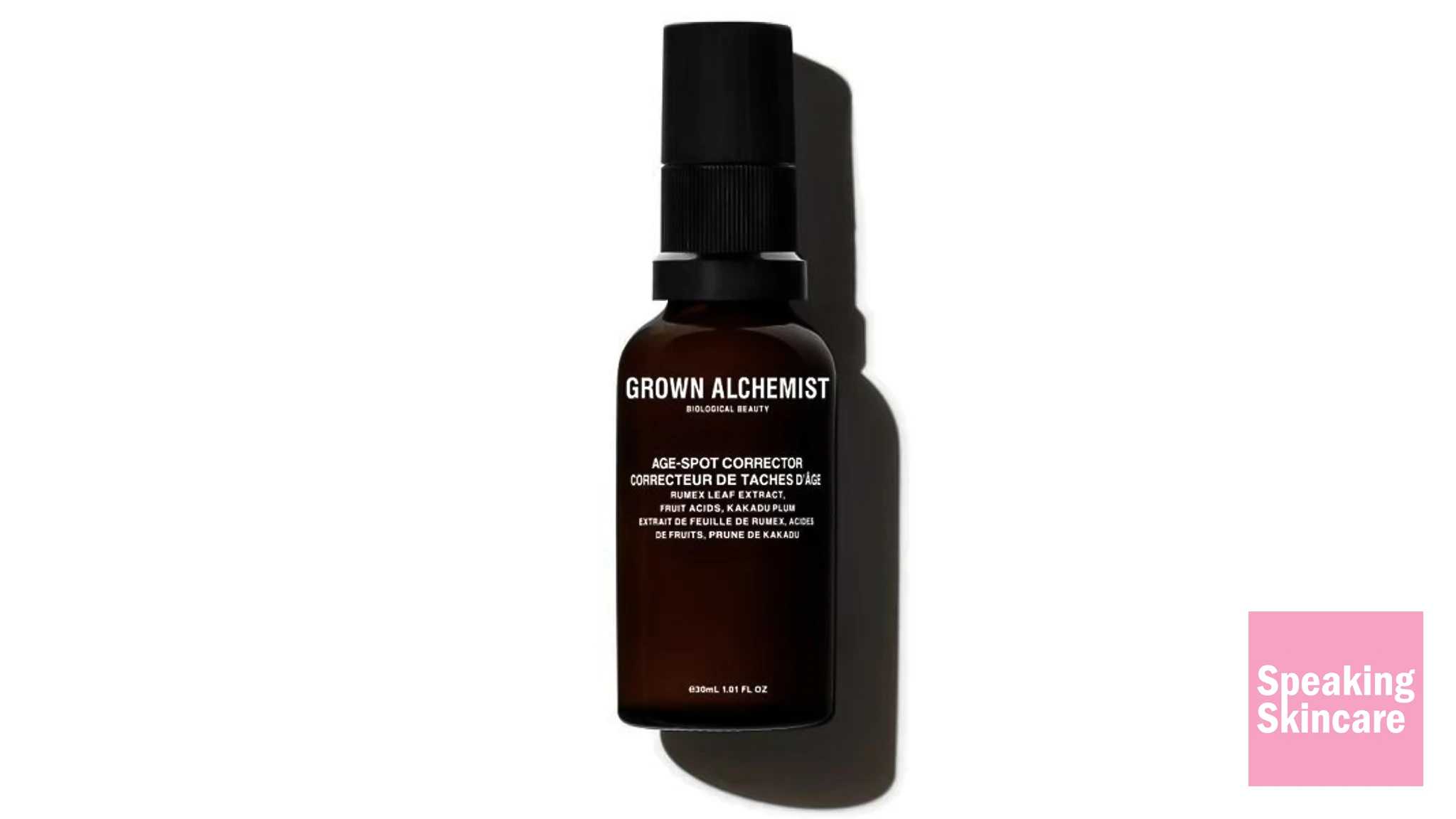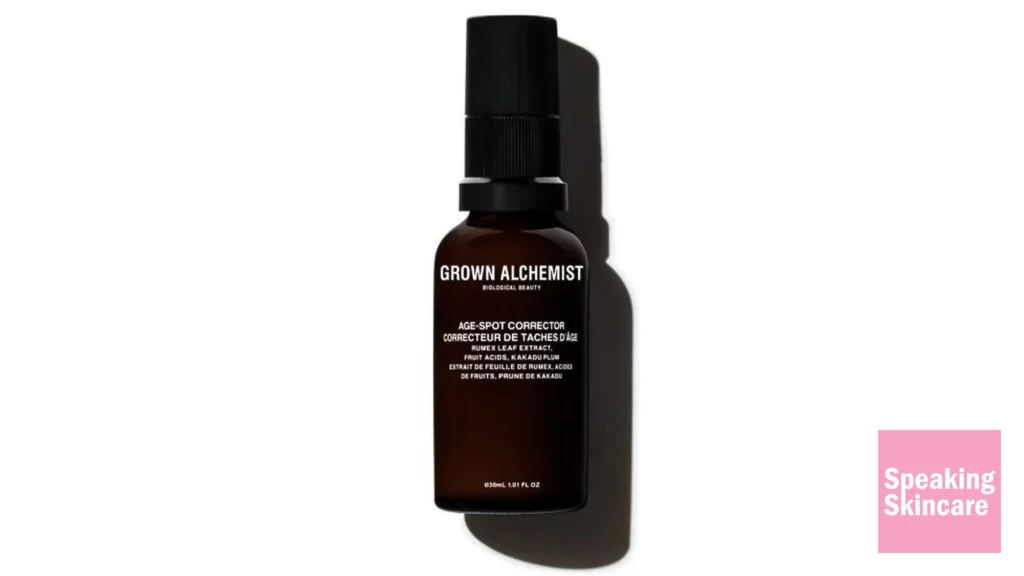 For those wrestling with dark spots or hyperpigmentation, the Age-Spot Corrector by Grown Alchemist promises brighter, even-toned skin. It's cruelty-free and lasts for months, ensuring you get great value. While suited for all skin types, if you've got sensitive skin, it's wise to do a patch test given its potent ingredients.
Grown Alchemist, the brand behind this marvel, is renowned and trusted. Some standout ingredients in the Age-Spot Corrector include Vitamin C, Kakadu Plum, and Hyaluronic Acid. These power players brighten, hydrate, and rejuvenate the skin.
Using this serum feels luxurious. Picture this: at the end of a long day, you're treating your skin to a rich, velvety serum that glides on smoothly. Within weeks, you'll notice a more radiant complexion, diminished dark spots, and enhanced hydration.
That said, no product is perfect. On particularly humid nights, its rich texture might feel a tad heavy. And the premium price might make you think twice.
But for those in pursuit of brighter, smoother skin, the Age-Spot Corrector is a solid contender. This serum certainly delivers. Interested? Grab yours from Grown Alchemist's official site or authorized dealers.
7. Rose Gold Radiance Booster by 111SKIN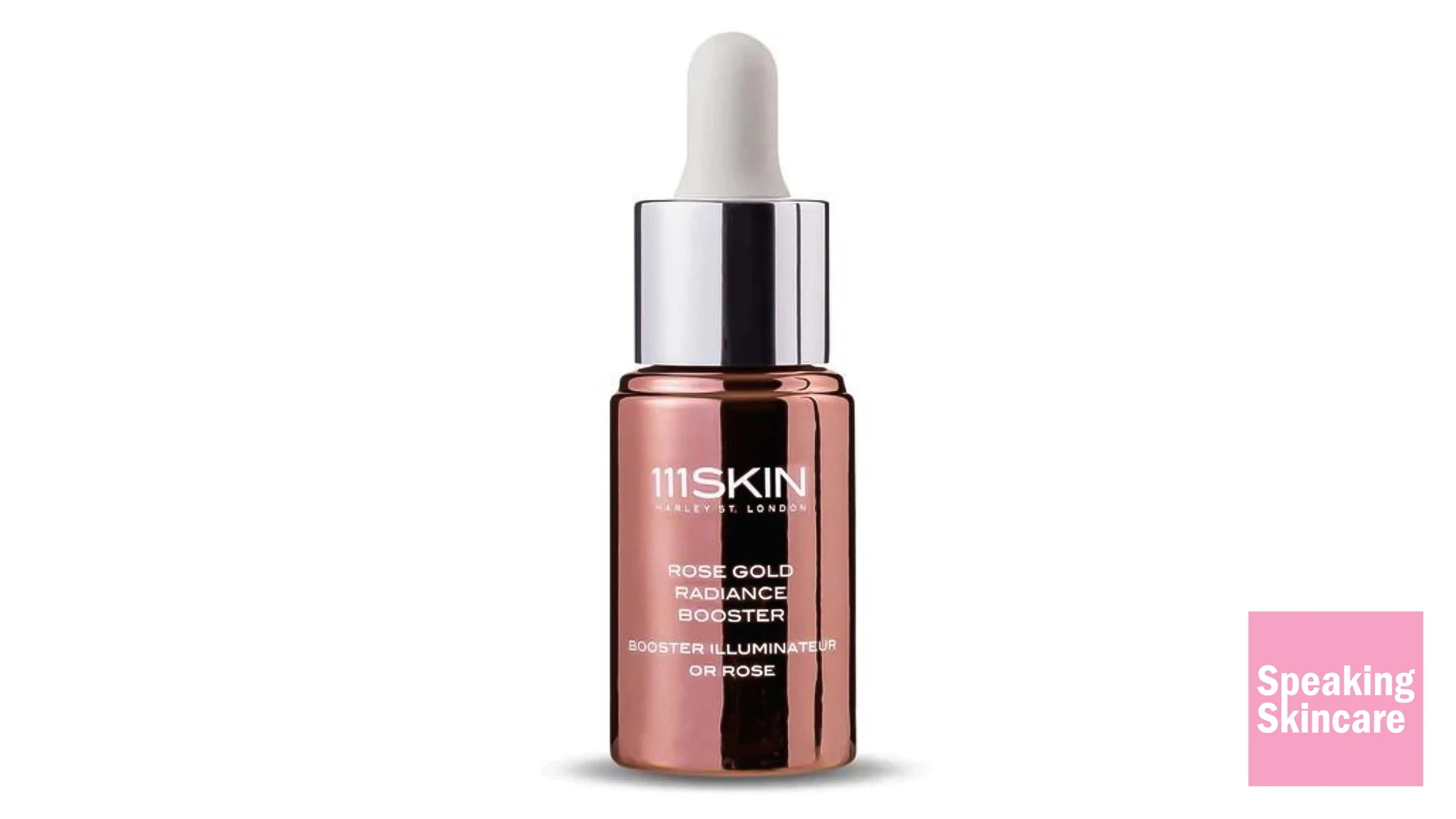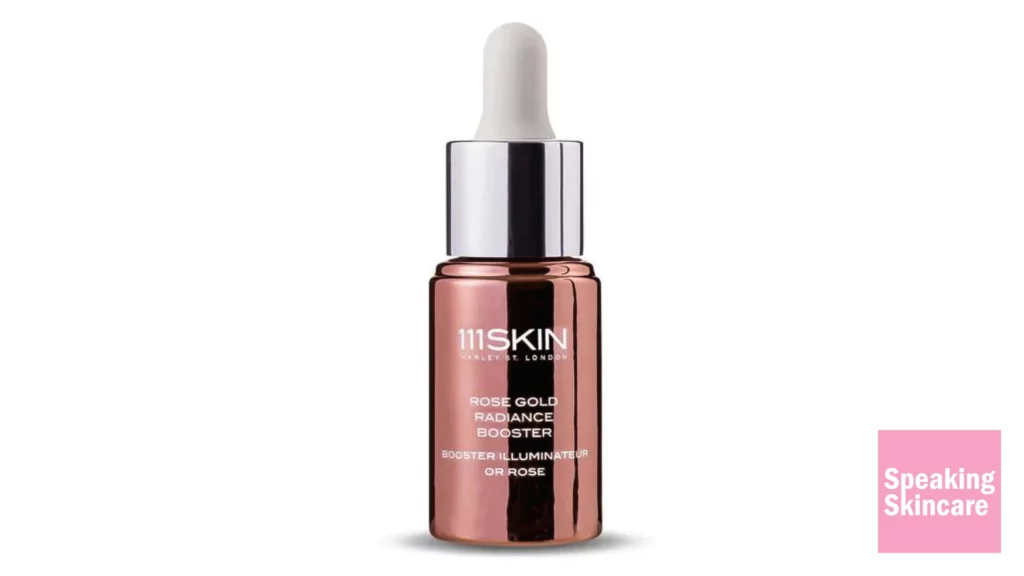 Searching for that ultimate skin glow? Let's face it, the search can be overwhelming with countless products out there. But here's the good news: the Rose Gold Radiance Booster by 111Skin might just be the answer.
111Skin is a brand with a proven track record. So, when they introduce a product like the Rose Gold Radiance Booster, designed to amplify your natural glow, it's worth taking notice. Simply put, it's a serum that fits right into your skincare regimen, after cleansing and toning but before moisturizing. And guess what? It's cruelty-free!
One of the prime reasons this Booster stands out? Its powerful ingredients:
Niacinamide: Boosts skin elasticity and reduces inflammation.
Hyaluronic Acid: Think of intense hydration and skin plumping.
Rosa Damascena Flower Water: It's all about soothing and maintaining that skin balance.
Now, let's get real about the experience. Initially, the texture might seem denser than most serums. But give it time. Within two weeks of regular use, you might just catch your reflection and notice something different—a brightness, a certain radiance that wasn't there before.
And the compliments? They'll start pouring in. From friends, family, and maybe even that observant neighbor. You'll hear things like "Your skin is glowing! What's your secret?" And while the Booster might be a bit of a splurge, the confidence and radiant skin you gain? Absolutely priceless.
If you're on the fence, consider this: investing in the Rose Gold Radiance Booster isn't just about skincare. It's a form of self-care, a ritual you'd eagerly await. It elevates your routine, transforming it into a luxurious experience.
To wrap it up, the Rose Gold Radiance Booster by 111Skin is more than worth considering. While it does come with a heftier price tag, the glow and confidence it promises make it a game-changer. You can snag one from AMAZON today.
8. Blue Algae Vitamin C Skinclarity Brightening Serum by Algenist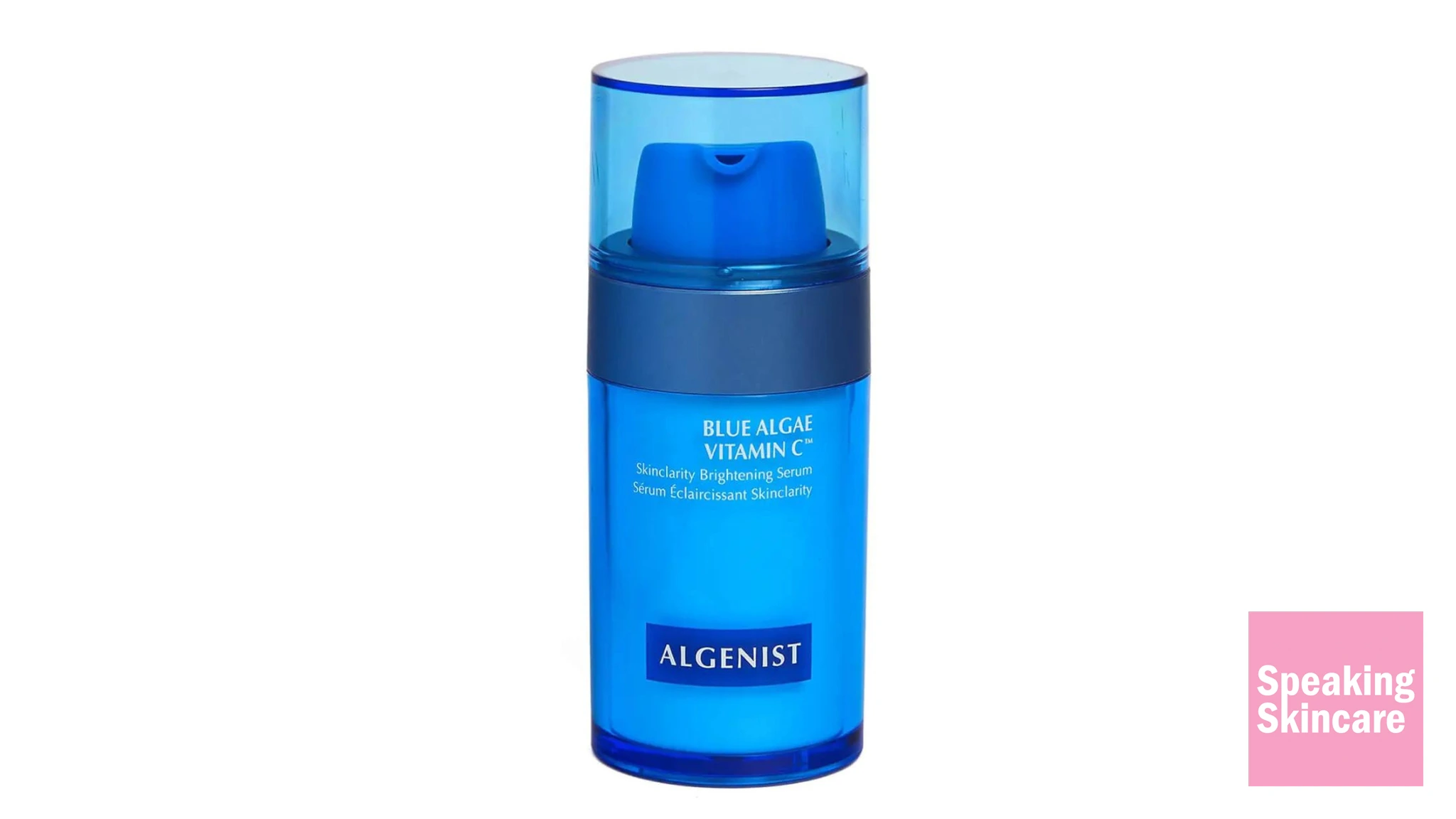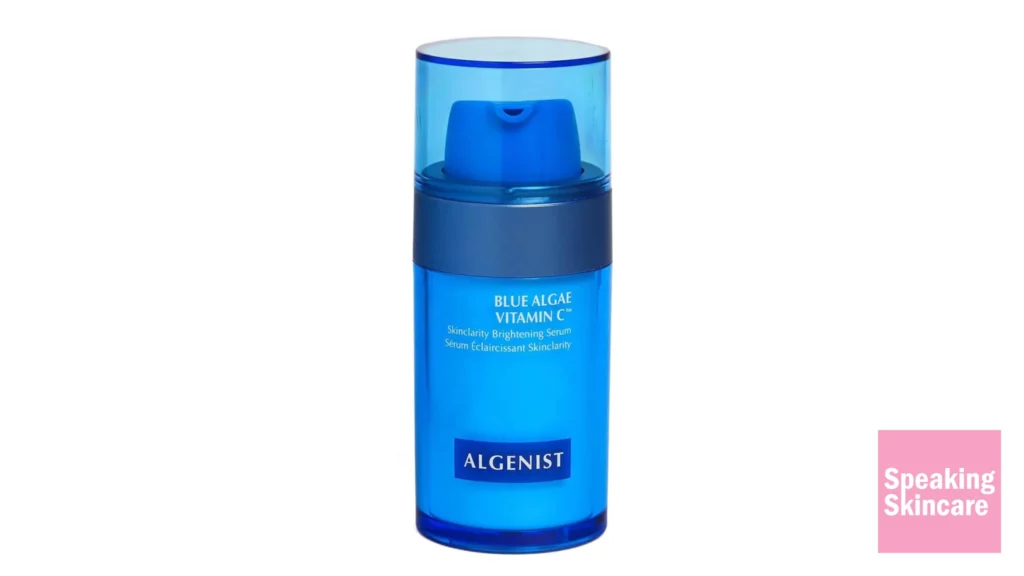 Looking for that perfect brightening serum? Consider steering your skincare journey towards the Algenist's Blue Algae Vitamin C Skinclarity Brightening Serum. This product stands out in the crowded skincare market, offering clearer, rejuvenated skin.
Algenist isn't a new name in the skincare arena. They're renowned for their groundbreaking products and have consistently received accolades. Their Blue Algae Vitamin C Skinclarity Brightening Serum is specially crafted to address uneven skin tone, texture issues, and signs of aging. What sets this serum apart? It's the Blue Algae Vitamin C, an extraordinary ingredient derived from spirulina, which is celebrated for its skin-illuminating properties. But that's not all! The serum is enriched with hydrating hyaluronic acid, soothing aloe vera, and niacinamide, known for its skin-enhancing attributes.
Users are singing its praises, including our very own Muna who wrote a brilliant in-depth review! Regular application reveals a more luminous skin tone, reduction in dark spots, and an overall youthful appearance. Some mentioned a brief sticky feel upon application and a higher price point. Yet, the overwhelming consensus is that the remarkable results make it well worth the investment.
Considering diving into the world of Algenist? Remember, it's always wise to do a patch test. But if brighter, more radiant skin is on your wishlist, this serum might be the magic elixir you've been searching for. Discover this skincare wonder on AMAZON today!
9. Anne Semonin's Brightening Serum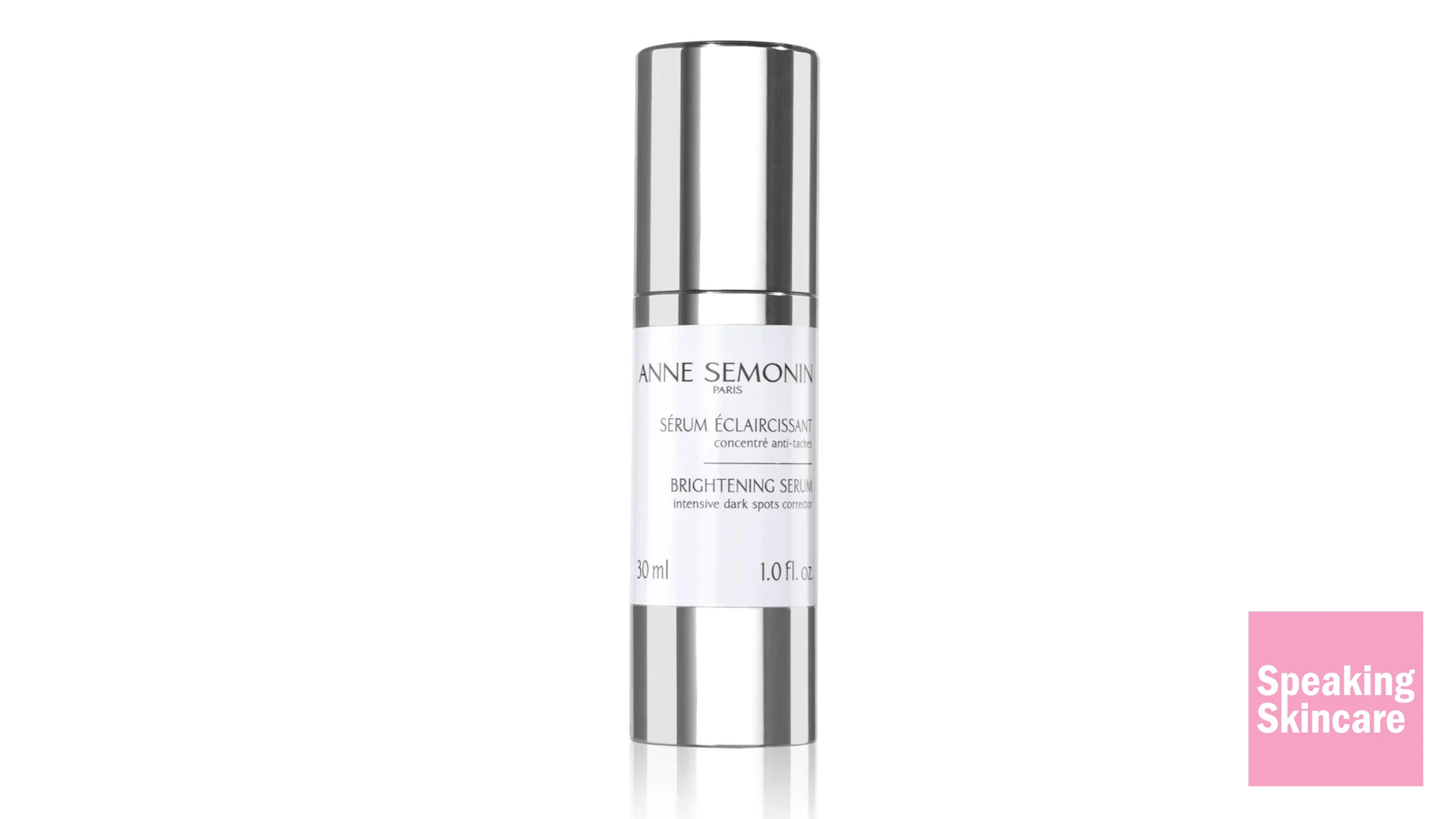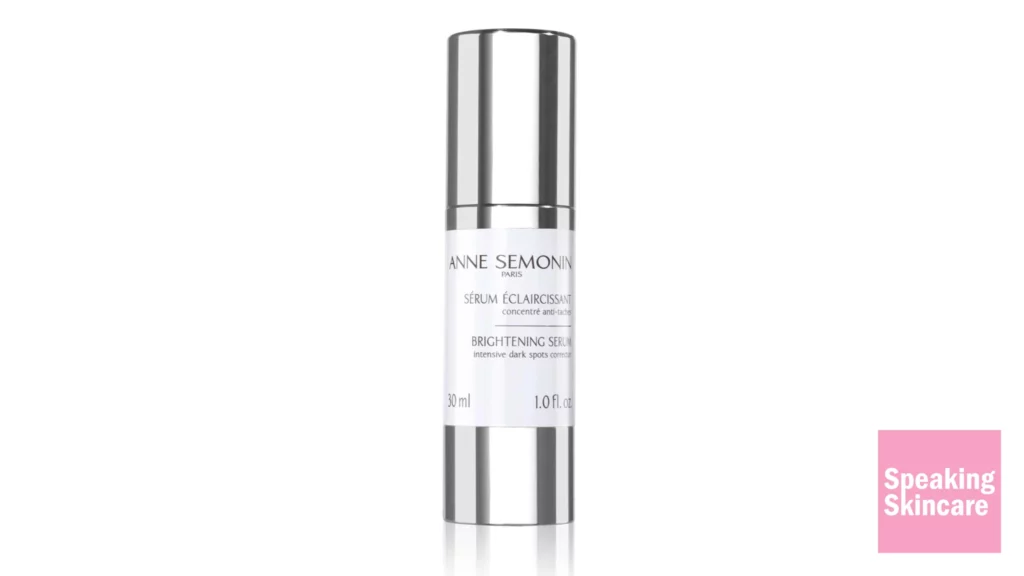 Looking for a more luxurious option? Enter the Anne Semonin Brightening Serum. This serum isn't just a fad; it's a game-changer. Users rave about its prowess in evening out skin tones, fading dark spots, and delivering a radiant glow.
Here's what stands out about this serum:
Key Details:
Purpose: Designed to reduce pigmentation and dark spots for a more uniform appearance.
Usage: Ideal for mornings on cleansed, dry skin. Most users find a 30ml bottle lasts 1-2 months.
Ingredients: Standouts include sea lily flower extract (for reducing pigmentation) and brown algae (packed with antioxidants).
Plus, there's the ever-popular Vitamin C and hydration-hero, Hyaluronic Acid.
Brand: Anne Semonin is renowned, cruelty-free, and loved by many skincare aficionados.
The Experience:
The serum offers a silky-smooth texture. From the first application, users find their skin feels softer, smoother, and rehydrated. The real charm unfolds over weeks, with visible brightening results, giving that much-desired glow – even in less-than-flattering Zoom calls! Catch our full review for more!
Packaging: It screams luxury. A shiny silver metallic bottle that would make a stellar gift. The serum feels like a pampering session every time you use it, and it's easy to fit into your morning routine.
Verdict:
With a score of 8.5/10, Anne Semonin's Brightening Serum proves itself in the skincare world. It might come with a premium price tag, but considering its effectiveness and luxurious feel, it's definitely worth considering for your skincare arsenal. If brighter, even-toned skin is on your wishlist, this serum is one to watch! Don't just take our word for it—try it out and let your skin do the talking. Available now on the Anne Semonin official website and other online retailers.
10. Apostle Sensitive Skin Renew Serum by Antipodes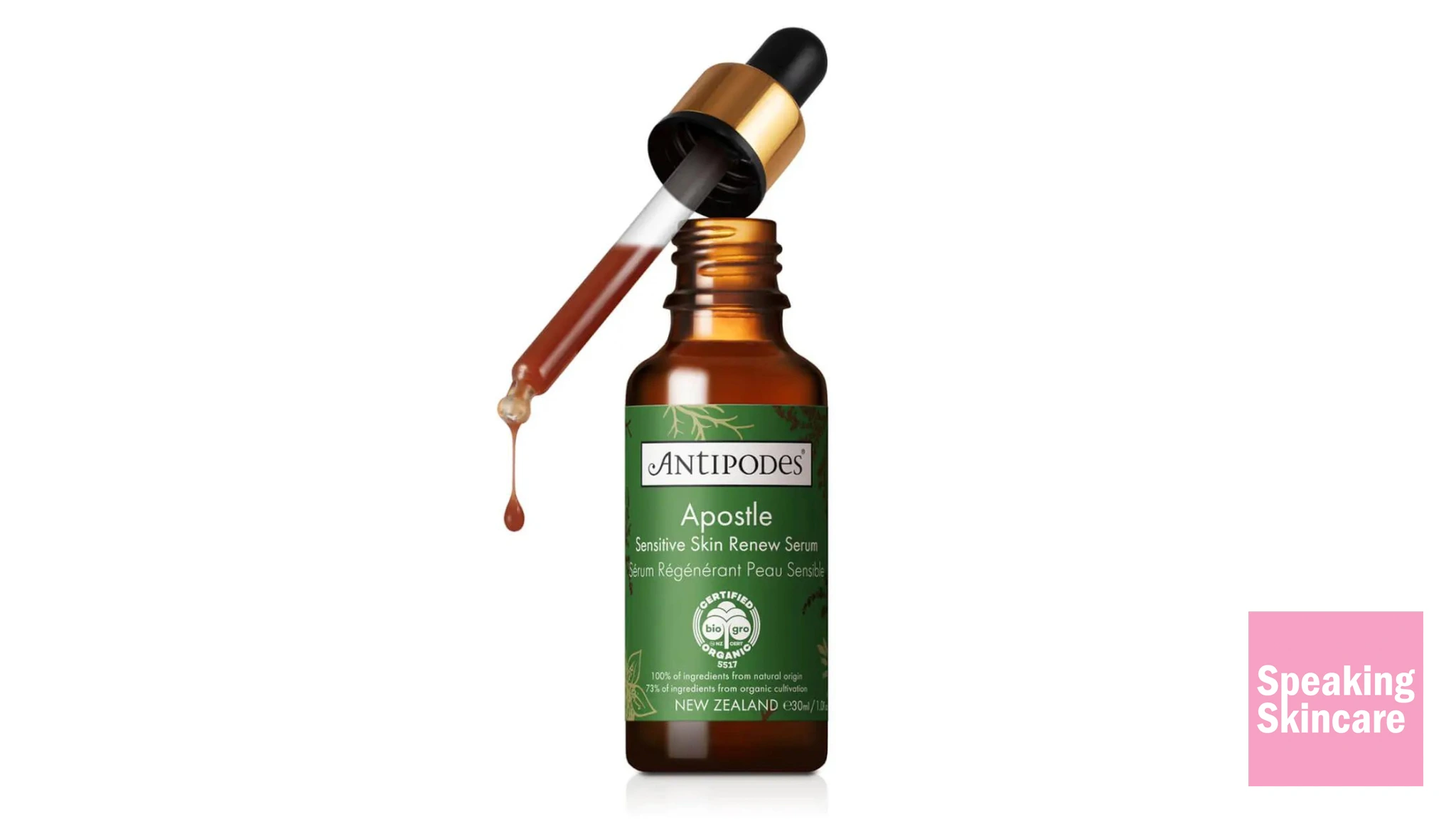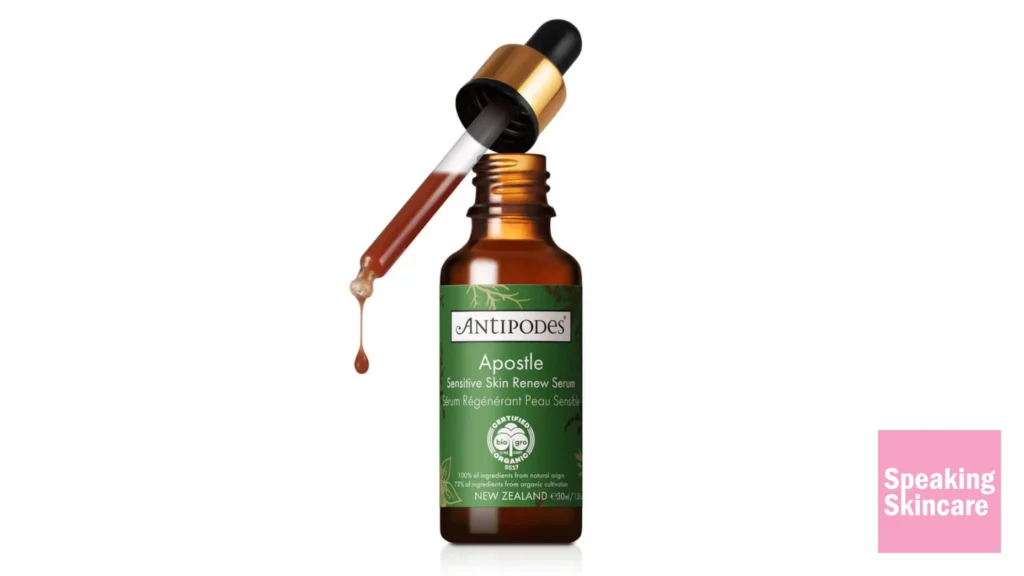 The Apostle Sensitive Skin Renew Serum by Antipodes stands out as a gem. Known for their eco-conscious, organic approach, Antipodes delivers a product designed to calm skin, minimize redness, and reveal a vibrant complexion.
So, what makes this serum worth your attention? Firstly, it's cruelty-free and tailored mainly for sensitive skin types. Those with oily or acne-prone skin should test it out first. Its core ingredients, Vinanza Grape & Kiwi and Vinanza Oxifend, sourced from grapes and kiwifruit, play a pivotal role in boosting skin elasticity, combating inflammation, and promoting overall skin health.
For those curious about its application, it's best used in the morning after cleansing. The 30ml bottle, when applied using just a few drops daily, can last up to two months, which is more than plenty! Its texture might feel slightly sticky for some, but the results speak volumes. Regular users often notice a natural glow, diminished redness, and an overall healthier complexion. Read our official review for more insight!
Gift-worthy in its luxurious packaging, the serum can serve as a delightful treat for oneself or a loved one. Keen to try? You can find the Apostle Sensitive Skin Renew Serum on AMAZON right now!
Given its benefits and rave reviews, it's a product well worth considering in your skincare journey.
–
Hey! Just so you know, this article contains affiliate links that we may make a small commission on. Thanks!