If you've been navigating the labyrinth of brightening serums on the market, I totally get your frustration. It feels like you're trying to find a diamond in a mountain of sparkly glitter. Well, get ready for some refreshing clarity!
Today, I'll be offering an in-depth look at the Bright & Quenched Serum by one of my favorite brands Deascal, explaining how it worked for me, sharing my personal experiences with it, and giving you an insight into its fabulous formula.
So without further ado, I think we should just dive right in! And don't forget to claim your Deascal discount code at the end of the review!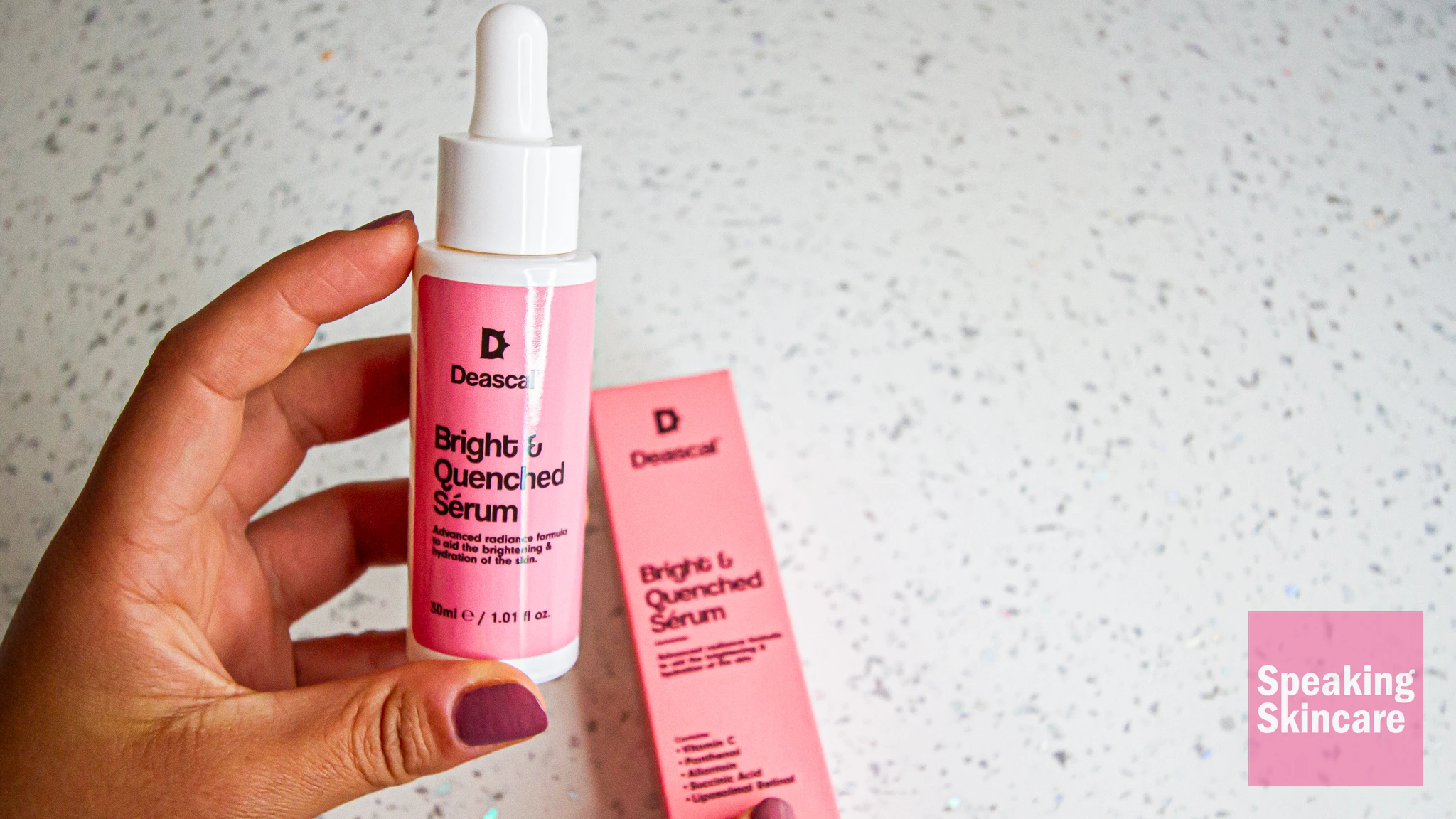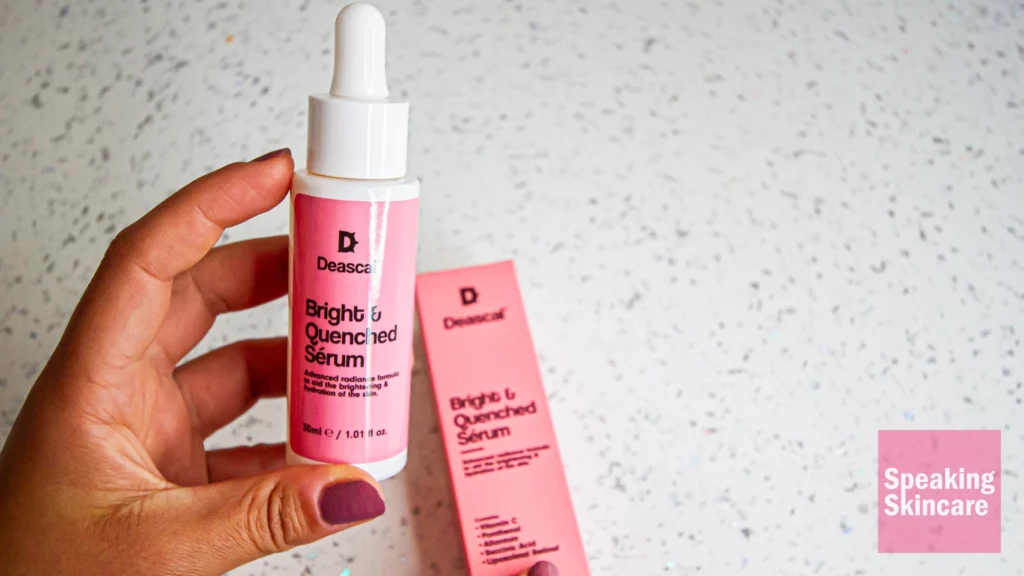 Here's What You Need To Know About The Bright & Quenched Serum
Allow me to introduce you to my newest obsession – the Bright & Quenched Serum by Deascal. Trust me, ladies and gents, this isn't just your average brightening serum. It's designed to go that extra mile, promising to enhance the radiance and hydration of your skin.
Ideally, you'd want to use this gem on your face and neck. Just imagine you get home after a long day, you cleanse your skin, and then, under the glow of your bathroom lights, you gently massage in the serum. It feels like a mini spa right at home.
And here's the cherry on top: the Bright & Quenched Serum is cruelty-free! That's right, we can glow guilt-free knowing no furry friends were harmed in the making of this product. Hats off to Deascal for being such an ethical brand. We need more like them.
With regular use (a few drops a night), this 30ml bottle should easily last you a couple of months. It's got serious staying power!
But I hear you ask, "Who exactly is this product for?" I'm happy to report that the Bright & Quenched Serum doesn't discriminate. It's suitable for most skin types, although those with ultra-sensitive skin might want to do a patch test first due to the presence of retinol. Safety first!
Now, let's talk a little bit about Deascal. Ever heard of them? Oh boy, they're the talk of the town! Friends and beauty enthusiasts alike rave about them and for good reason. Deascal has been hitting it out of the park with their high-quality skincare solutions, earning a stellar reputation in the beauty world. Keep an eye on them, they're definitely going places. At this point, I'd say I'm their biggest fan!
So, what makes the Bright & Quenched Serum so special? It's the cocktail of active ingredients: Panthenol, Allantoin, Succinic Acid, Vitamin C, and Liposomal Retinol. Each ingredient plays a crucial role in skin rejuvenation and hydration. But don't worry, we'll get into the nitty-gritty of this powerful formula later in the review. Trust me, the ingredients are so impressive; they deserve their own limelight!
But I know what you really want to find out is whether the Bright & Quenched serum works. Well, I spent an entire month trialing it specifically for this review. Here's what happened.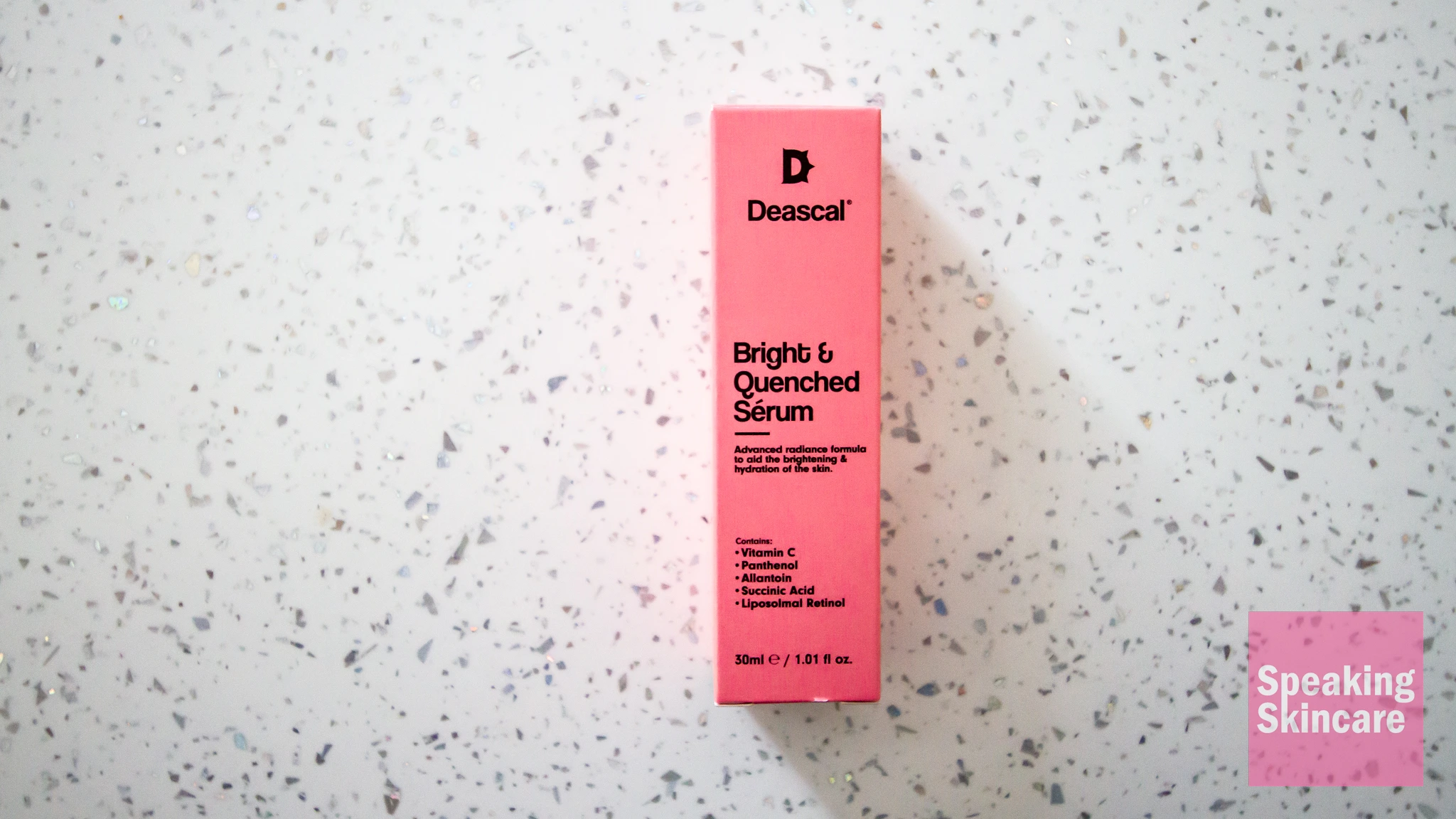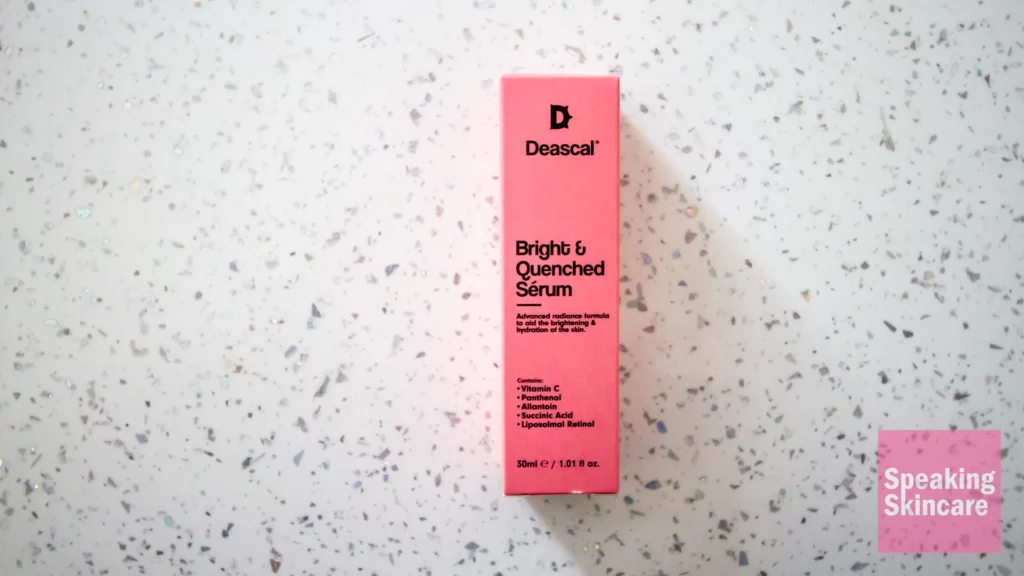 Hands-On! My Personal Experience With The Bright & Quenched Serum
Time and again, I've set out on the quest for the perfect brightening serum, armed with high hopes and enthusiasm. But more often than not, my optimism has been met with disappointment. So, you can imagine the mix of excitement and caution as I unscrewed the lid of the Bright & Quenched Serum for the first time.
To give this gem the royal treatment it deserves, I've been faithfully applying it each night for the past month. The ritual is simple: cleanse, pat dry, and then lovingly massage a few drops of the serum into my skin. The texture is a dream, smoothly sinking into my skin without any residue. And can we talk about the divine scent? It's mild and soothing, adding a touch of luxury to my night routine.
With each passing day, I started noticing subtle changes. My skin felt softer to touch, like a freshly bloomed petal, and appeared more luminous, even under the harsh light of my bathroom mirror. I kid you not; I could see my skin drinking in the hydration!
As the weeks rolled on, the effects of the Bright & Quenched Serum became even more pronounced. The stubborn dark spots from my last sun-soaking adventure were fading, and my skin texture was smoother than ever. I was glowing, ladies and gents! It felt like I had a personal lighting crew following me around.
The moment of truth arrived when I attended a Zoom meeting (yes, we're still having those!). As my colleagues complimented me on my "radiant skin" and "fresh look", I knew I wasn't the only one noticing the change. The Bright & Quenched Serum had me basking in a newfound skin confidence that I hadn't experienced in a while.
Remember those minor blemishes that used to send us into panic mode before a big event? Well, I found that the serum was steadily keeping them at bay. It's like having a secret weapon in my beauty arsenal.
In conclusion, the Bright & Quenched Serum was a skincare game-changer for me. With the sheer glow it provided and its potent formula, my skin didn't just look healthier; it felt healthier. Plus, the compliments were a nice bonus!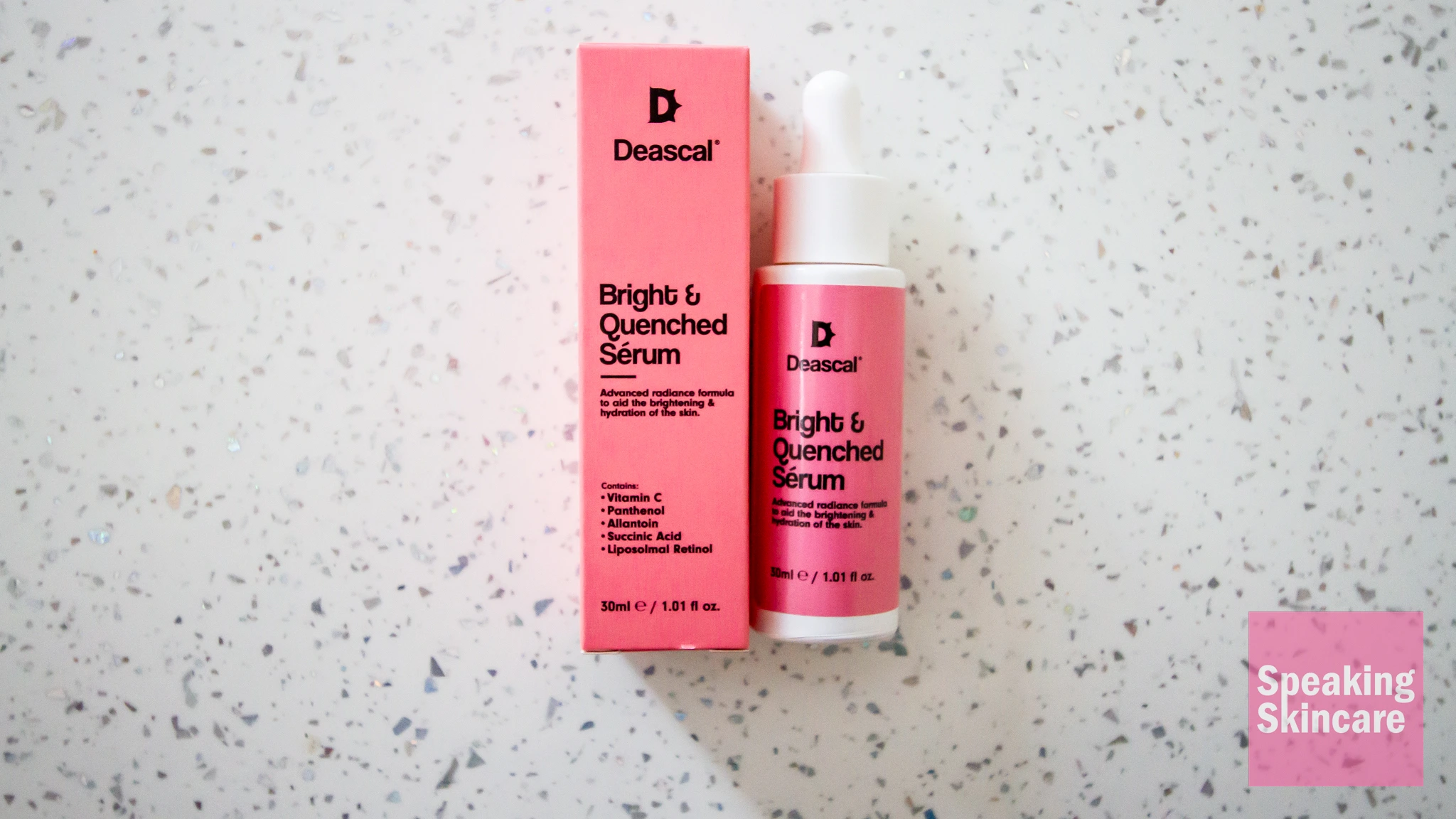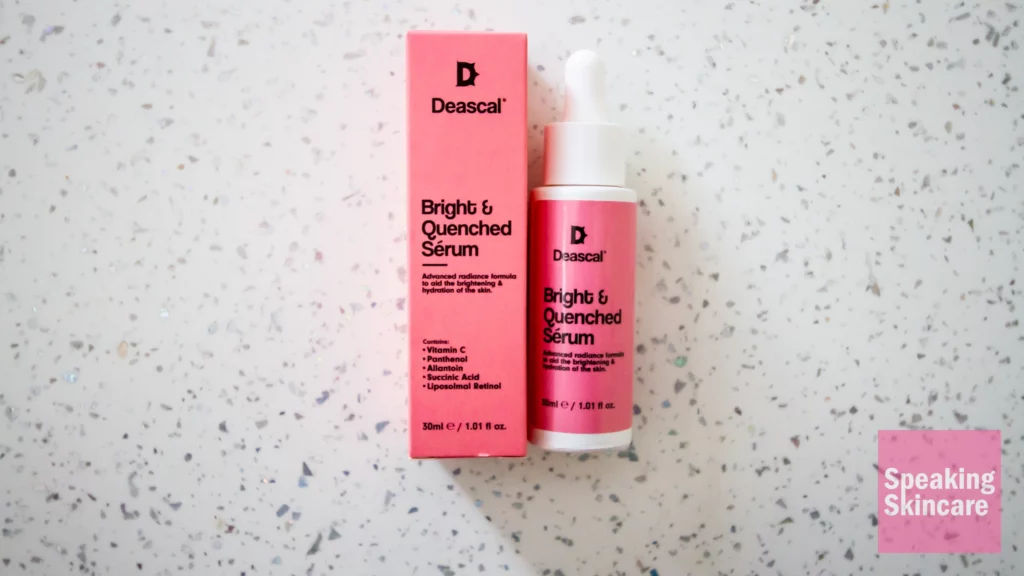 How I Used The Bright & Quenched Serum On A Daily Basis
From the moment I held the Bright & Quenched Serum in my hand, I was completely smitten. I mean, who wouldn't be? The product packaging screamed elegance and luxury. The minimalist design had me swooning.
You know what it felt like? Like those romantic dramas where the hero hands over the heroine a small box, and she opens it to reveal a diamond ring. It's the kind of product that screams, "Yes, I am an exquisite birthday or anniversary gift."
The first time I popped open the bottle, I was greeted with a refreshing, clean scent. It was subtle, a hint of floral notes with a touch of something earthy, an olfactory delight that would put even the most luxurious spas to shame.
I remember how it felt on my skin the first time I used it. The texture was silky, and it glided effortlessly on my face. I thought it would take a while to seep in, considering its creamy consistency. Boy, was I wrong! It got absorbed within seconds, leaving behind a smooth, velvety finish. The serum didn't leave any greasy or sticky residue, and I didn't need to go overboard with the amount. Just a couple of drops were enough to cover my entire face.
Over time, I started noticing that I was reaching for this little bottle of magic more often than I initially intended. It had woven itself into my daily skincare routine, coming right after cleansing and toning. I found that this sequencing worked beautifully for me because the serum would lock in the toner's benefits and prep my skin for the moisturizer.
At the end of the day, it all comes down to personal preference. But, with my experience of playing around with thousands of different skincare products, I'd recommend using the Bright & Quenched Serum after toning your skin. This sequence will allow the serum to lock in the toner's goodness and prepare your skin for the next step of your skincare routine – moisturizing. After all, we all want to get the maximum benefits out of our skincare products, don't we?
Let's Talk About The Ingredients
Understanding what goes into our skincare products is crucial. It's not just about slapping on a product because it comes in fancy packaging or because your favorite celebrity endorses it. It's about knowing what each ingredient does, how it interacts with your skin, and ultimately, whether it will deliver the results you're seeking. So, let's dive into the ingredients of the Bright & Quenched Serum and figure out what makes it the skincare powerhouse it is.
Panthenol: This is an ingredient I've come to appreciate deeply. It's like a tall glass of water for our skin, penetrating deep into the layers and providing intense hydration. Whenever I used the serum, my skin felt rejuvenated and bouncy, something I credit to this brilliant moisturizer.
Allantoin: Acting as a conditioning agent, allantoin works wonders on the skin. It creates a soothing effect and promotes skin moisturization. There were times when my skin felt a bit irritated from exposure to pollutants, but this serum came to the rescue. All thanks to allantoin!
Succinic Acid: An efficient yet gentle alternative to salicylic acid, succinic acid contributes significantly to reducing pimples. It also enhances skin texture and radiance. The serum never left my skin feeling dry or stripped off its natural oils, which is a common issue with salicylic acid-based products. Instead, I could see a noticeable improvement in my skin's texture and a newfound radiance.
Sodium Ascorbyl Phosphate: This is basically Vitamin C that doesn't degrade when exposed to sunlight. It plays a vital role in improving skin tone and texture. My skin felt more even-toned, and the texture was visibly smoother. All those pesky little bumps I was used to seeing? They were no longer there!
Liposomal Retinol: This ingredient targets problematic skin and promotes cell turnover. Retinol is a skincare marvel, but the way it's delivered to our skin is equally important. In a liposomal form, it ensures that the retinol penetrates deep into the skin and works its magic. The result? Healthier-looking skin that's renewed from the inside out.
The above list and my experience with these ingredients reinforce my confidence in the Bright & Quenched Serum. Deascal has taken the initiative to incorporate these high-quality, potent ingredients, which is highly commendable. It shows they are committed to delivering results rather than just making sales. No wonder they are quickly becoming one of my all-time favorite skincare brands! Yes, I'm a total fan girl.
My Final Score – Would I Recommend It?
The market is flooded with brightening serums, and the Bright & Quenched Serum was always on my radar to try. My final verdict? A flawless 10/10! The radiant results, effective formula, and Deascal's excellent reputation in the skincare world totally justify the rating.
Standout ingredients like Panthenol and Sodium Ascorbyl Phosphate really appealed to me, and I loved seeing them in this formula. It's essential, however, to patch test if your skin is sensitive to retinol.
As a skincare journalist, I've tried so many products, and I have to say, as far as brightening serums go, this one is truly top-tier. I thoroughly enjoyed using it and absolutely loved the results. If you're in the market for a brightening serum, this one gets my strong recommendation. In fact, I'm pretty sure the Speaking Skincare community will absolutely love it.
Ready to give the Bright & Quenched Serum a try? You can grab your bottle from Deascal's website today. PLUS, if you use our exclusive discount code SpeakingSkincare10 you can get an awesome 10% off of your purchase. Aren't we so good to you!
Okay, I'm done for the day. That was a fun one!
Until next time my friends, keep chasing that glow.
Blair.