Our brows and lashes can be the salt and pepper of our faces. If they are cared for and styled correctly, they can add that much-needed radiance and dynamism to our look.  In recent times, many people are using eyebrow serum on their eyelashes to achieve the aesthetic and vitality they desire.
However, with so many products available on the market, caring for our brows and lashes can become a bit of a confusing chore. Wouldn't it be great if things were just more simple? Well, you may be in luck, because we have a great life hack for you today!
Can eyebrow serum be used on eyelashes too? Let's find out.
What is the purpose of eyebrow serum?
Firstly, let's go over what brow serum does and how it is intended to be used. Then, we can determine whether it would be a good fit for your lashes at the same time.
Eyebrow serum is a product designed to help promote the growth of fuller, thicker eyebrows. Using potent active ingredients like castor oil and keratin, the serum works to fortify and strengthen the follicles on a structural level.  This makes the hair more durable and resilient to everyday challenges [1] and promotes healthy hair growth.
When you apply the serum to your eyebrows, these ingredients work to strengthen the hair follicles and stimulate healthy growth. This results in fuller, thicker brows over time. Eyebrow serum is applied using a small brush or wand and is used once or twice a day.
With regular use, you should start to see results in just a few weeks, although it can take longer for some people. It's important to remember that everyone's hair growth is different, so individual results may vary. However, using an eyebrow serum is a safe and easy way to help achieve the fuller, more defined eyebrows you've always wanted!
If you want to try Speaking Skincare's best eyebrow serum recommendation, check out the LUXROS Eyebrow Serum. It can help you achieve a beautiful brow boost for longer and enhance your look. We love it.
It's available now on Amazon.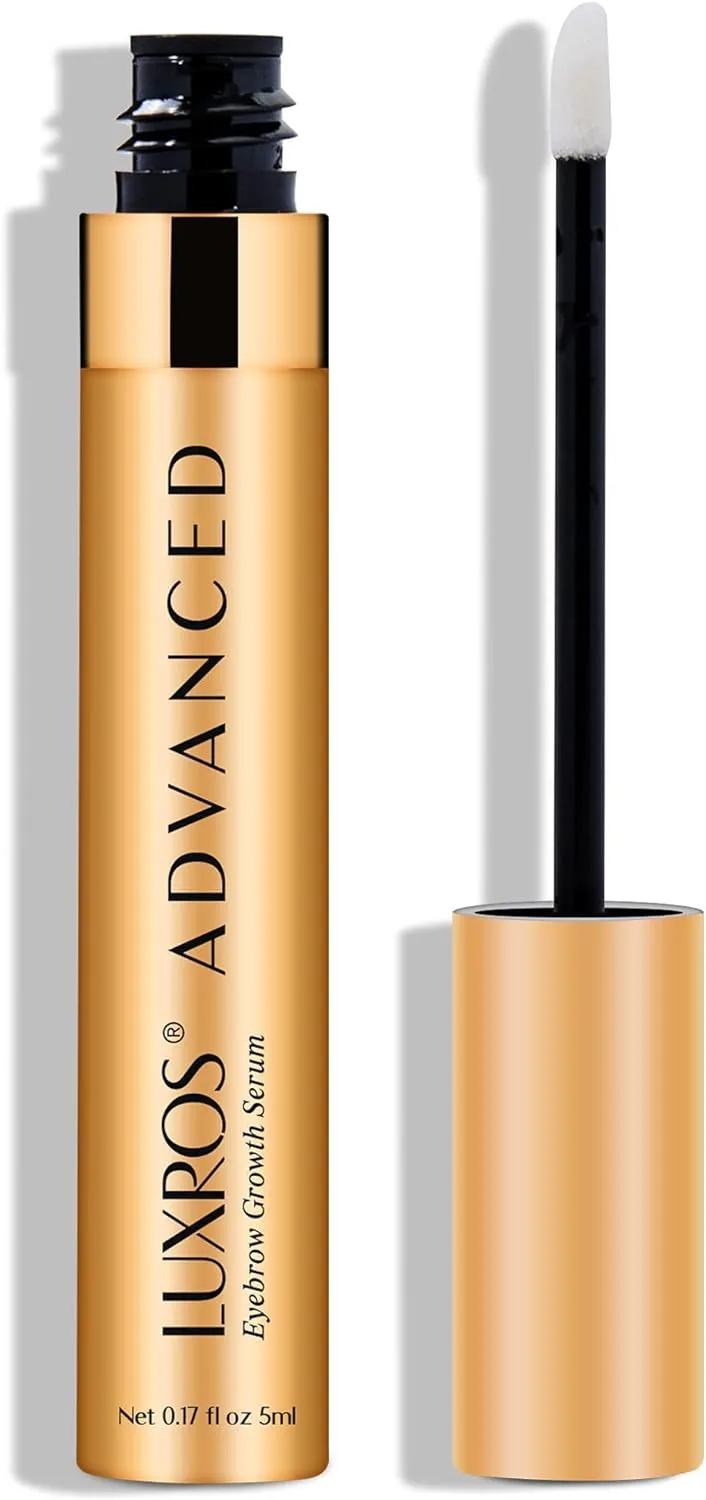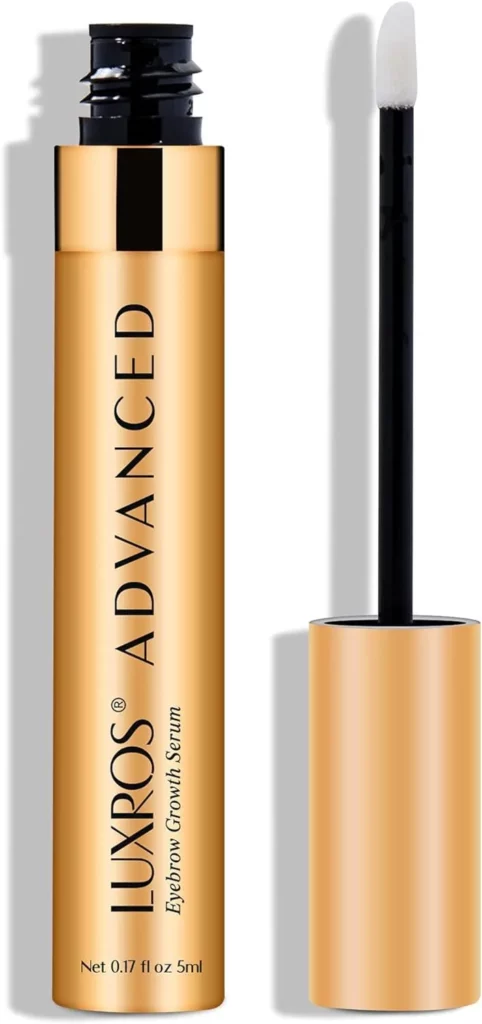 Does eyebrow serum make eyebrows grow quicker?
Contrary to popular belief (or wishful thinking), eyebrow serum can NOT make your brows grow any quicker than normal. We don't know how this myth came about, but apart from subjective anecdotal experiences from individuals, there is no scientific evidence to suggest a serum can magically grow hair at a faster rate than it already does. This will be the same for eyelashes too, so keep that in mind. The biggest factor that impacts the speed of hair growth is genetics, and on that front, everyone is different.
Can eyebrow serum be used on eyelashes?
We have good news, yes! At the fundamental level, there really isn't that much difference between an eyebrow serum and an eyelash serum. They are both intended to strengthen the existing hair.  They set hair up for healthy growth in the future, and give it a bolder appearance that will leave a memorable impression.
With its effective ingredients (as we mentioned above) alongside its collection of healthy vitamins, the serum will hydrate and invigorate the lashes as it does the brows. Again, over a period of time, the lashes will have a thicker appearance, but they won't grow any faster than they regularly do.
Using eyebrow serum on eyelashes is a safe process, but try not to accidentally drop any of it in the eye itself as this will cause discomfort and irritation. Simply wash and rinse the eye if this does happen.
In conclusion
Can eyebrow serum be used on eyelashes? The answer is yes. While we'd always recommend using a designated lash serum instead, you will get positive results with a brow serum if you want to keep your product collection as simple and straightforward as possible.
Try it for yourself and see what you think. Results will vary from person to person, but experimenting is part of the fun.
Good luck.