Clay has long been a secret weapon in the world's beauty arsenal, and as we step into 2024, it's time to unveil the crème de la crème of this earthy elixir. From the depths of the purest soils to your skin, clay masks have made a monumental comeback, promising to purge pores, balance oil levels, and imbue your skin with a glow that even the stars would envy. As you search for that magic formula to elevate your skincare routine, we've meticulously tested and curated a list of the top 10 best clay masks that are a must-try this year.
These aren't just any masks; they're the ultimate blend of nature and science, carefully concocted to deliver unparalleled radiance and rejuvenation. Get ready to transform your complexion with our expertly selected clay champions that are just a smear away from perfection!
And P.S. – Keep your eyes open for some exclusive discount codes courtesy of us!
1. The Pink Clay Glow Mask by Deascal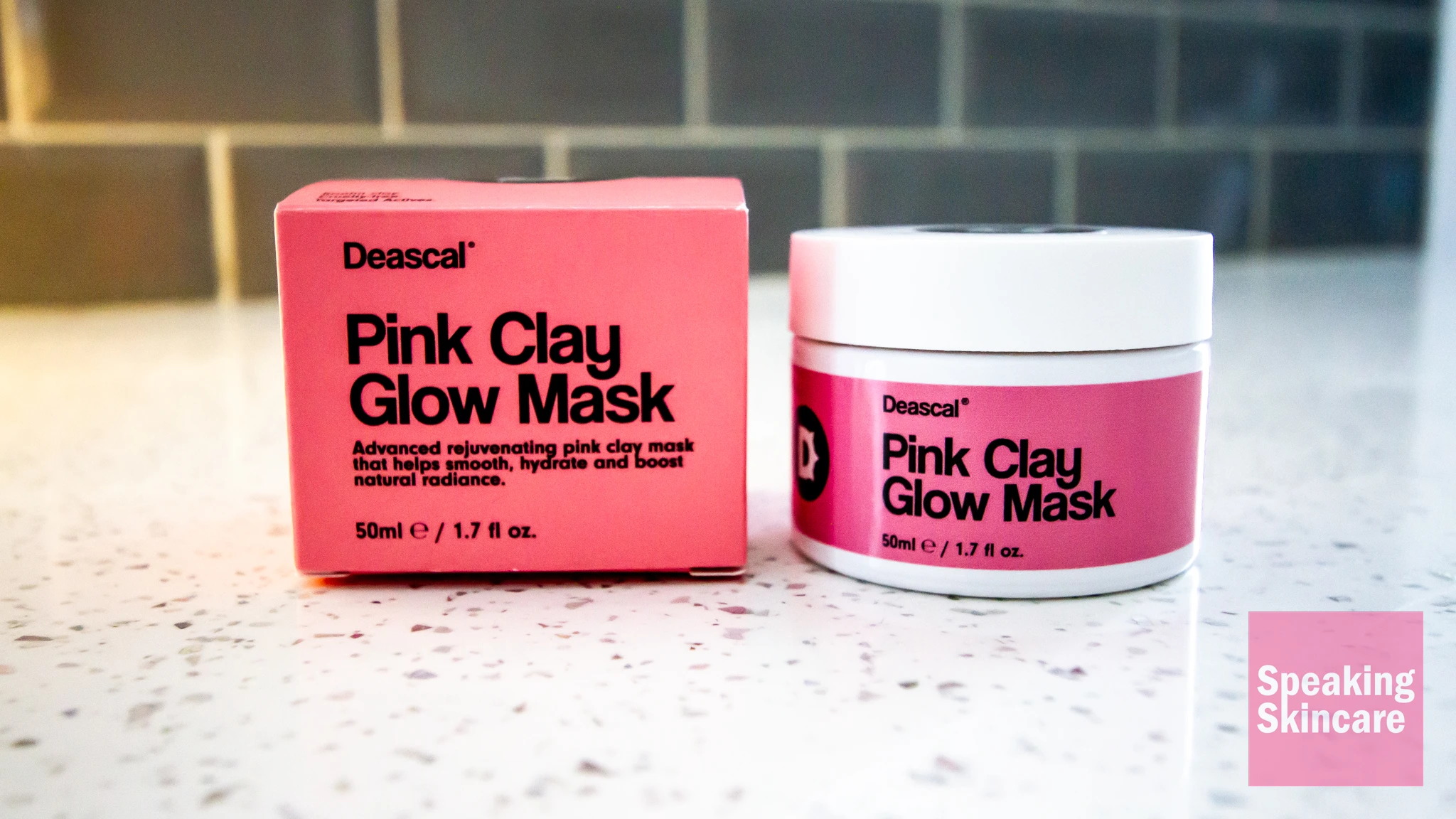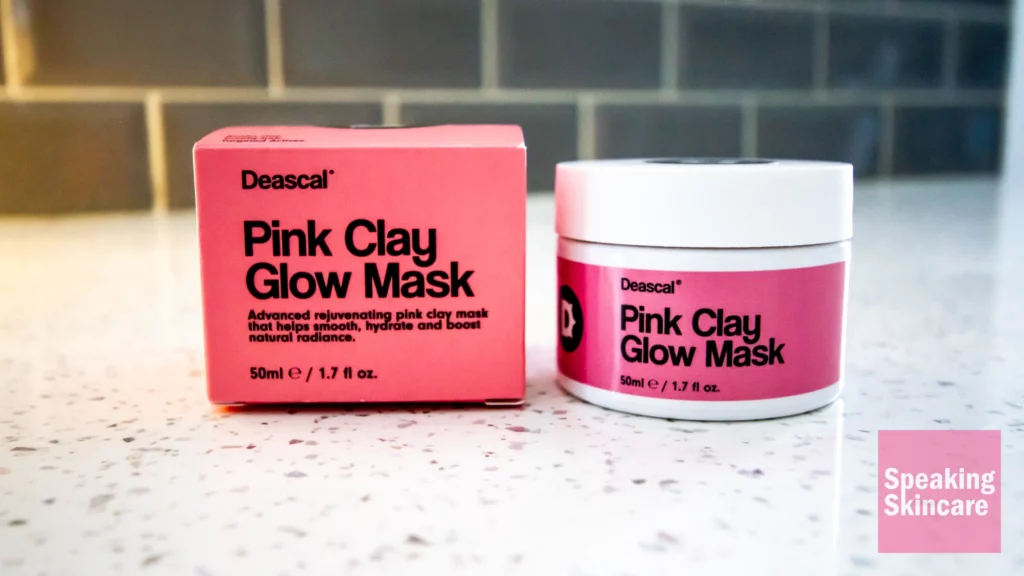 Deascal's Pink Clay Glow Mask in a nutshell:
Luxurious at-home spa experience
High-quality ingredients for detoxifying and brightening
Transformative results with noticeable skin radiance
Compliments from others on the skin's improved appearance
Rich, indulgent texture for seamless application
Addresses various skin concerns effectively
Cruelty-free product, ethical and responsible brand
Comes with an exclusive 10% discount code: SpeakingSkincare10
In the colorful world of skincare, Deascal's Pink Clay Glow Mask stands out as a must-have for anyone seeking a radiant and smooth complexion. This gem from Deascal not only promises a luxurious at-home spa experience but also delivers with its blend of top-tier ingredients like Kaolin Clay and Niacinamide, tailored to detoxify and brighten the skin.
Our very own Muna wrote about her month-long trial with the Pink Clay Glow Mask, and her journey with it has been nothing short of transformative, turning her initial skepticism into a glowing endorsement! The Pink Clay Glow Mask has become a treasured part of her skincare routine, offering visible results that have not gone unnoticed. Compliments on her skin's newfound vibrancy became a regular occurrence, affirming the mask's effectiveness. You can read her full in-depth review right here!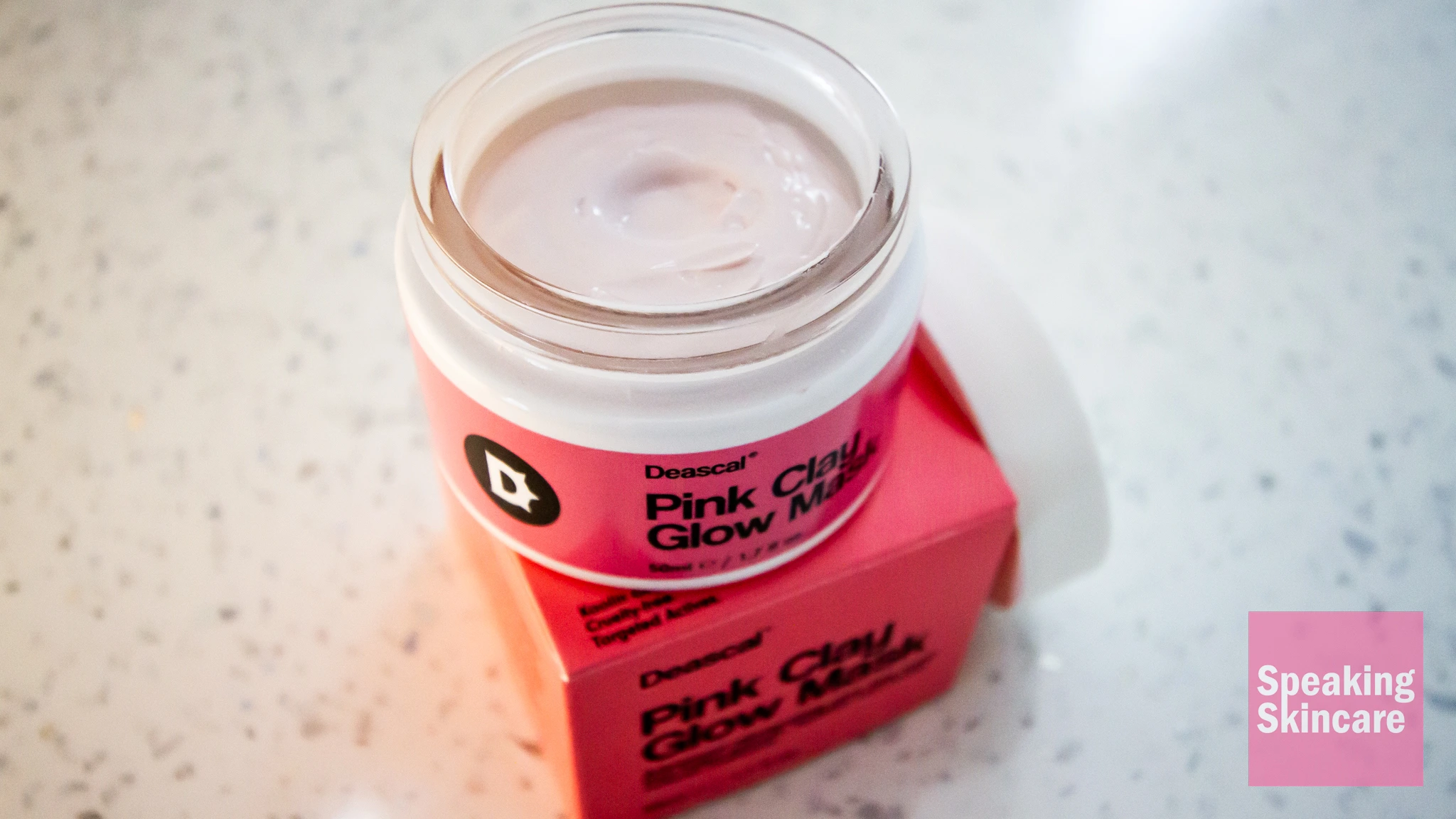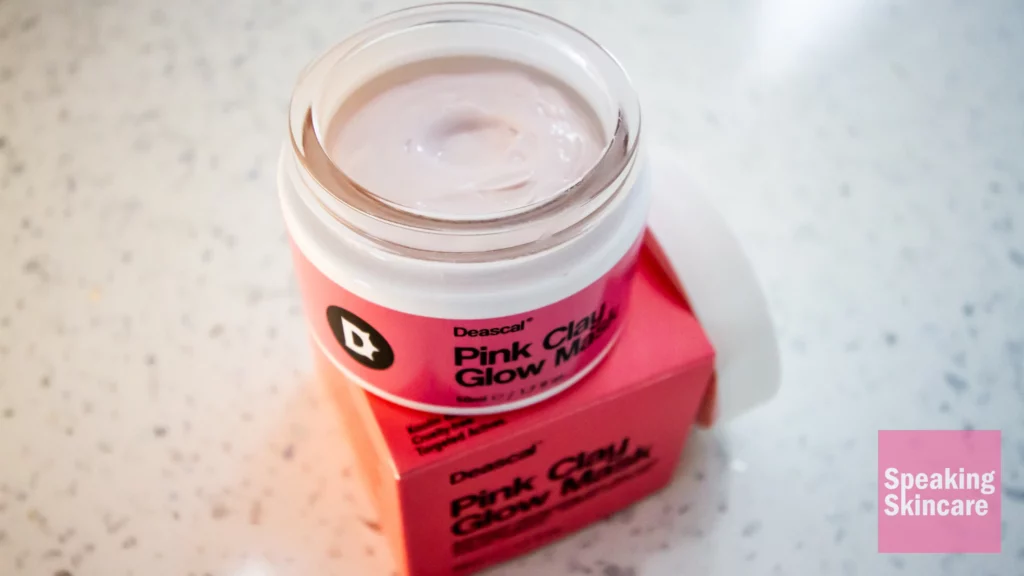 Applying the mask is a delight; its rich texture coats the skin evenly for a seamless treat that feels indulgent. Post-application, the skin feels renewed, bearing a healthy glow that signifies its high-quality formulation. With every use, the mask acts like a skin confidante, addressing various concerns from soothing post-workout redness to calming stress-induced irritations.
The mask's ingredients are the true stars, with Kaolin working to gently purify the skin, AHA Acids revealing fresher layers, and Panthenol providing deep hydration. Deascal's commitment to cruelty-free products adds an ethical charm to their already impressive profile.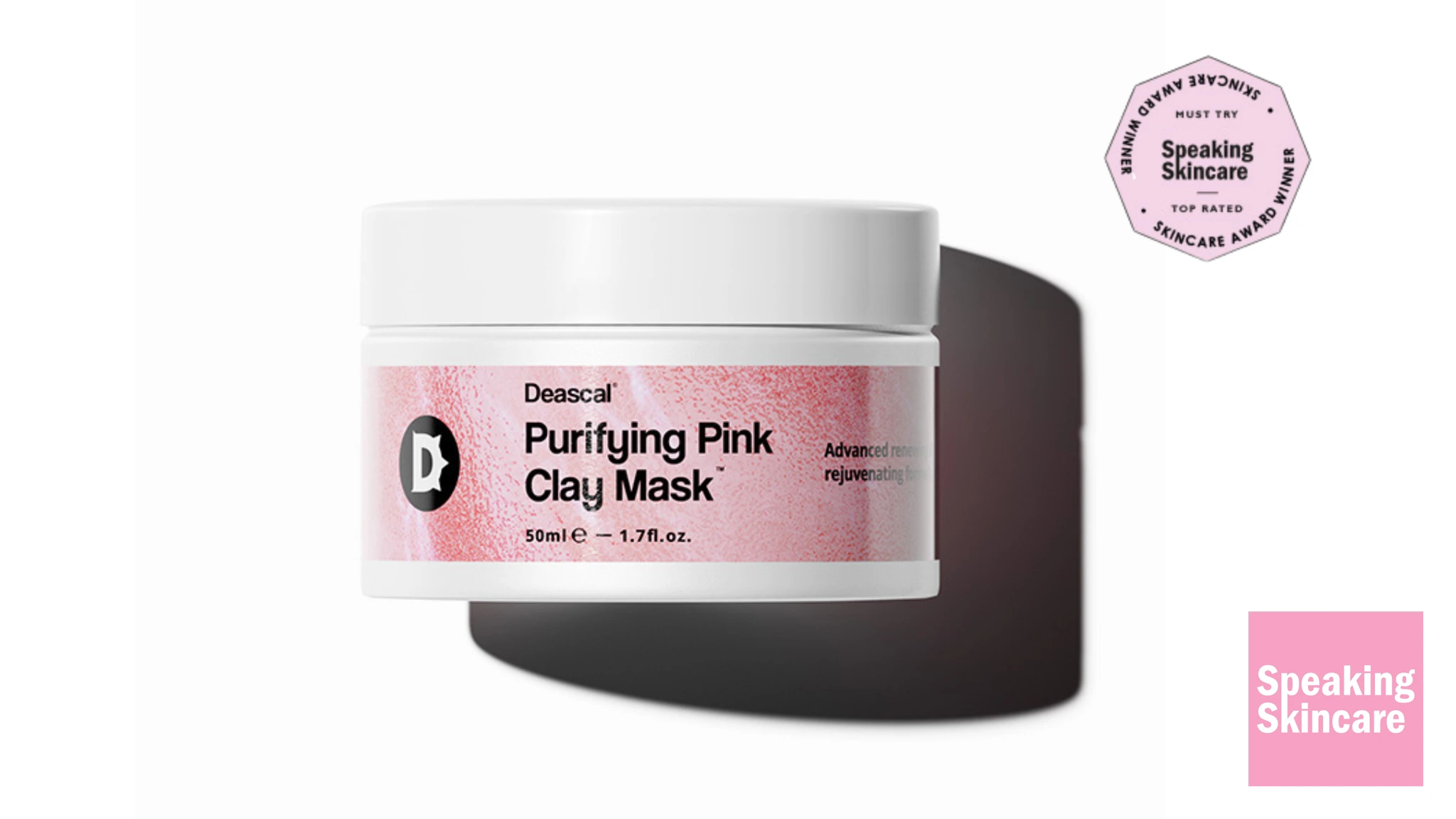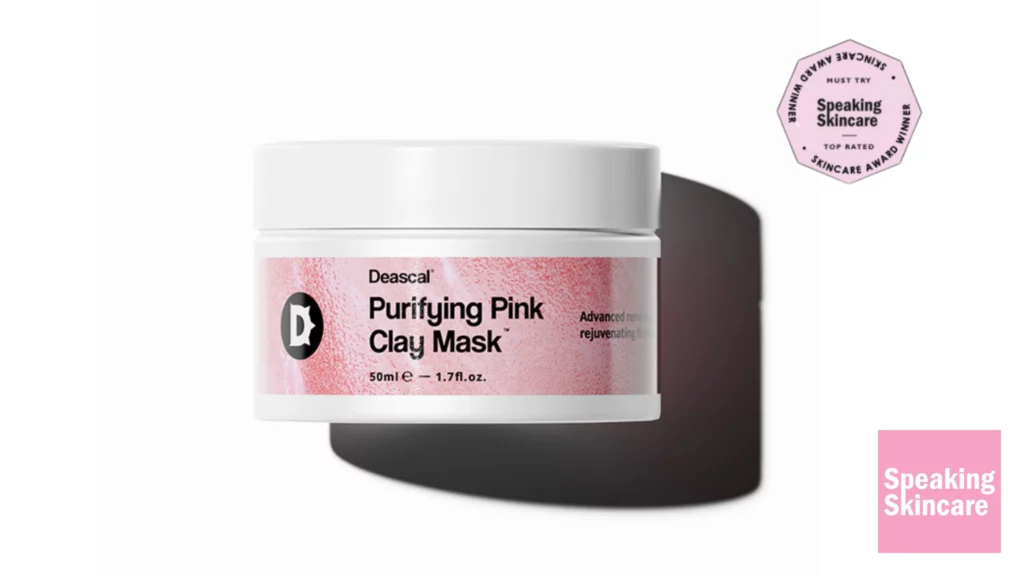 We would recommend the Pink Clay Glow Mask without a moment's hesitation. In our opinion, it is the best clay mask available on the market right now. It's a skincare staple that promises and delivers a glowing, smooth complexion. For those eager to try, Deascal's website offers the product with a 10% discount using the code SpeakingSkincare10, inviting everyone to start their own journey to radiant skin.
2. Sea Kale Clay Mask by Cocokind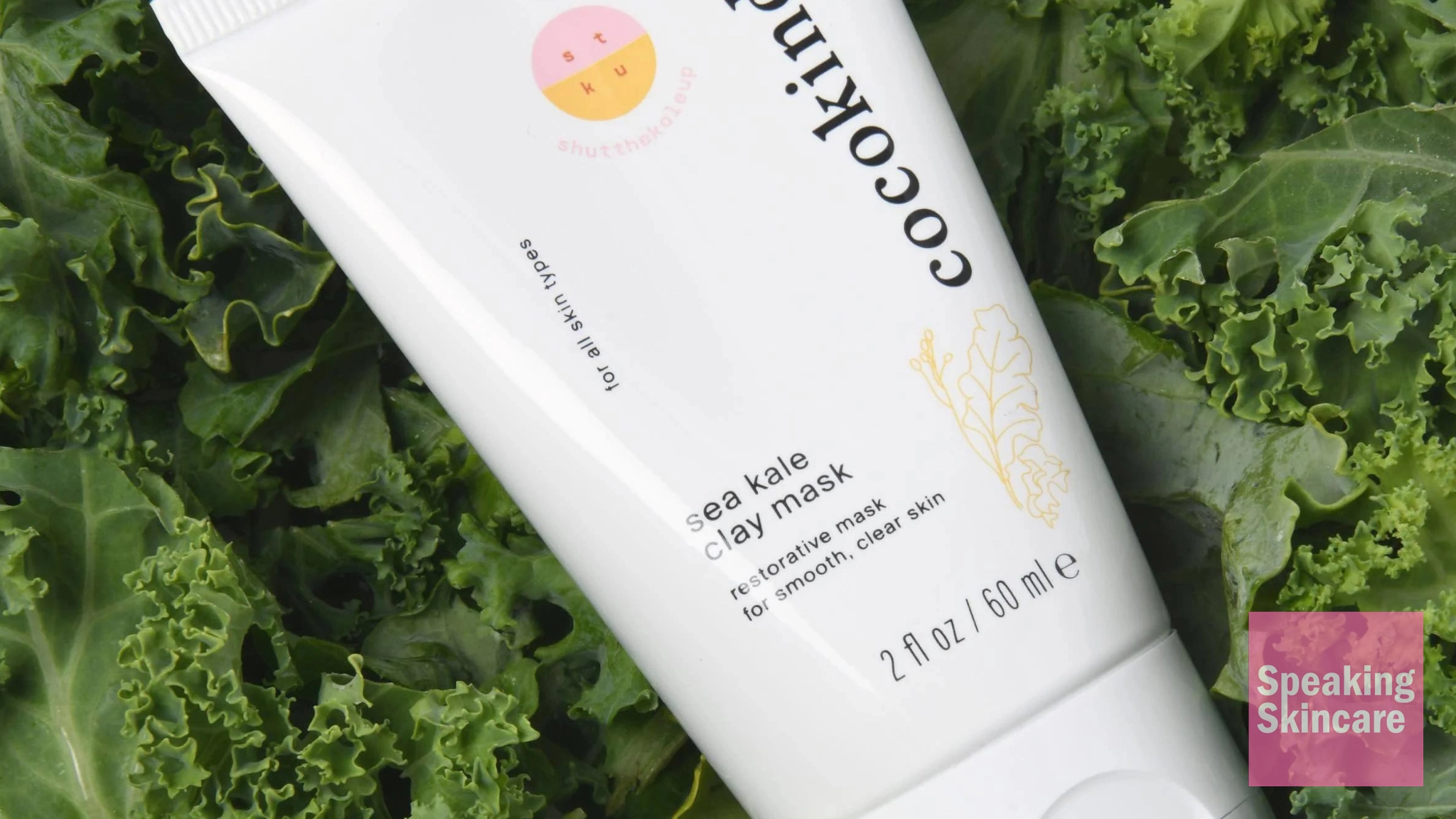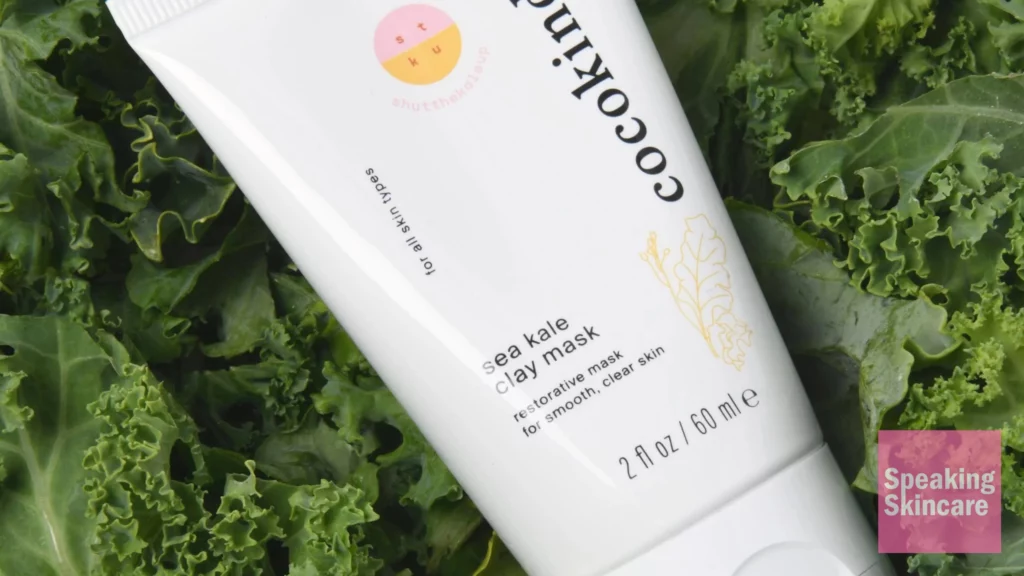 Customers seeking an exceptional clay mask to enhance their skincare routine need not look further than the Cocokind Sea Kale Clay Mask. This product has garnered attention for its ability to soothe, exfoliate, and purify, catering to all skin types while respecting animal welfare with its cruelty-free assurance.
The 60ml bottle promises longevity, even with bi-weekly usage, and is particularly noted for its suitability for most skin types, though individuals with very oily skin may find it slightly rich. Cocokind, the renowned brand behind this mask, has infused it with a blend of nourishing ingredients such as aloe leaf juice, sea silt, and avocado oil.
Customers have reported that the mask's creamy texture sets it apart from other clay masks, offering a gentle tightening sensation without the discomfort of dryness. Post-use, skin appears smoother, with a fresh, hydrated feel, and consistent use has shown a reduction in oiliness and more refined pores. While the mask's richness may require a bit more time to dry and rinse off, this minor inconvenience is overshadowed by its overall effectiveness and the luxurious, pampering experience it provides.
Incorporating the Sea Kale Clay Mask into a skincare regimen is straightforward—apply post-cleansing and toning to maximize its benefits. Its indulgent consistency and spa-like scent add to the allure, making it a perfect end-of-day treat that promises both relaxation and noticeable skincare results.
The thoughtful formulation, with Aloe Vera for its soothing properties, Sea Clay for detoxification, Avocado Oil for nourishment, and Sea Kale Extract for its antioxidant benefits, positions this mask as a powerhouse for long-term skin health.
With a strong recommendation based on customer experiences, the Cocokind Sea Kale Clay Mask is certainly one of the best clay masks around and is poised as a must-have for those on a quest for a radiant, balanced complexion. Read our full review here.
3. Detox Clay Mask by Chantecaille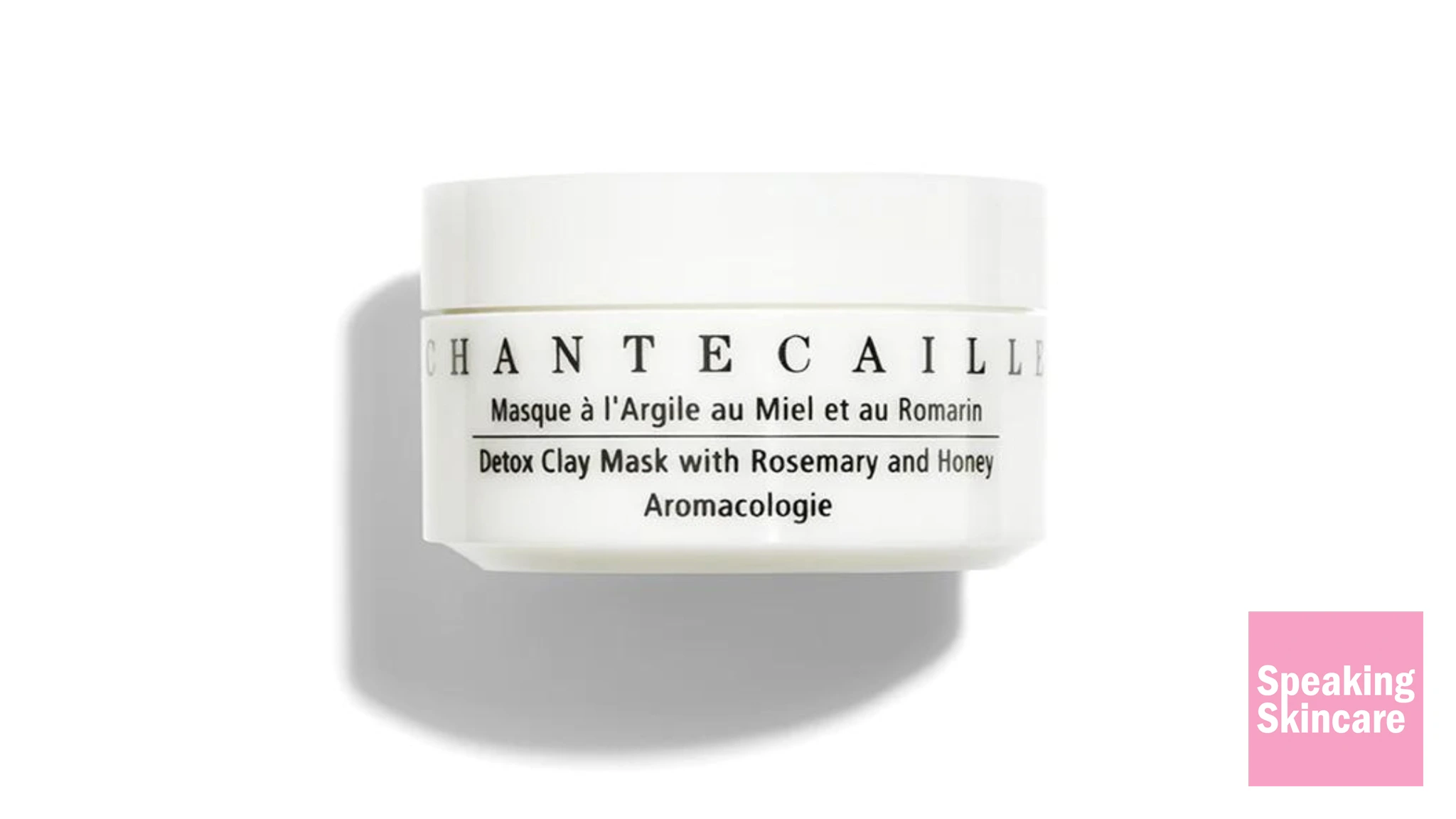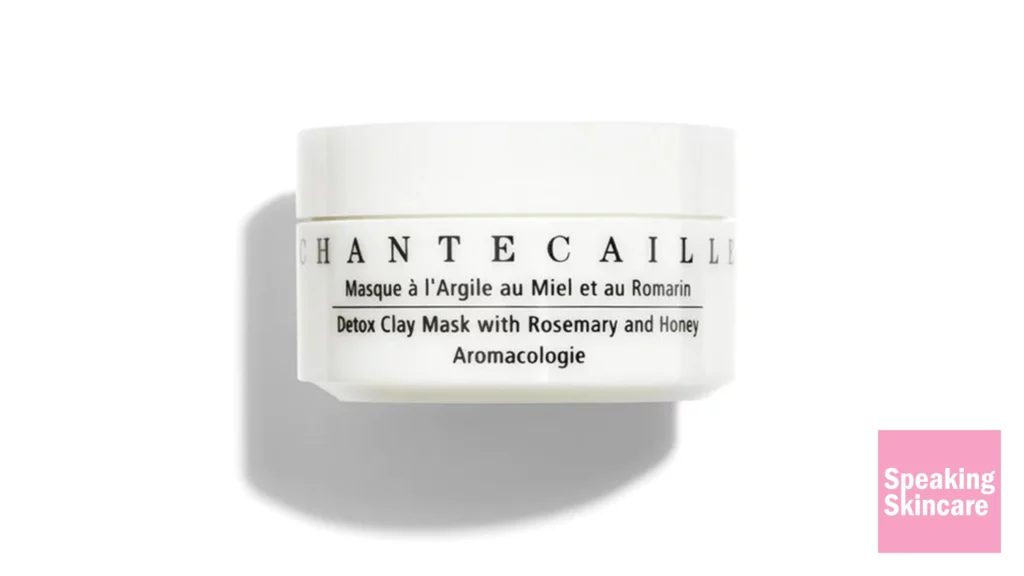 For those navigating the overwhelming sea of skincare options, Chantecaille's Detox Clay Mask emerges as a beacon of hope, especially for those grappling with clogged pores and longing for a product that promises to purify and freshen their complexion. This clay-based mask, renowned for its pore-refining capabilities, is a twice-weekly ritual that caters to oily and combination skin types, though dry skin can also benefit with a follow-up moisturizer. However, individuals with sensitive skin should proceed with caution.
Chantecaille stands out in the beauty industry with its commitment to cruelty-free products, blending high-quality ingredients like Kaolin Clay, Honey, and Rosemary for a mask that not only detoxifies but also ensures skin retains its moisture and stays radiant. Users can indulge in the luxury of the mask's creamy texture, finding it a perfect addition after cleansing and before the toner in their skincare regimen. The mask has been widely embraced for its ability to clear out impurities, reduce acne, and provide a noticeable glow after consistent use, despite its somewhat strong fragrance that may not appeal to all.
The Detox Clay Mask by Chantecaille may not be a swift fix, but with repeated application, it has proven to significantly improve skin health, leaving it cleaner and smoother. It stands as a testament to Chantecaille's reputation for delivering nature-inspired, effective skincare solutions. For those who value quality and are on the quest for a transformative skincare product, Chantecaille's Detox Clay Mask is a worthy investment to consider and has earned its spot on our list of best clay masks. For more details, check out our full review!
4. Pore Proof Perfecting Clay Mask by Peach And Lily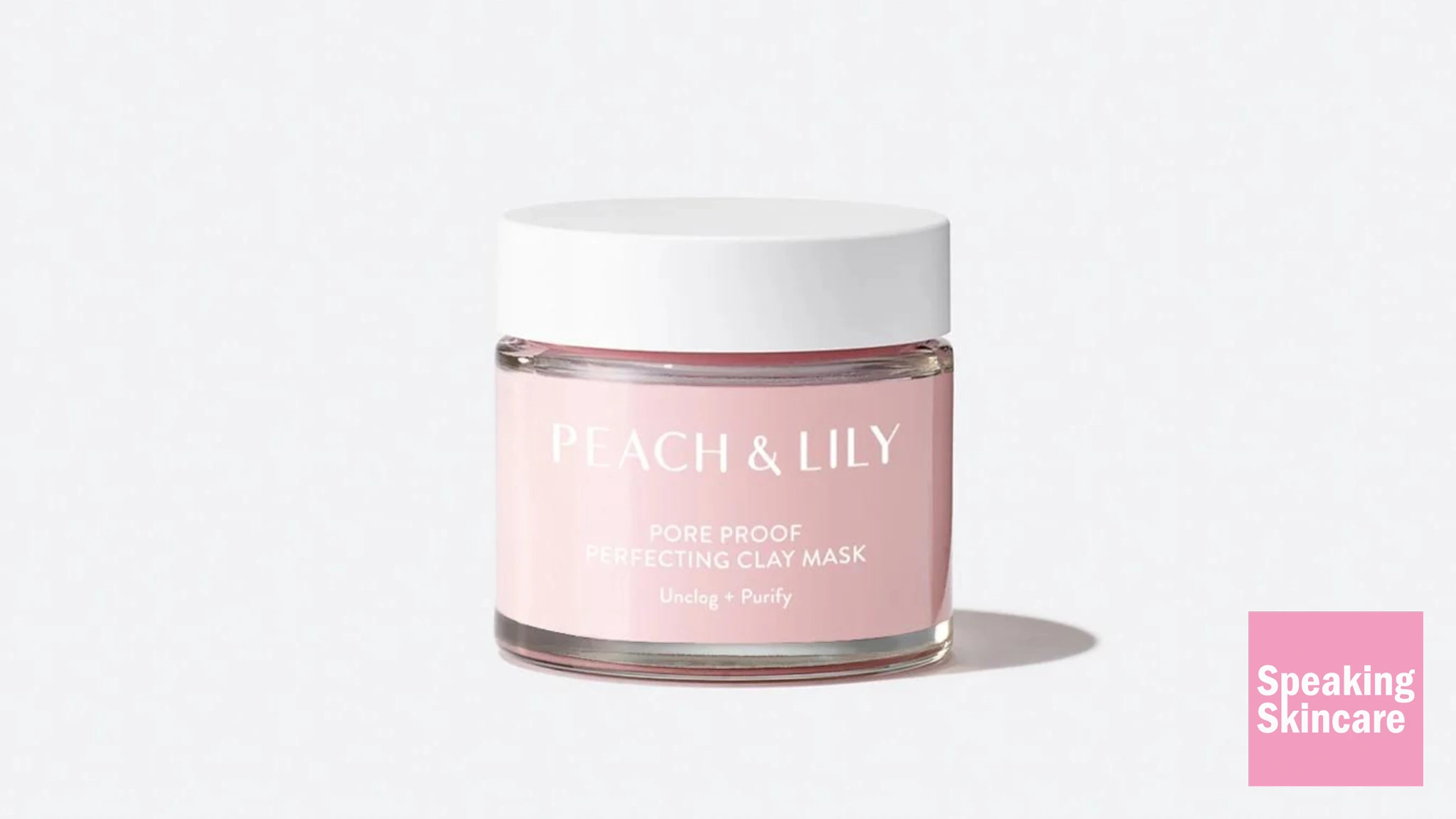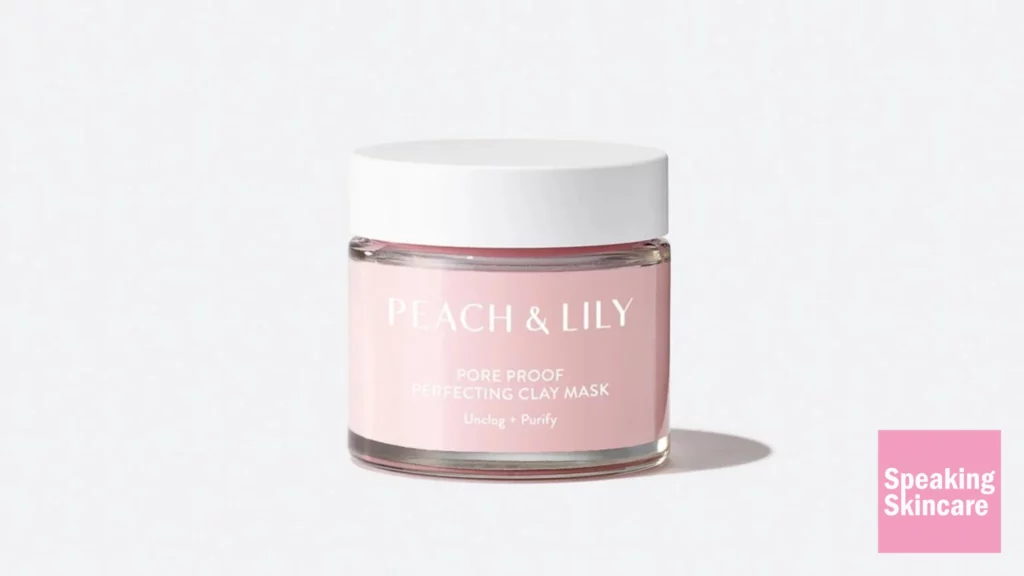 In the quest for clear pores and smooth skin, customers have found a reliable ally in Peach And Lily's Pore Proof Perfecting Clay Mask. Esteemed for its ability to unclog pores without over-drying the skin, this mask has become a standout choice, especially for those with normal to oily skin types. Customers report that it's a cruelty-free option that, when used two or three times a week, lasts a good two to three months even when applied generously.
The Pore Proof Perfecting Clay Mask contains a mix of kaolin clay, bentonite, and extracts from wild cherry, strawberry, and licorice, which work together to absorb excess oil, soothe and brighten the skin, and diminish discoloration. This combination of ingredients is praised for delivering immediate and long-term improvements to the skin's texture and appearance, reducing blackheads and leaving the skin feeling soft and rejuvenated.
Despite its slightly messy application and premium price, customers find this clay mask to be worth the investment for its quality and effectiveness. The chic packaging adds to its appeal, making it a delightful gift option for skincare enthusiasts.
From the very first use, the mask impresses with its thick yet spreadable consistency and its light, pleasant scent. It's designed to be a part of a weekly skincare routine, fitting seamlessly between cleansing and the subsequent steps of toning and moisturizing.
Although it's not recommended for daily use or for those with very sensitive or dry skin, it's been lauded for its noticeable results. With its unique ingredients like wild cherry and strawberry extracts, Peach And Lily's Pore Proof Perfecting Clay Mask is recommended for anyone in search of a top-notch clay mask that stands out from the rest.
We believe Peach and Lily's Pore Proof Perfecting Clay Mask definitely deserves its spot on our list of the best clay masks for the year. If you need more convincing, check out our full in-depth review!
5. Ultra Purifying Clay Mask by Vivier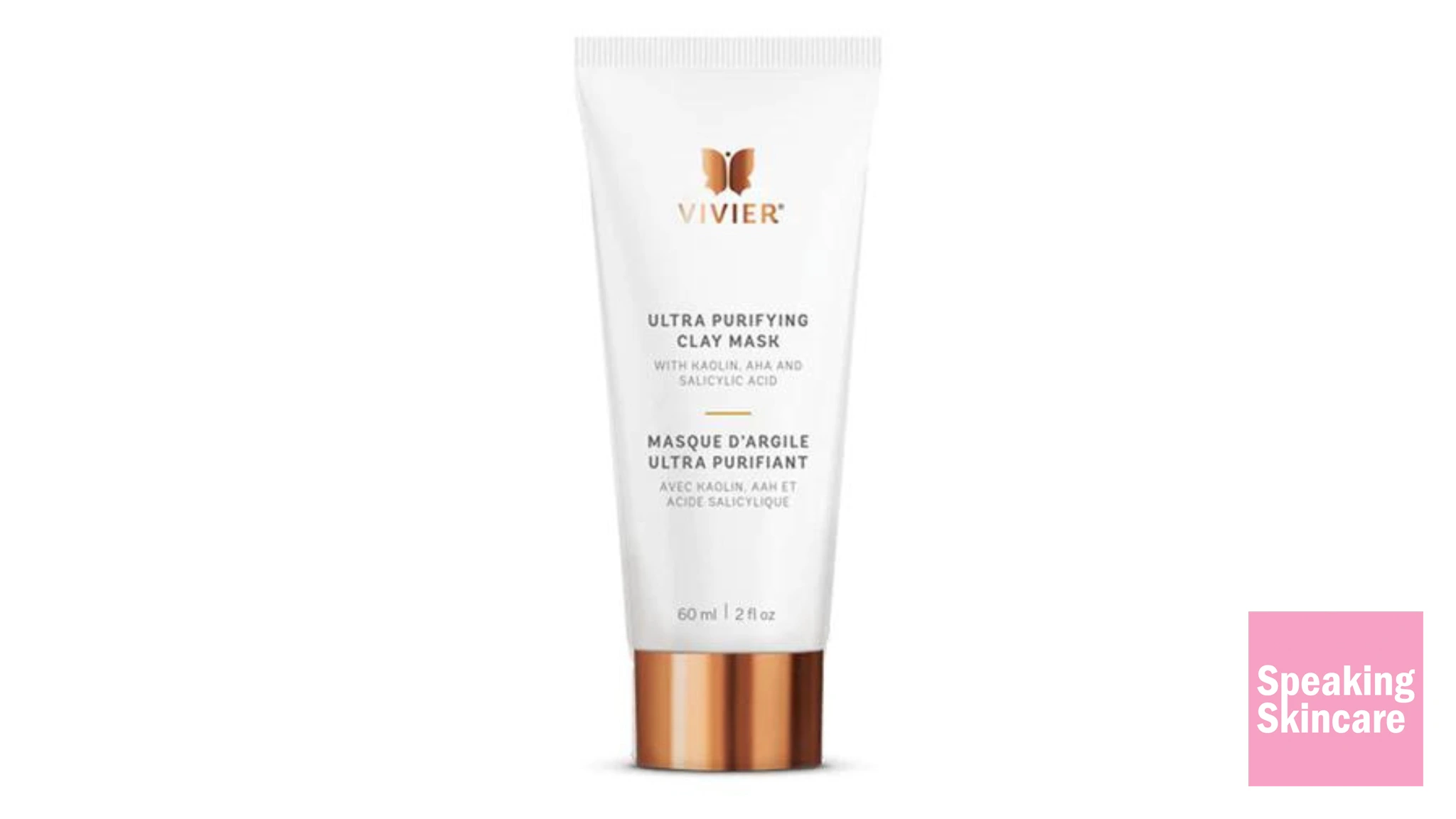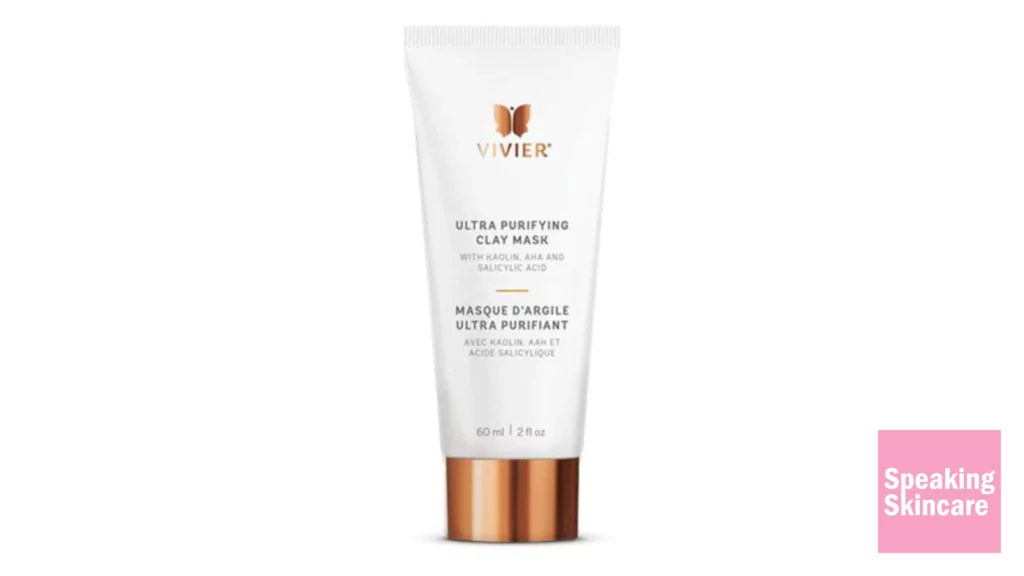 Customers are raving about the Ultra Purifying Clay Mask from Vivier—a savior for those wandering the overwhelming aisles of beauty stores in search of that perfect glow. This mask is a standout, and is definitely one of the best clay masks on the market, catering to the tricky balance of combination skin. It harnesses the purifying power of red and white Kaolin clays, AHAs for gentle exfoliation, Vitamin E for its antioxidant properties, and secret hydrating ingredients to transform the skin into a radiant canvas.
Animal lovers rejoice, as the mask aligns with cruelty-free values. A 60ml tube promises to last 2-3 months with bi-weekly use. Although ideal for most skin types, a patch test is recommended for those with ultra-sensitive skin.
Real-life experiences with the mask tell of its luxurious spa-like feel, with an earthy scent and a smooth application that requires just a thin layer. Vivier has been lauded not just for this product but for its entire line, with this clay mask being an excellent gift-worthy addition to any skincare routine. Need more convincing? Read our full review for all the details!
While some may find the price point high and the texture a bit gritty, the consensus is clear: the results overshadow these minor critiques. The mask leaves the skin feeling clean and smooth, drawing out impurities and oil without over-drying. Long-term, users report a more even-toned and radiant complexion.
Vivier's creation is not just a clay mask but a ritualistic experience that enhances the skin's ability to absorb the nutrients from subsequent skincare products. It's a product that has proven its worth, earning a place in the beauty routines of those who prioritize their skin's health and glow. Buy on AMAZON today!
6. Clear & Soothe Clay Mask by Neutrogena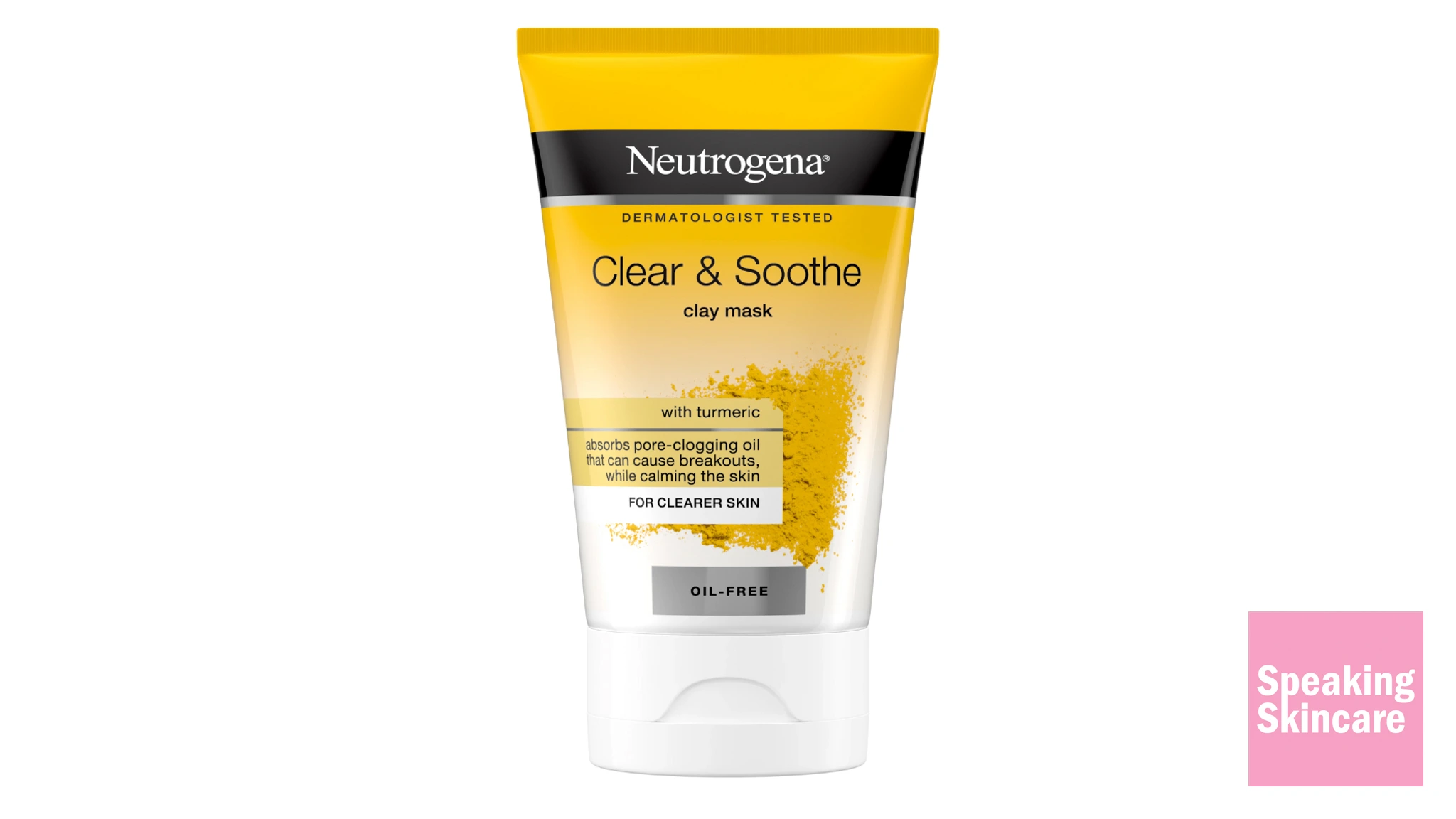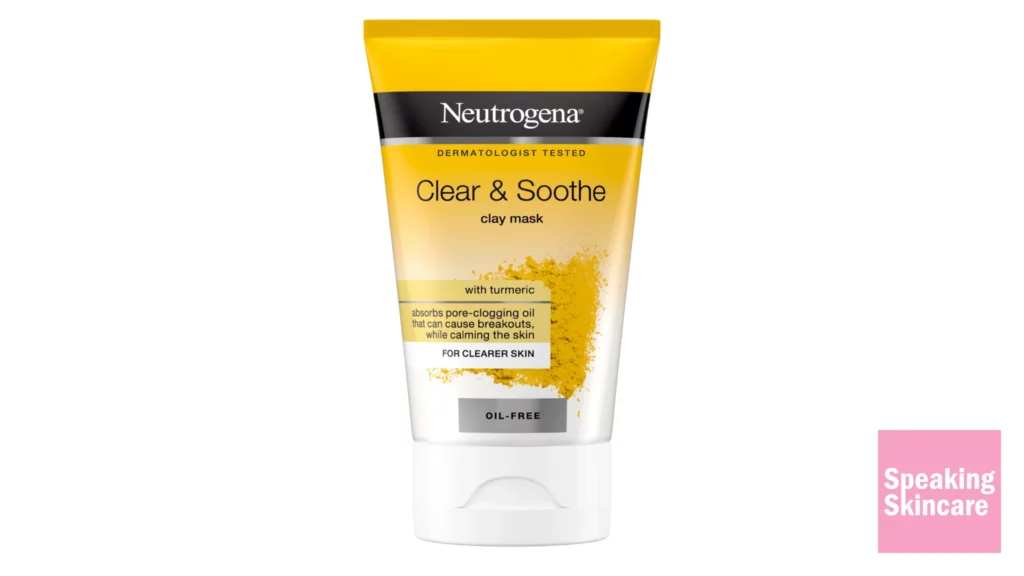 Customers seeking that elusive 'glow' without skin irritation have found a promising solution in Neutrogena's Clear & Soothe Clay Mask. Enriched with salicylic acid and turmeric, this mask is celebrated for its ability to unclog pores and soothe the skin, especially in oil-prone areas like the T-zone. Recommended for use 2-3 times weekly, one 50ml tube offers approximately two months of skincare.
Particularly suitable for normal to sensitive skin types, the Clear & Soothe Clay Mask provides a cooling, spa-like sensation upon application. While its heavy texture and residual post-wash presence were noted as downsides, the overall feedback is overwhelmingly positive, with significant improvements reported in skin redness, bumps, and reactivity. The skin's transformation into a balanced and healthier state has been a consistent highlight among users. Read our full review for more!
The mask's simple, elegant packaging adds to its appeal, promising a luxurious feel at an affordable price. Its rich consistency allows for easy application, forming part of an optimal skincare routine when followed by a hydrating toner and moisturizer. The key ingredients—salicylic acid for unclogging pores, turmeric for its soothing properties, kaolin clay for oil absorption, and glycerin for moisture retention—underscore the product's high-quality formulation. It has earned its place on our list of the best clay masks for you.
Buy on AMAZON today!
7. Evening Detox Clay Mask by This Works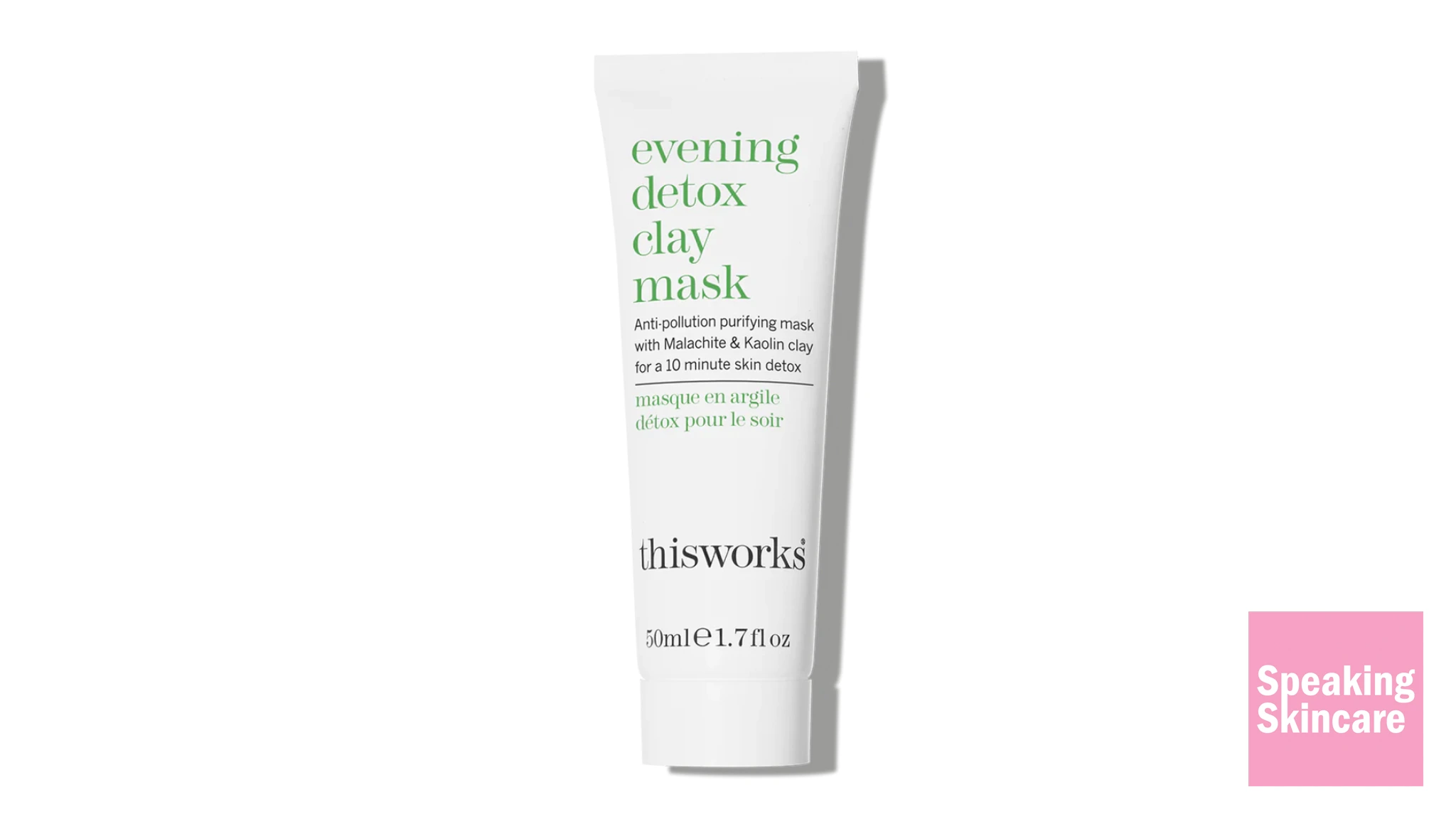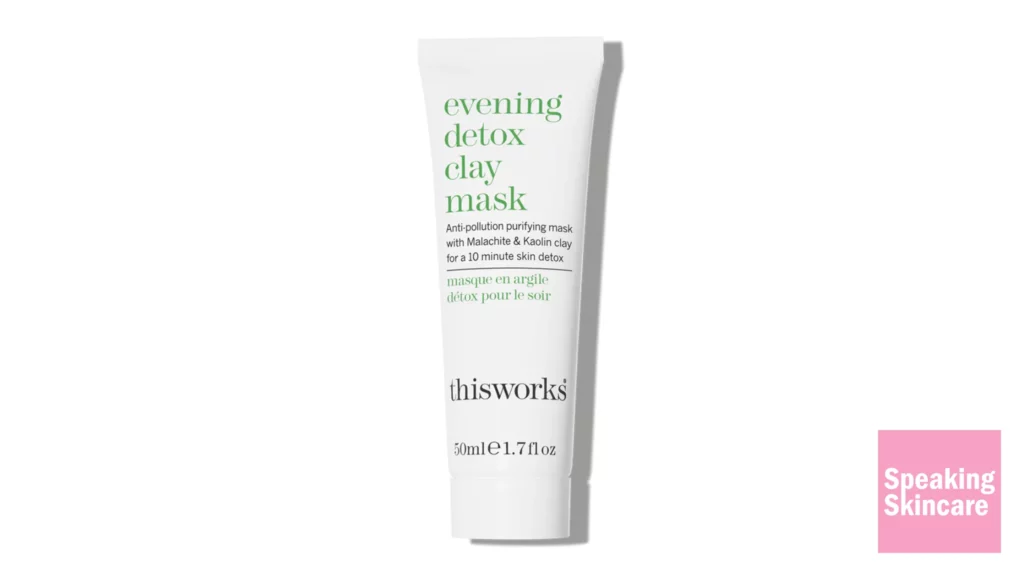 There's a ton of buzz about the Evening Detox Clay Mask from This Works, a gem in the skincare world known for detoxifying the skin and leaving a radiant glow. Praised for its purifying and replenishing properties, it's a top contender for those looking to revive their skin's vibrancy. As a cruelty-free and vegan product, it appeals to the ethical consumer and boasts a formula rich in Malachite, Kaolin clay, and multi-fruit acids, catering to most skin types with a gentle approach.
Despite the initial sticker shock, users find the price justifiable given the luxurious, spa-like experience and the noticeable improvement in their skin's texture and appearance. Regular use promises a smoother, brighter complexion, justifying its reputation as a mini indulgence that's more than a skincare step—it's an act of self-care. Read Blair's super in-depth personal review for more info!
Incorporating this mask into a nightly routine is seamless and rewarding, with a single tube providing around two months of pampering. The Evening Detox Clay Mask not only stands out for its quality and results but also as a thoughtful gift of self-care for loved ones.
With its stand-out ingredients and positive user experiences, the Evening Detox Clay Mask from This Works certainly earns its place on any 'best clay masks' list. Available for purchase on the official website or Amazon, it's a worthwhile investment in any skincare regimen.
8. Goddess Skin Clay Mask by Charlotte Tilbury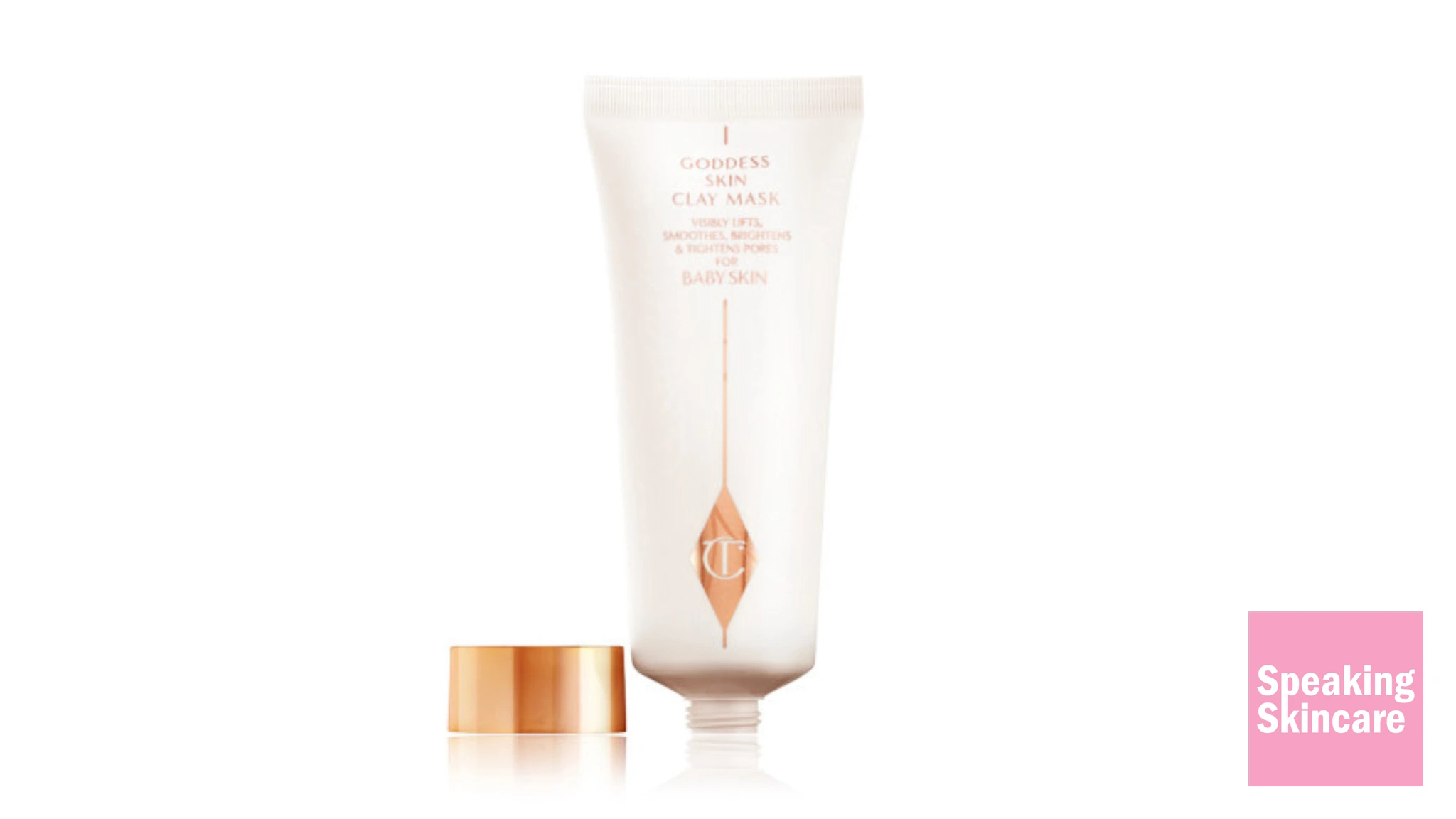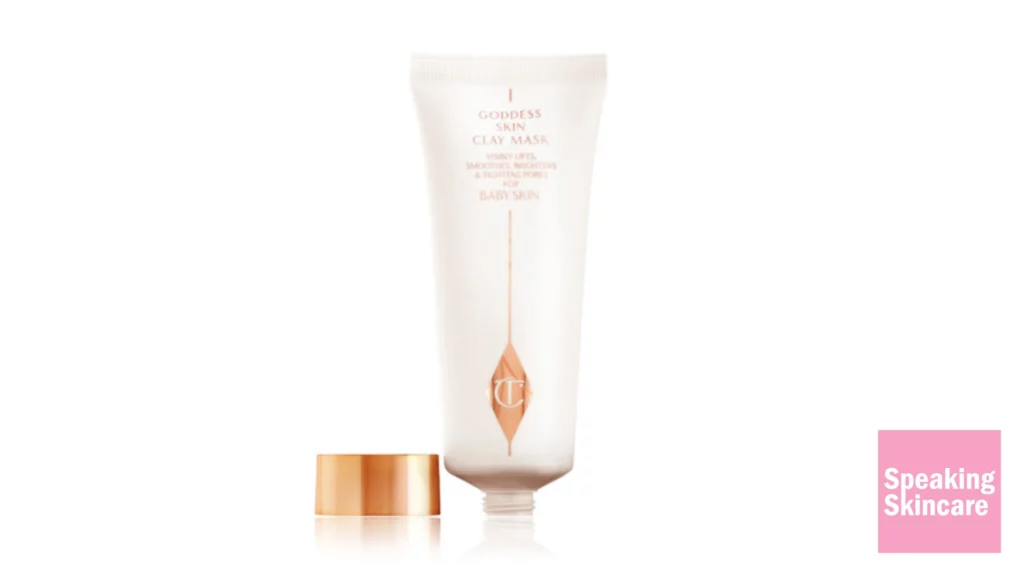 Customers are raving about the transformative effects of the Goddess Skin Clay Mask by Charlotte Tilbury, a cruelty-free and vegan-friendly product that promises to unveil a dewy goddess glow. This face mask, praised for refining, correcting, and hydrating the skin, is a hit with those seeking a bright and vibrant complexion. It's especially suited for normal to dry skin types, but a patch test is recommended for those with sensitive skin due to its potent ingredients.
The Goddess Skin Clay Mask boasts a blend of Spanish Clay and Sweet Almond Oil among its key ingredients, ensuring deep cleansing without stripping the skin's natural moisture. Users have reported a serene detox effect, with the skin feeling rejuvenated and pores less visible. A fresh, dewy glow has become an expected outcome, with the skin appearing radiant even without makeup.
Though the mask is a bit of a splurge and its thick texture can be challenging to wash off for some, the consensus is clear: the luxurious feel and impressive results justify the investment. A small amount goes a long way, transforming a regular skincare routine into a spa-like experience with its soothing, cool sensation and subtle floral scent. Read our full in-depth review for all the deetz!
The mask fits seamlessly into any skincare routine, acting as a primer for the skin to absorb subsequent products more effectively. It's an indulgent treat that doesn't just pamper but also delivers on its promises, earning it a rightful place on our list of best clay masks. With its thoughtful packaging and high-quality ingredients, it's not just a skincare product but an experience that caters to the needs of your skin. Available on Charlotte Tilbury's official website and AMAZON, it's a smart addition to any skincare regimen.
9. Volcanic Calming Pore Clay Mask by Innisfree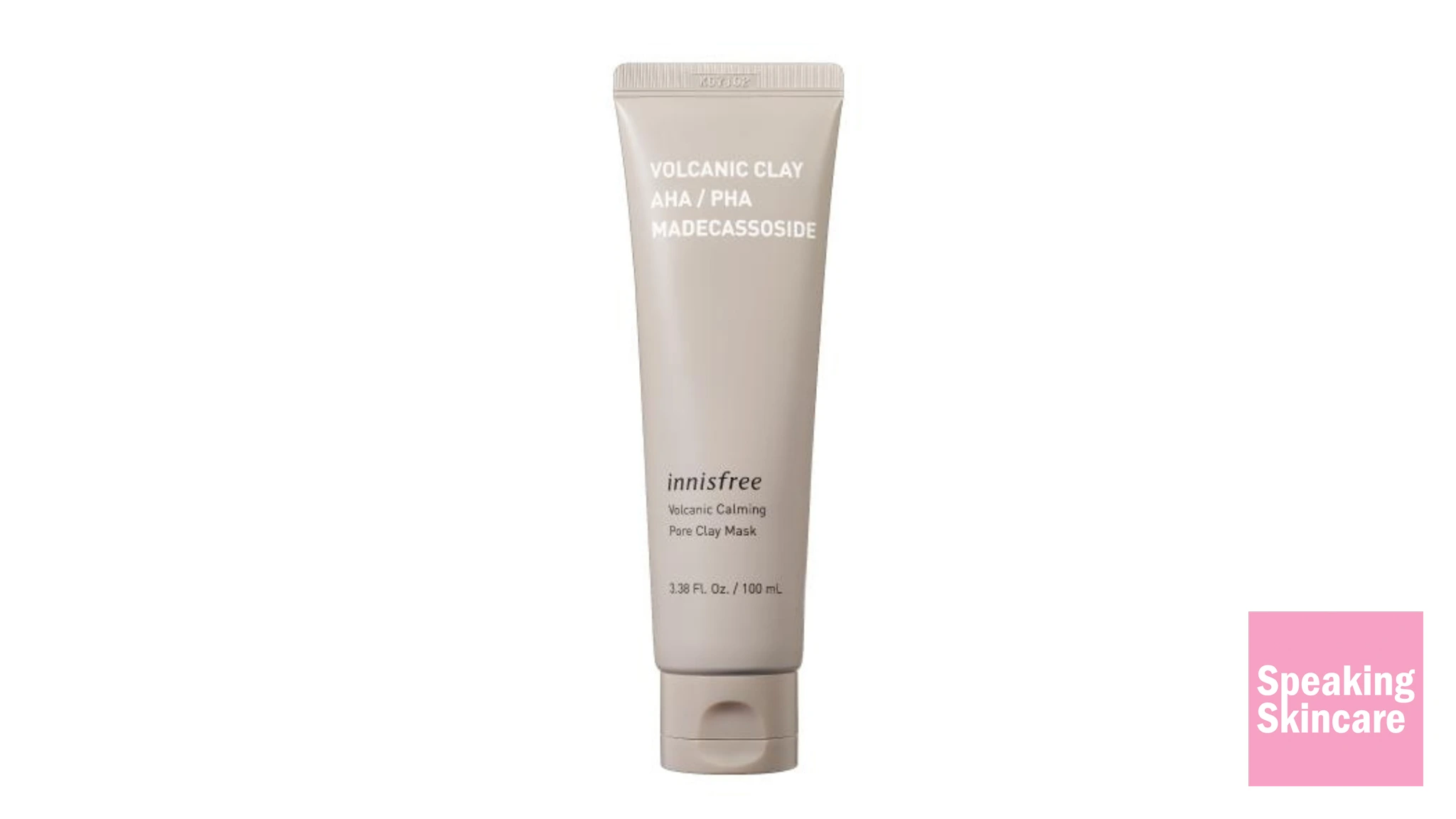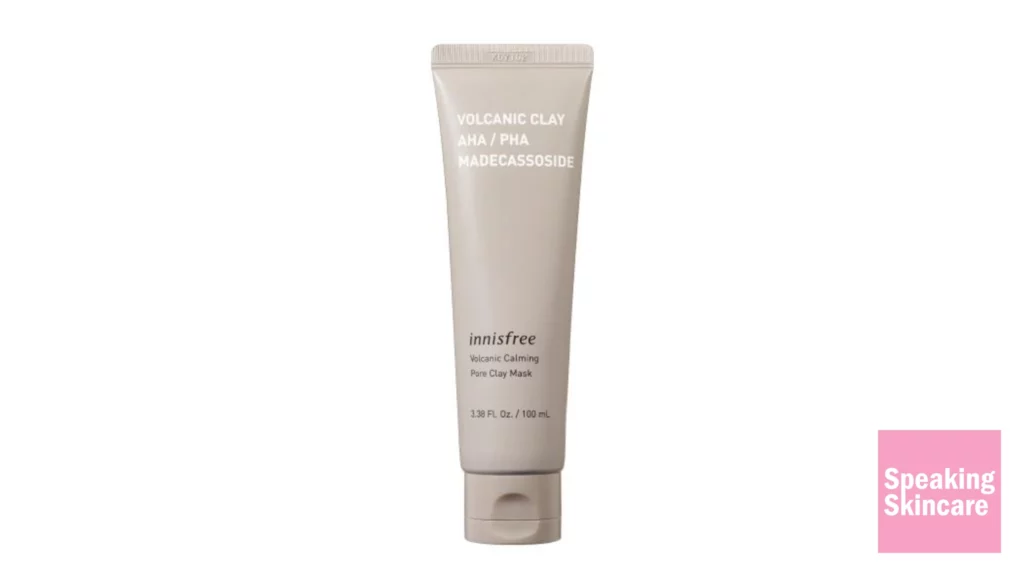 Seeking the perfect clay mask can be daunting, but enthusiasts can rejoice with the discovery of Innisfree's Volcanic Calming Pore Clay Mask—a gem that stands out in the crowded beauty market. Esteemed by customers for its efficacy against enlarged pores, this clay mask emerges as a leading solution for a refined complexion.
Innisfree, known for its track record of effective skincare solutions, presents this mask as a blend of volcanic ash and madecassoside, ingredients renowned for their purifying and soothing properties. The mask promises to melt away sebum and dead skin cells, leaving skin smoother and pores less visible, a claim that many have seen fulfilled through regular use.
Customers have appreciated the mask's quick action, taking only five minutes to reveal softer, glowing skin. Despite its strong formulation, the product is praised for its suitability for various skin types, though a patch test is recommended for those with sensitive skin.
The mask's application is part of its charm—a luxurious, spa-like experience that only requires a small amount to cover the face, making it a cost-effective choice priced under $20. While the fragrance may not appeal to all, it is generally considered mild and pleasant. Read our full review for everything you need to know!
The verdict from customer experiences? Innisfree's Volcanic Calming Pore Clay Mask not only deserves a place on our list of best clay masks but also offers an indulgent skincare ritual that leaves the skin pampered and refined, making it a product that many recommend without hesitation. Available through Innisfree's official online store and Amazon, it's an accessible choice for those looking to enhance their skincare routine.
10. Clarifying Clay Mask by Merle Norman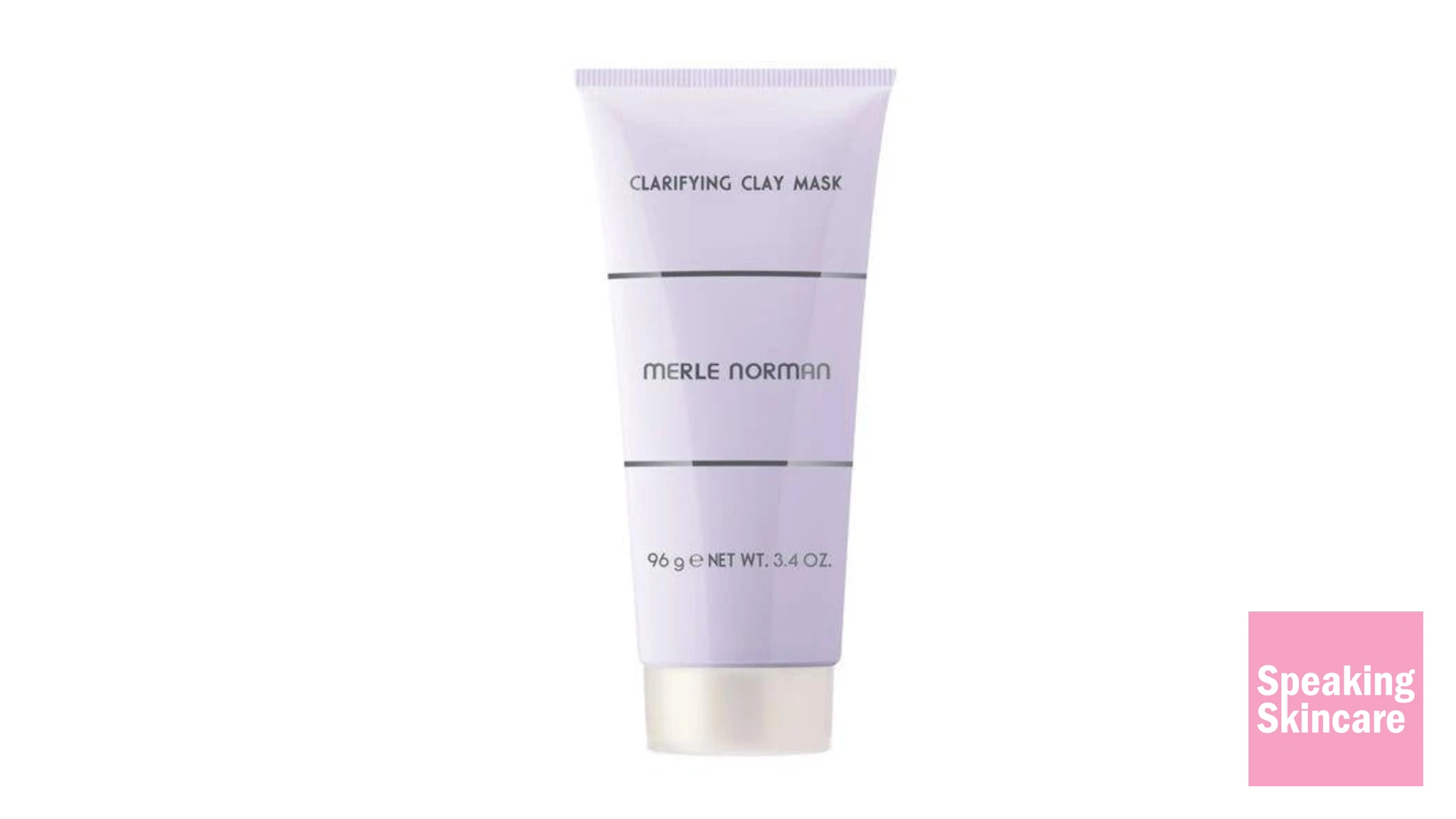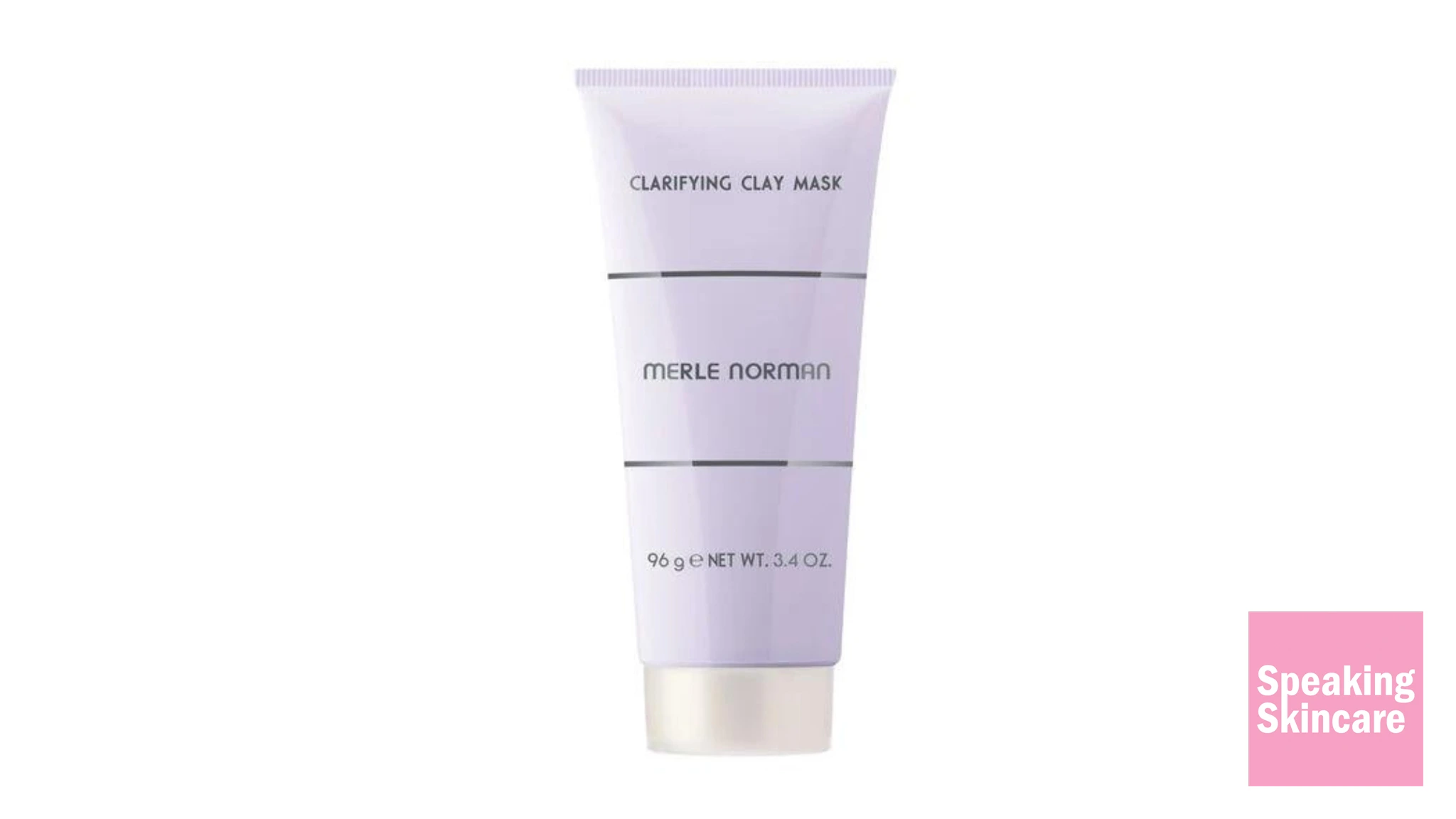 Customers have discovered a gem in the Clarifying Clay Mask by Merle Norman, a stalwart in the combat against oily skin and clogged pores. This skincare marvel is earning its stripes for creating a sebum-free experience, leaving skin refreshed and radiant. It's a cruelty-free indulgence, assuring animal lovers a guilt-free beauty regimen.
The Clarifying Clay Mask, best suited for normal to oily skin types, has become a household favorite, not just for its efficacy but also for the ethical stance of Merle Norman. Enriched with Kaolin and Montmorillonite, these key ingredients are celebrated for their oil-absorbing and skin revitalizing properties.
Regular application, about twice a week, promises a lasting glow and improved skin texture. While it might not be a one-size-fits-all, as those with dry skin may find it less suitable, it's definitely positioned itself as a front-runner for those seeking to tame their oily complexion. For all the tea, read our comprehensive review here!
Despite some minor critiques regarding its texture and scent, the Clarifying Clay Mask has lived up to its promise, leaving users with a healthier, glowing skin. It's recommended as a top-tier choice for anyone looking to enhance their skincare routine, meriting its place on this list of best clay masks. Available on Merle Norman's official website and on AMAZON, it's a product that invites you to invest in your skin's well-being.
–
Hey! Just so you know, this article contains affiliate links that we may make a small commission on. Thanks!