In the vibrant world of clay masks, it's easy to get overwhelmed by the sheer variety that the market has to offer. Perhaps you've found yourself in this predicament, sifting through countless options, unsure of what to choose. After all, your skin is precious, and the last thing you want to do is feed it something harmful or unsuitable.
Well, you're in luck. I'm about to give you an in-depth review of the Pink Clay Glow Mask from Deascal, a product that has truly won my heart in recent times. I'll be sharing my personal experiences with this clay mask, detailing what it's like to use, and diving deep into its unique formula.
Most importantly, I'll be telling you about all the incredible benefits this mask brought to my skin over my trial period. Even I, someone who has tried hundreds if not thousands of products at this point was extremely impressed, and honestly, a little bit shocked!
I'll also be giving you the scoop on the brilliant brand responsible, Deascal. These guys have become my new favorite brand lately and for very good reason.
Okay, I can't wait to get started. Let's go!
Oh! And don't forget to claim your exclusive Deascal discount code at the end of the review!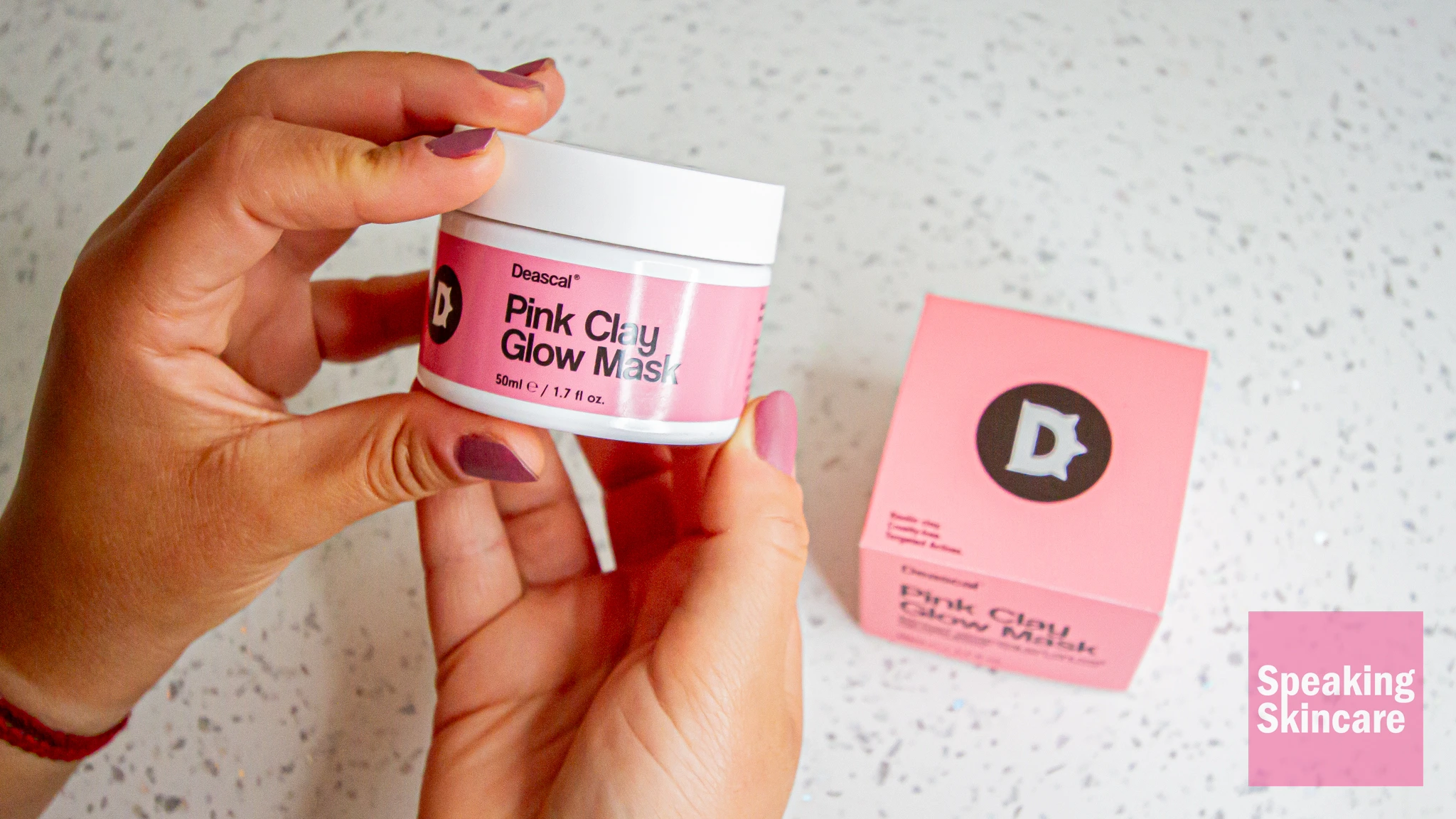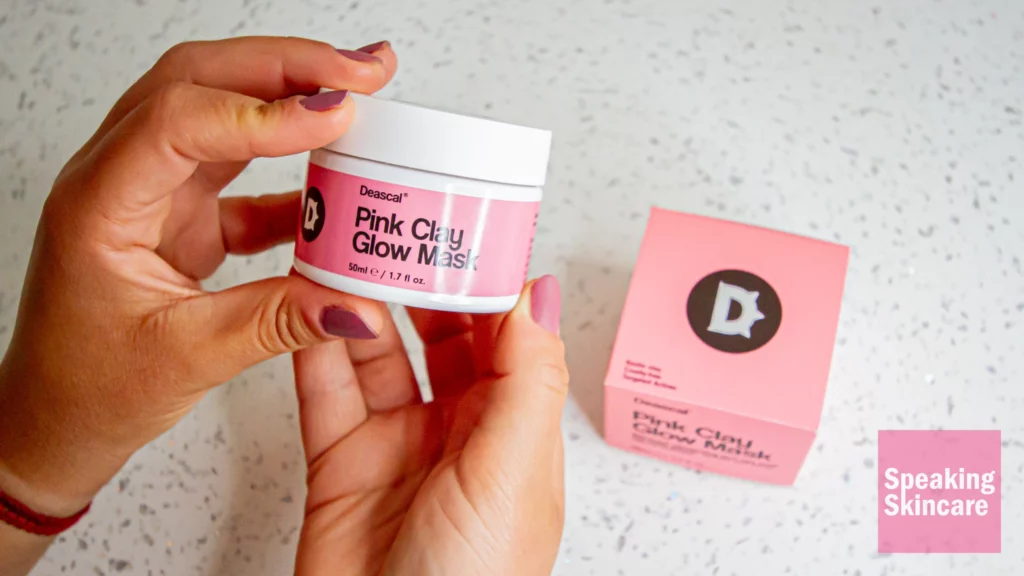 Setting the Stage – What is the Pink Clay Glow Mask?
Imagine a rejuvenating clay mask that pampers, hydrates, and unearths your skin's natural brilliance – that's Deascal's Pink Clay Glow Mask for you. It's like a mini spa treatment, right in the comfort of your home!
Deascal's Pink Clay Glow Mask is a harmonious blend of nature's finest ingredients nestled in a chic glass jar, designed to give you that much-coveted glow and smoothness. Yes, this mask is the poster child for skin pampering and radiance. But hey, it's not all about the glow-up; it's the journey that matters. And what a journey it promises!
The Pink Clay Glow Mask truly shines when you take a peek at its ingredients list. It's like Deascal has crafted a 'who's who' of skincare ingredients. There's Kaolin Clay and Niacinamide leading the charge, promising a shining and smooth skin canvas. It's like each ingredient is a piece of a puzzle that fits together to create the perfect picture of skin health. We'll dive deeper into this ingredient wonderland a little later with more information.
Deascal, the mastermind behind this wonderful mask, is a brand that is quickly becoming synonymous with quality and innovation in the skincare world. My personal dalliance with Deascal has been nothing short of a love affair, fuelled by the brand's relentless dedication to delivering skin perfection.
I've always had a soft spot for brands that show the same respect for our furry friends as they do for our skin. Discovering that Deascal's products are cruelty-free was like a melody to my ears. In terms of my personal skincare brand checklist, they're ticking off every point!
With all that being said, there's only one thing that really matters – Did the Pink Clay Glow Mask work for me? Read on to find out.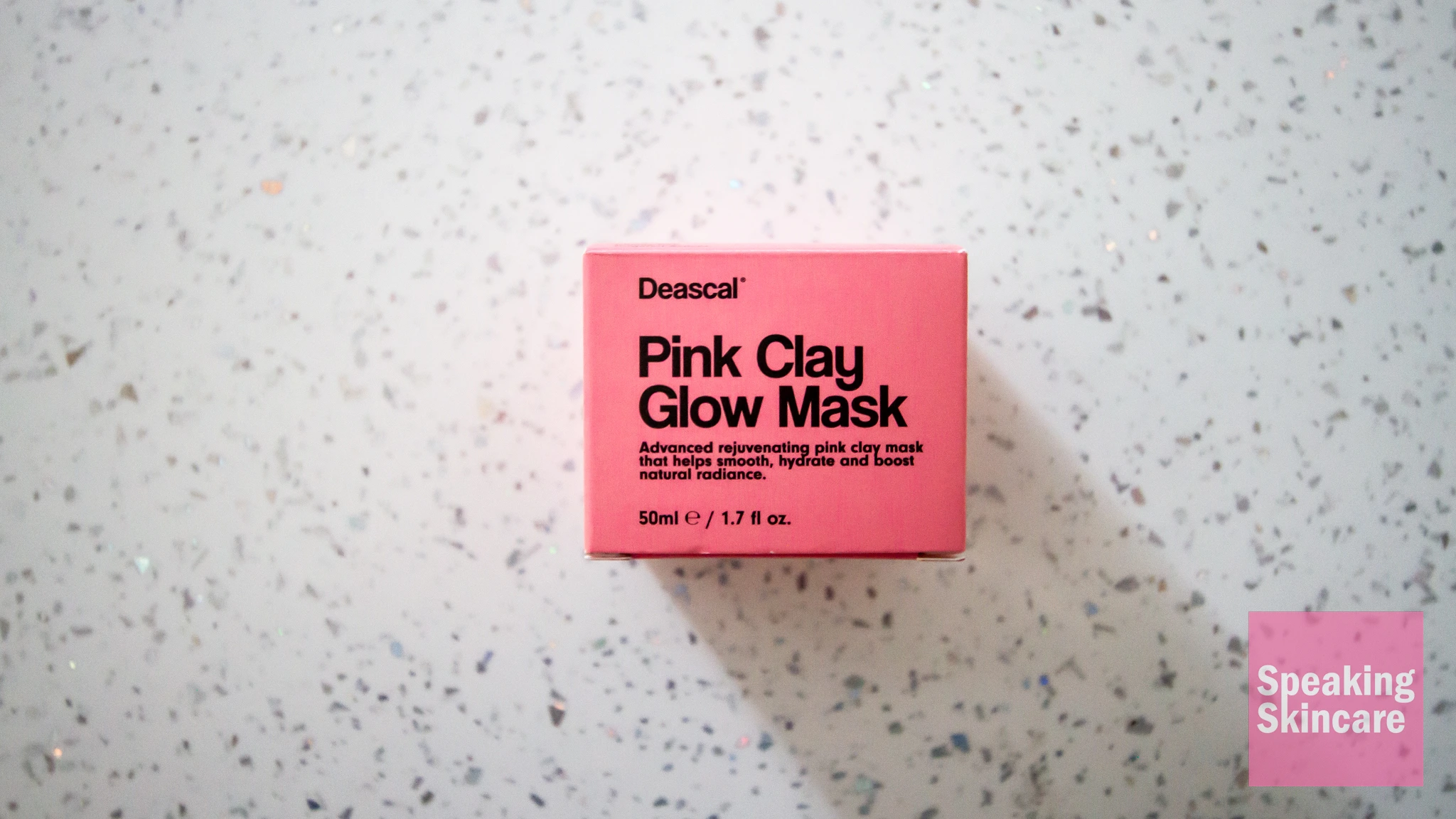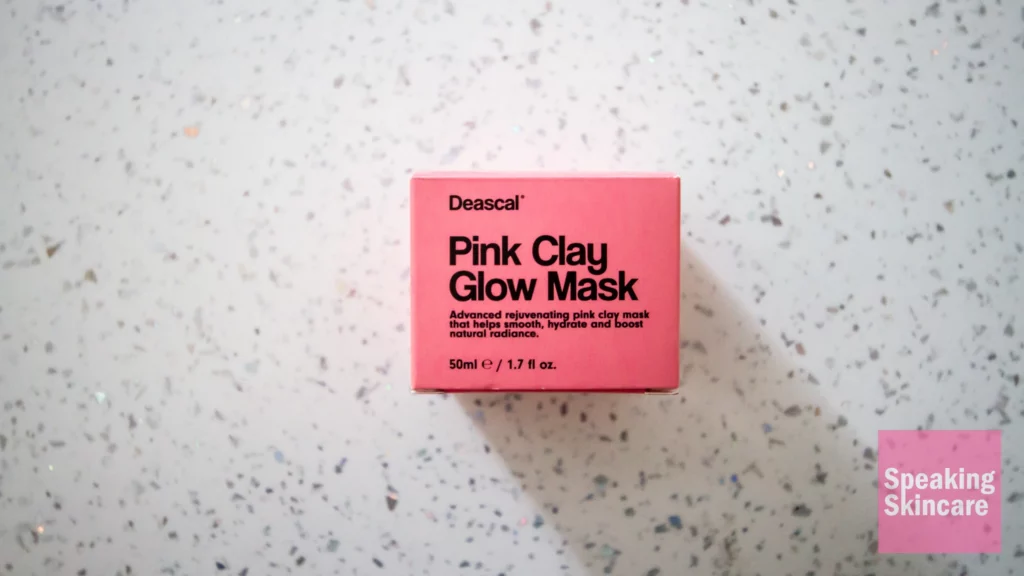 The Power of the Pink Clay Glow Mask – My Personal Story
Okay, let's talk about a love story, one that started with skepticism, teetered with anticipation, and blossomed into an enchanting romance. No, it's not a Hollywood flick, but my relationship with the Pink Clay Glow Mask by Deascal. As a skincare enthusiast who has faced her share of product disappointments, this seemed like a risky venture, but boy, am I glad I took the plunge.
Now, envision this: it's been a tiring day. The strains of work are taking a toll, and all you crave is a refreshing timeout. You reach out for the Pink Clay Glow Mask, hoping it would be the magic potion your skin is crying out for. As someone who has personally been in that very spot, trust me when I say, this mask could just become your new skincare soulmate!
Applying the mask felt like a much-needed skincare spa, right at home. Its smooth texture spread evenly, embracing every pore like a blanket of comfort. No streaks, no clumps, just a seamless application that added an element of luxury to my skincare routine. And the wait as the mask worked its magic? Picture an enchanting interlude where time seems to slow down, allowing you to soak in the tranquillity.
Now comes the part you've been waiting for – the results. Friends, let me tell you, my mirror became my favorite rendezvous! Each glance reflected a visage that seemed to glow brighter, look smoother, and feel softer. It was like a skincare revelation, the transformation my skin had been yearning for.
I noticed the effects in various situations. After those grueling workout sessions when my face was flushed, applying the mask seemed to cool down my skin, leaving it calm and soothed. On stressful days, the mask was my therapeutic skincare retreat, leaving my skin and my senses rejuvenated. During those sudden breakouts that had me worrying, the Pink Clay Glow Mask was the hero that came to my skin's aid.
Each use unveiled a new facet of its prowess. It was like the mask had an invisible entourage of skin guardians, each one addressing a specific concern, from toning down my pores to granting an even skin tone. It was a symphony where each note played harmoniously, creating a skincare sonnet that my skin loved to hum along to. Sorry, I'm feeling a bit poetic today!
Now, you might think, "Well, this is all great, but where's the proof?" I'll tell you where – in the compliments I started receiving! Friends began noticing the change in my skin, often asking if I'd done something different. "Your skin is glowing!" became a frequent compliment, one that always left me with a beaming smile.
One such memorable incident was at a friend's birthday party. A close friend of mine, who hadn't seen me in a while, commented, "Your skin looks fabulous! What's your secret?" When I mentioned the Pink Clay Glow Mask, it sparked a conversation about skincare that lasted the whole evening!
As time went by, the mask proved to be more than just a skincare product. It was my skin's confidante, my personal skincare therapist, my secret to a glowing complexion. So, does the Pink Clay Glow Mask work? If my experience and the compliments I've received are anything to go by, it's a resounding YES!
To wrap up, Pink Clay Glow Mask wasn't just another skincare product for me. It was an experience, a journey, an adventure. It was like a skincare confidante that I discovered, treasured, and fell head over heels for.
Deascal have once again knocked it out of the park! I'm just sad that my jar is now empty. Maybe I could pull some strings and get a new one so I can continue this experience. Let me just message my boss…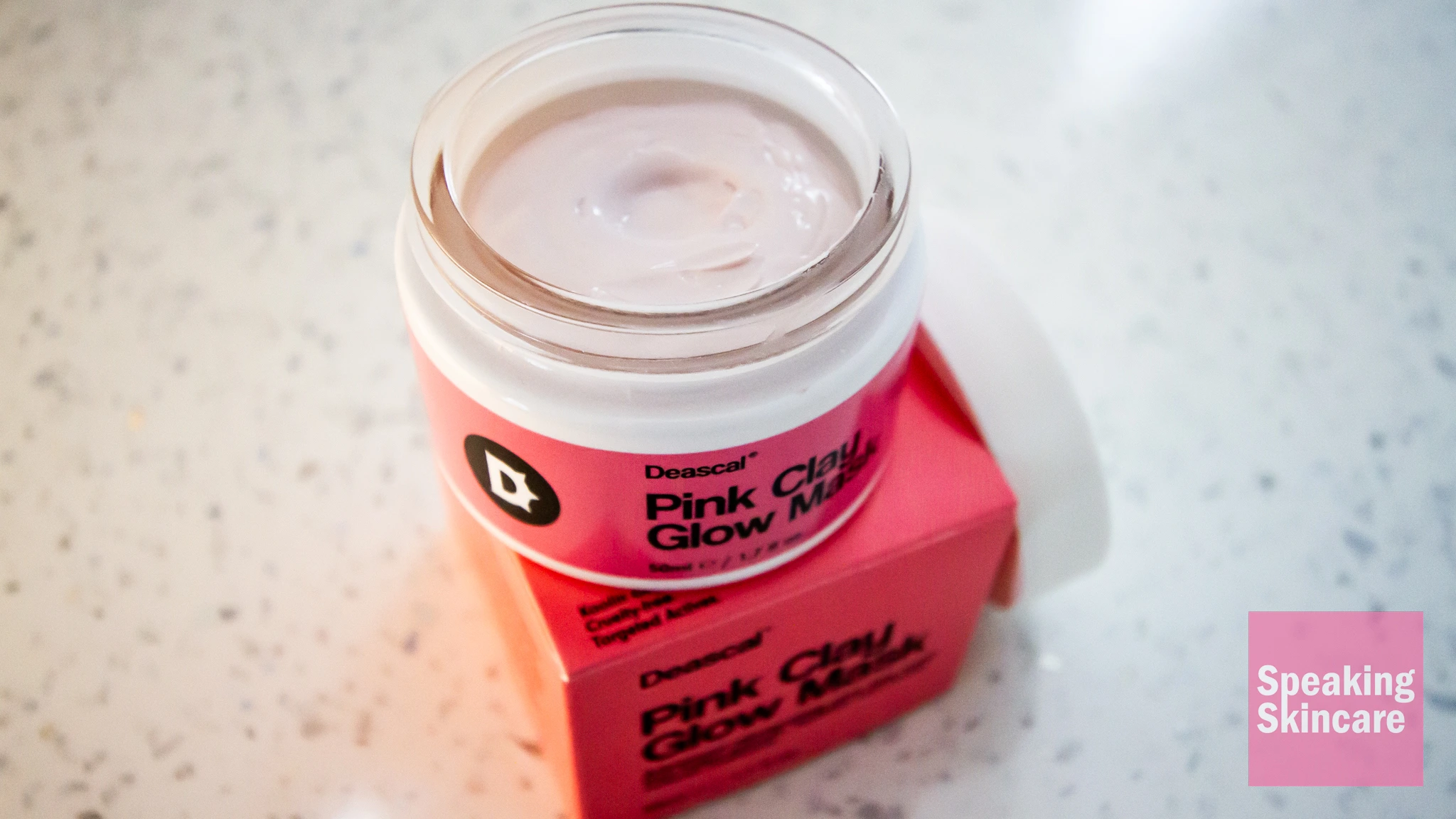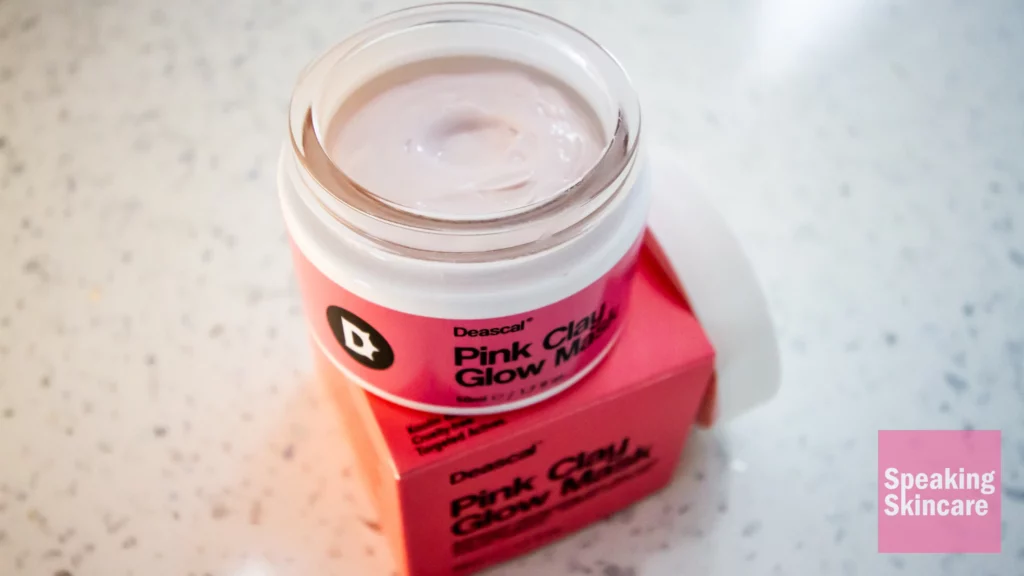 Using The Pink Clay Glow Mask
Imagine holding a luxuriously packaged little pot of gold in your hands. That's exactly what it feels like to hold the Pink Clay Glow Mask. The moment I had the jar in my grasp, I was struck by the superior quality. I mean, we all know that you should never judge a book by its cover, but in this case, I could tell that the contents were going to be as premium as the packaging.
Remember that feeling you used to get as a kid on your birthday? You know, when you're handed a beautifully wrapped present? That's the excitement I felt. And boy, did it feel good to unwrap this gift! It felt so high-end that I found myself thinking it would make an impressive present for someone's special day.
Applying the Pink Clay Glow Mask is an experience in itself. It glides onto your skin like butter on warm toast. It's as if your skin is drinking in all the goodness and thanking you for it. I remember the first time I smoothed it onto my face; the sensation was so indulgent that I couldn't help but let out an audible sigh of satisfaction.
Something I appreciated was that a little bit of the product went a long way. A small scoop was enough to cover my face, but of course, you're free to use as much or as little as you prefer. After all, self-care is a personal journey, isn't it?
Now, you're probably wondering, "Where does this fit into my skincare routine?" As a skincare aficionado who has experimented with an array of products over the years, my recommendation would be to use it after cleansing and toning. This mask sets the stage for the rest of your products to perform even better, just like the best supporting actor in a blockbuster movie.
Each time I used this mask, my bathroom was transformed into a luxurious spa, with me as both the esteemed guest and the professional facialist. My skin felt renewed, pampered, and truly cared for. The Pink Clay Glow Mask was more than just a skincare product for me; it was an experience that I looked forward to, a beloved ritual that never failed to add a touch of radiance to my day, and my complexion!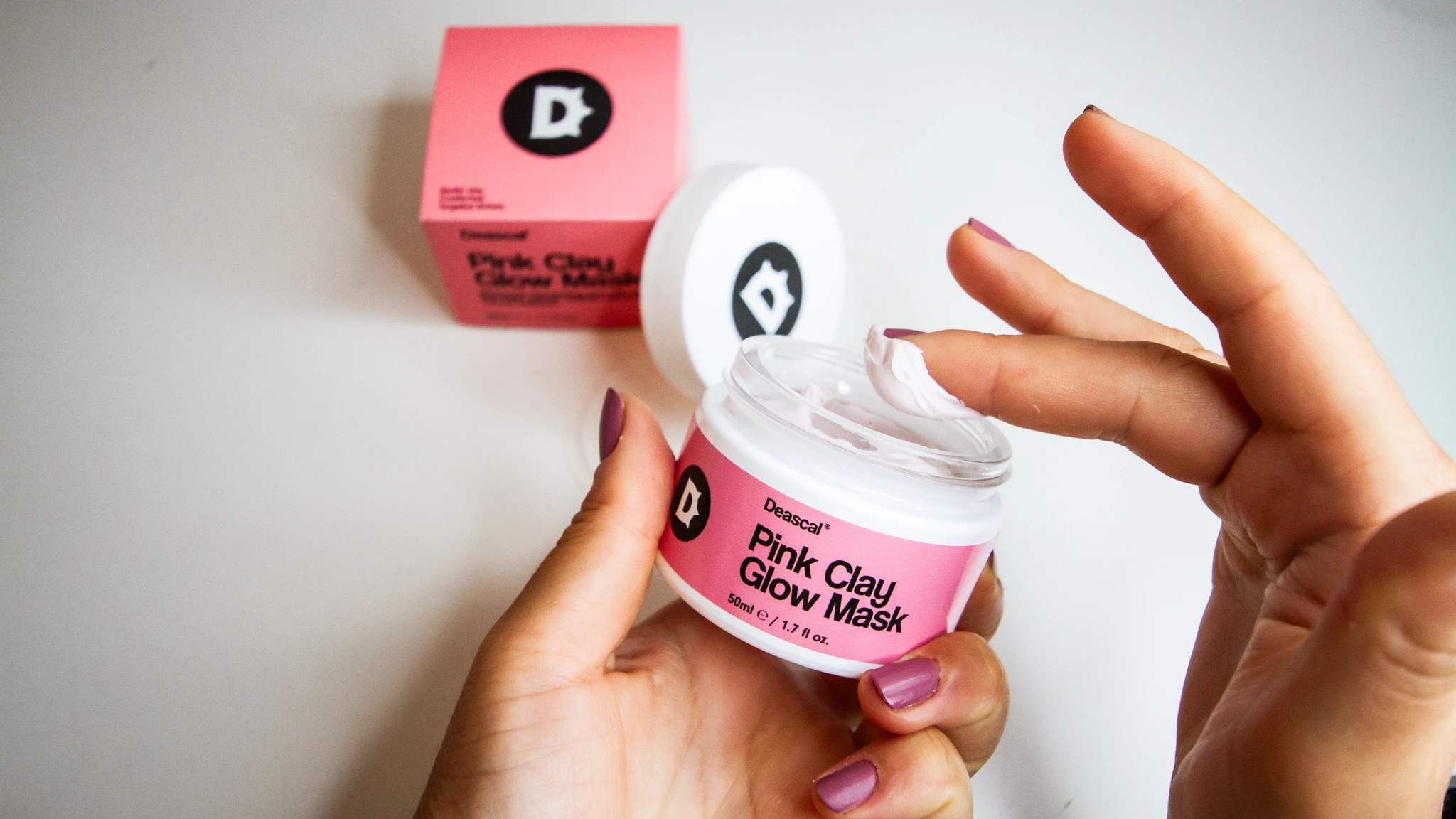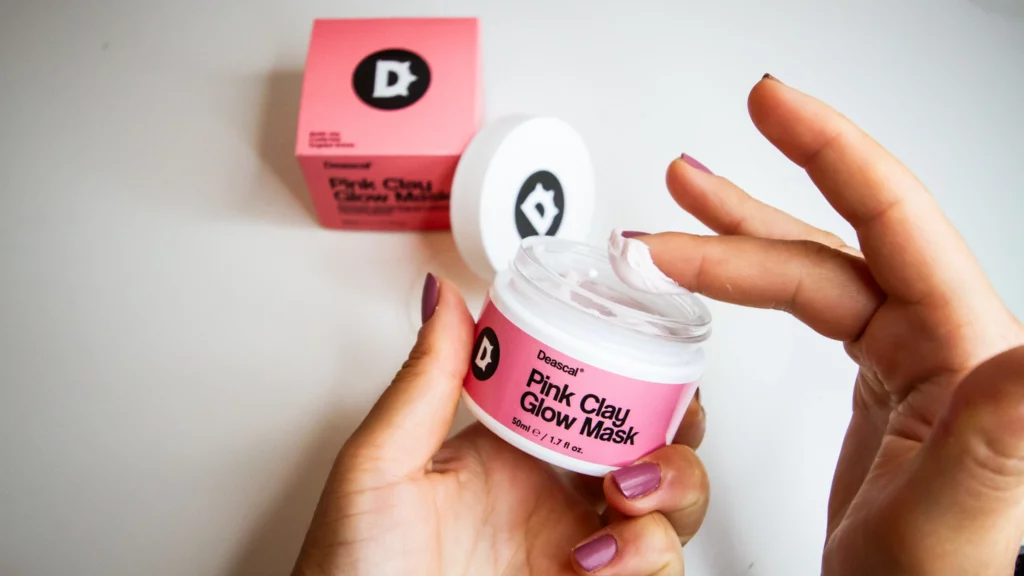 Ingredients Focus
When it comes to skincare, the list of ingredients is the backstage crew that really makes the show shine. So let's dive into the fascinating world of what's inside the Pink Clay Glow Mask. Each of these ingredients plays a unique role in making your skin glow like never before!
Kaolin: This is the main star of the show! Kaolin, a naturally occurring clay mineral, is known for its incredible ability to detoxify the skin. In this mask, it works like a mini vacuum cleaner, gently sucking out all the impurities and excess oil without leaving your skin feeling dry or stripped. The mask gets its delightful pink color from this ingredient, giving you a fun, Instagram-worthy skincare moment!
Niacinamide: Say hello to the secret agent for improving skin texture and enhancing radiance! Niacinamide is a form of Vitamin B3 that works overtime to smooth out any rough patches and brighten your complexion. It's like having a tiny, diligent army working tirelessly to reveal your most radiant skin!
AHA Acids: Now, this is where the magic happens! AHA, or Alpha Hydroxy Acids, are the superheroes of exfoliation. They gently break down the bonds between dead skin cells, allowing them to be swept away, revealing a fresher, more glowing layer of skin. And the best part? No abrasive beads are involved, so it's a smooth, gentle journey to radiant skin.
Multifunctional Larch Tree Active: This ingredient is a tree hugger's dream come true! Extracted from the larch tree, it's a multitasking superstar that helps repair the skin's barrier function and assists in reducing the appearance of fine lines and wrinkles. It's like having a personal trainer for your skin, helping it stay in top shape!
Panthenol: Last but definitely not least, we have panthenol. Consider it your skin's best friend, always ready to lend a hand (or molecule)! As a skin conditioning agent, panthenol works diligently to ensure your skin stays moisturized and hydrated. Think of it as your skin's personal hydration station, providing a refreshing gulp of moisture whenever it's needed.
With such a spectacular cast of ingredients, it's no wonder that the Pink Clay Glow Mask has quickly become one of my most loved skincare products. Every single ingredient has been carefully chosen for its specific role, and together, they work in harmony to give you that irresistible glow.
Signing Off – Would I Recommend It?
In a world where the shelves are brimming with clay masks, the Pink Clay Glow Mask by Deascal is a diamond in the rough. It truly shines with its results and its commitment to quality ingredients. On my personal clay mask leaderboard, this one certainly holds a top spot.
Would I recommend this mask? Absolutely, yes! It's like gifting your skin a ticket to radiance and smoothness. I firmly believe that the readers of Speaking Skincare will absolutely love it.
Remember, if you've got extremely sensitive skin, a patch test is the way to go. It's always better to be safe than sorry, despite my confidence that this clay mask would probably suit all skin types.
You can grab your own jar of the Pink Clay Glow Mask from Deascal's official website. AND if you use our exclusive discount code SpeakingSkincare10 you can get a nifty 10% off your purchase. Cool, right?
Now that you've heard my story, why not embark on your own skincare adventure with the Pink Clay Glow Mask? Trust me, you won't regret it!
Until next time, happy masking.
Muna.