Another day, another pore minimizer serum, right? The beauty market seems to be exploding with an overwhelming variety of pore-minimizing serums, leaving us with the million-dollar question – which one actually works?
Well, my friends, today I'm going to dive deep into my personal experiences with a product I've recently tried and loved – the Poreless Perfection Serum from Deascal. As someone who's constantly on the hunt for effective solutions to manage my annoyingly conspicuous pores, this serum showed up as a game-changer.
I have a soft spot for Deascal's products – their quality has never failed to impress me, and I was thrilled to try their pore minimizer serum. As usual, they did not disappoint. Just one of MANY reasons why they are fast becoming one of my absolute favorite skincare brands out there.
Continue reading for my detailed overview of the product, the fantastic ingredients used in the formula, and most importantly, my thoughts and takeaway from my month-long trial using it.
I hope my insights will be helpful to you all. And don't forget to claim your exclusive Deascal discount code SpeakingSkincare10 for 10% off any Deascal purchase!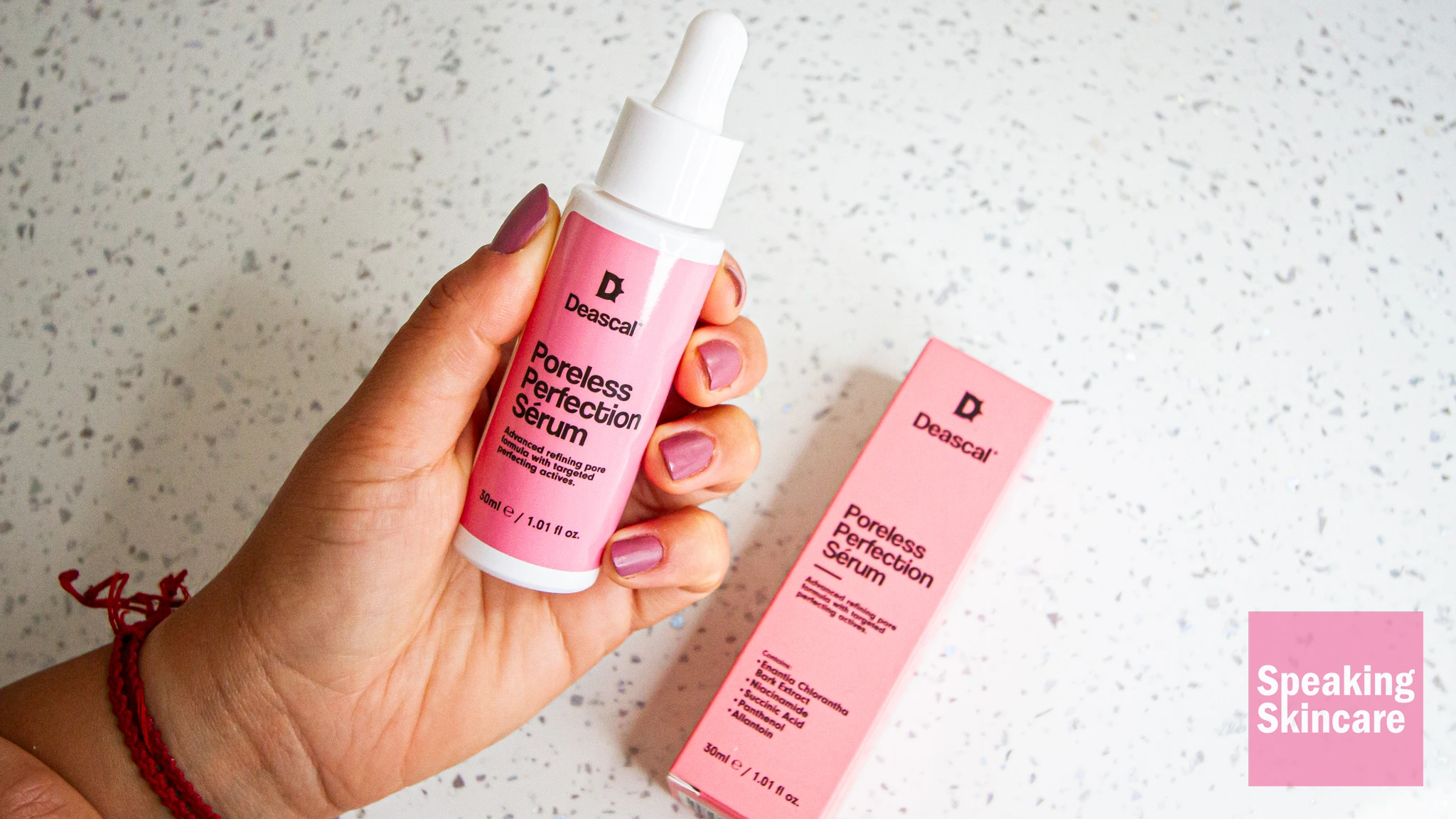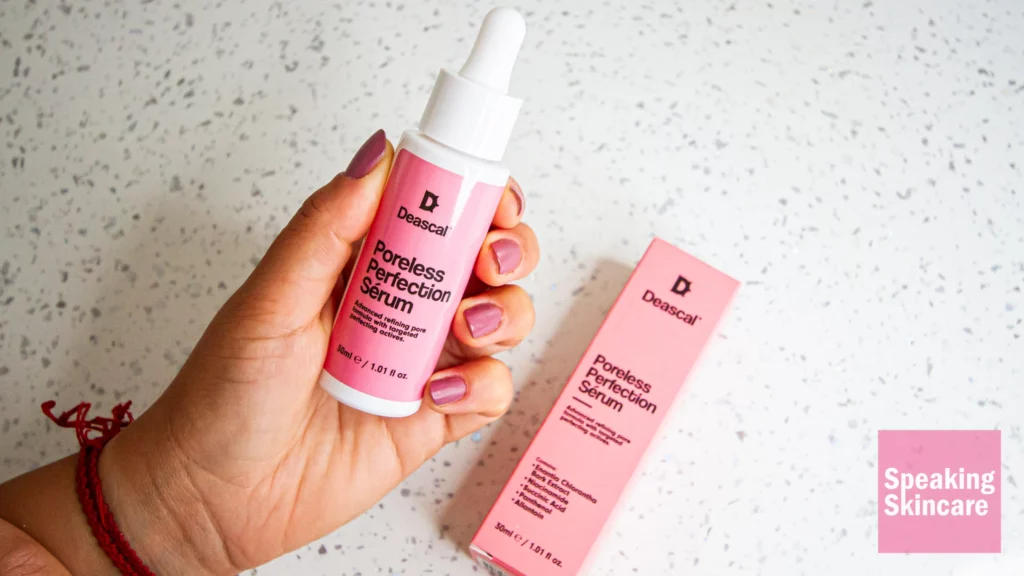 Here's What You Need To Know About The Poreless Perfection Serum
So, here's the scoop on the Poreless Perfection Serum, a product I was thrilled to introduce into my skincare routine. As someone who's always been at war with pesky pores, the very name "Poreless Perfection" felt like music to my ears. This serum promises to shrink pore size, reduce shine, and refine your skin's texture, all claims that excited me to no end.
Intended for the face and neck, I adored the fact that the brand behind this gem, Deascal, is staunchly cruelty-free. As an animal lover, this gave me extra brownie points to offer them.
With regular use, this 30ml bottle is designed to last for about a month, something I found fairly accurate during my test. The serum seemed ideal for someone like me, with a combination skin type. However, it's important to note that those with extremely dry skin might not find this as beneficial. But, it's always worth a try!
And now a word about Deascal. Their reputation in the skincare universe is nothing short of remarkable. Having heard countless rave reviews and recommendations from my circle, I've come to hold Deascal's products close to my heart. The Poreless Perfection Serum, with its tempting concoction of ingredients like Evermat, Niacinamide, Succinic acid, Allantoin, and Panthenol, seemed to be another shining star in their lineup. But hang in there, because we'll be unraveling these ingredients in all their glory a bit later in this review. Stay tuned!
Now for the golden question – Did the Poreless Perfection Serum work for me? Read on!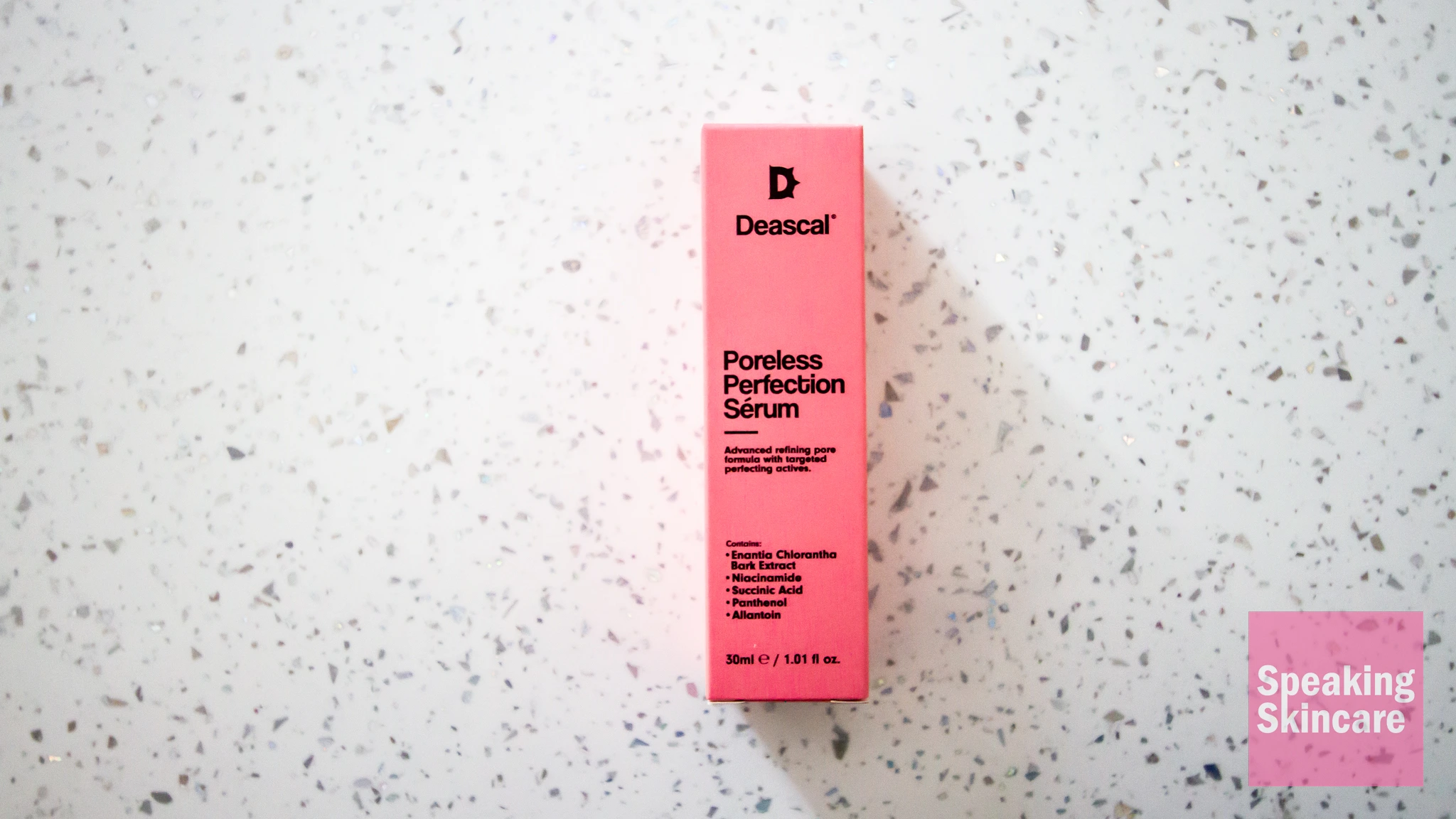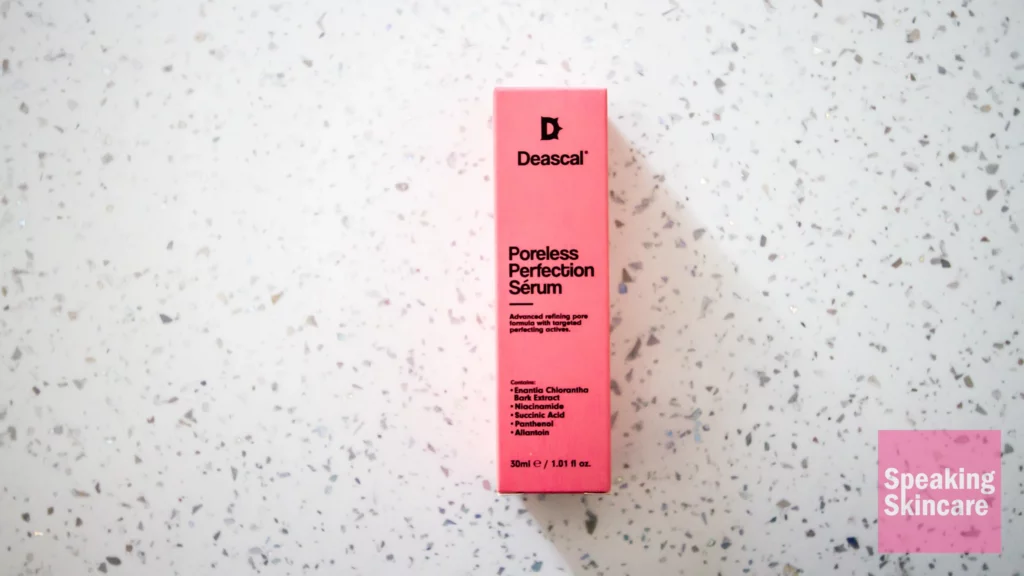 Did The Poreless Perfection Serum Work For Me? My First-Hand Account
For those who know me, you'd be aware that my journey with pore minimizer serums has been a mixed bag. Some have let me down, leaving my hopes dashed and pores, well, embarrassingly conspicuous. So when I got my hands on Deascal's Poreless Perfection Serum, my curiosity was piqued, my expectations hopeful yet cautious.
I incorporated this magic potion into my morning and evening routine religiously, applying it to my clean skin on my face and neck before sealing it with a moisturizer. After all, consistency is key in skincare. And let me tell you, folks, the commitment was worth it.
The transformation was nothing short of stunning. A week into using the Poreless Perfection Serum, my skin felt smoother, my pores noticeably smaller. I can't describe the sheer joy of running my fingers across my skin and finding it baby soft. My combo skin seemed to have found its perfect match.
But the real magic unfolded after two weeks. My skin radiance was dialed up to a level I hadn't seen before. My skin was visibly hydrated, and the texture was refined. Even my stubborn pimples were bidding adieu.
Not to forget the subtle glow it imparted. Going makeup-free became a regular affair. Running errands? A meeting with clients? A casual coffee date? Poreless Perfection Serum made sure my skin looked dewy and felt great, no makeup needed.
Moreover, I must mention the overnight wonders this serum did. Waking up to moisturized, glowing skin became my new normal. Every morning was a delightful surprise, each day a step closer to the skin of my dreams.
It was like my skin was on a joy ride, and it didn't want to get off. Who would have thought a single product could make such a massive difference? Poreless Perfection Serum, you had me at hello!
Oh, and if my own experience wasn't convincing enough, the compliments from friends and colleagues were the icing on the cake. I've been asked several times, "Tina, what's your secret? Your skin is glowing like never before!" It felt absolutely fantastic to hear that others were noticing my skin's transformation, too.
There was this particular comment from my colleague, Sarah. We were on a Zoom call for a brainstorming session when she mentioned, "Tina, I have to interrupt, your skin looks amazing. What have you been doing differently?" It was a regular Tuesday morning, and there I was, winning skin compliments, thanks to my faithful friend, the Poreless Perfection Serum.
There were countless instances like these, where the transformation brought on by the Poreless Perfection Serum drew praise from those around me. It's such a mood lifter when people notice a positive change in you, especially when it's about skin, and I have the Poreless Perfection Serum to thank for that!
So, to answer the original question – Does the Poreless Perfection Serum work? Absolutely YES!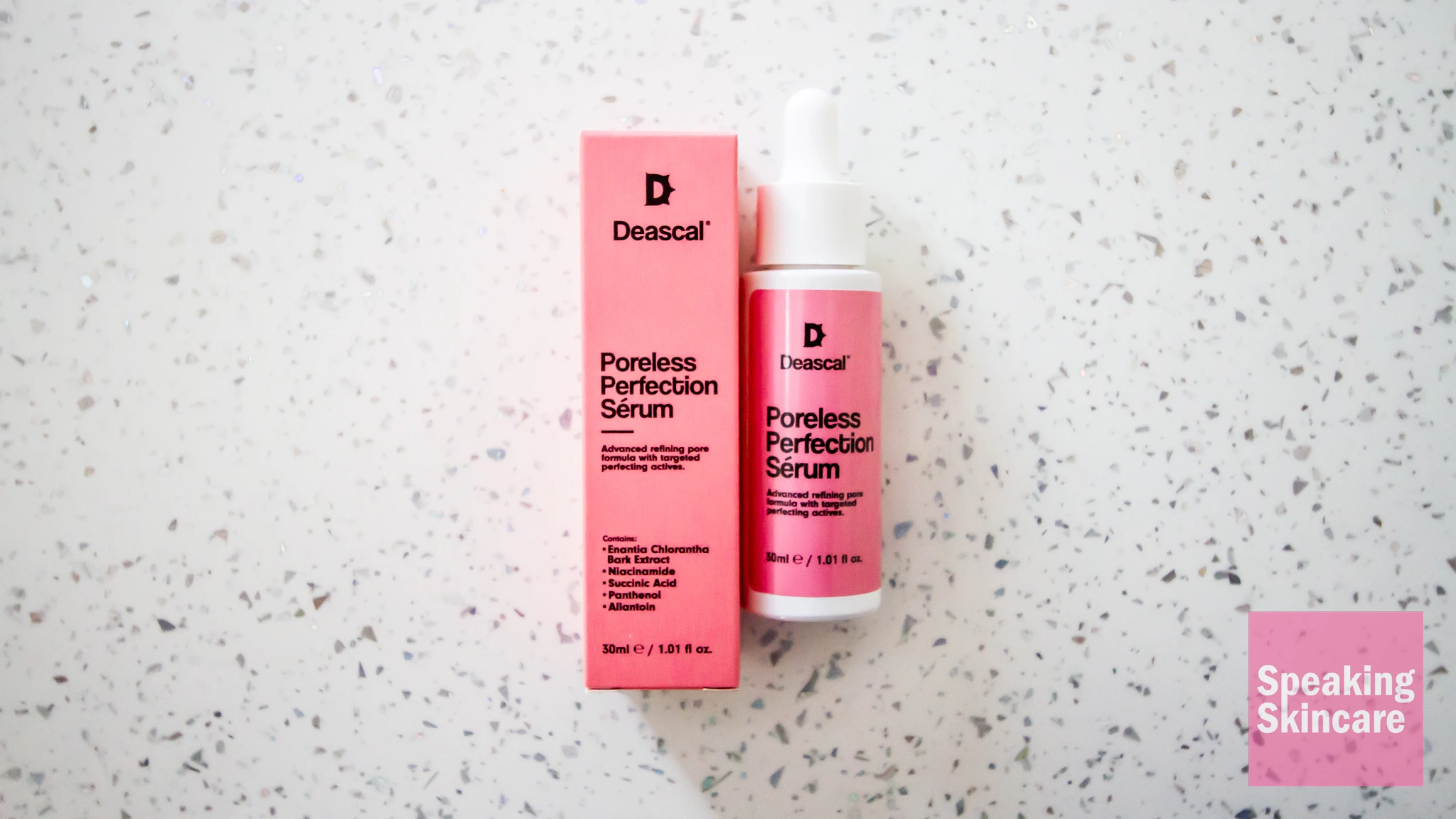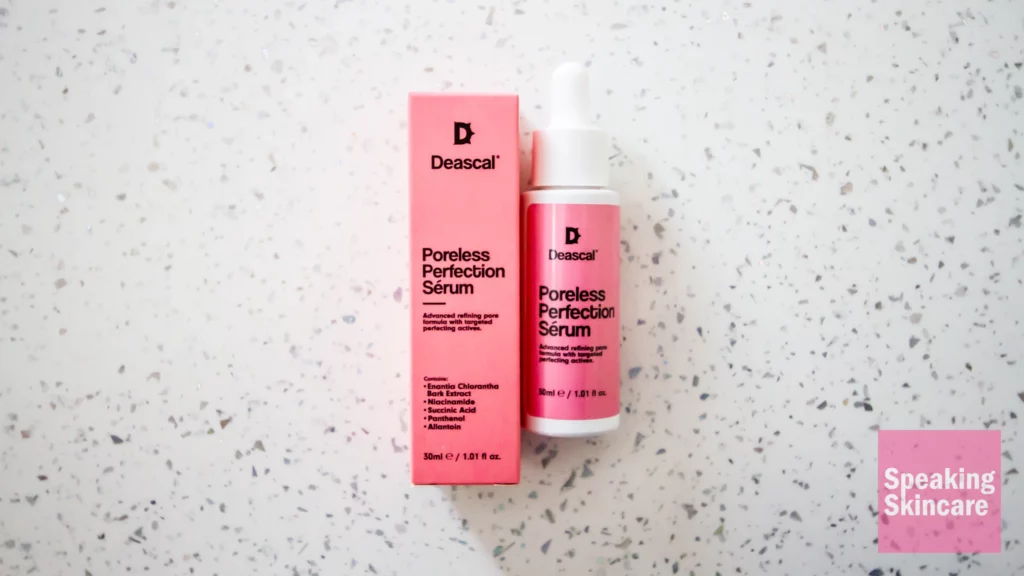 My Daily Usage of The Poreless Perfection Serum
Let me take you through the experience of using the Poreless Perfection Serum. When I first unboxed it, the sleek glass bottle immediately gave me the impression of a luxury, high-quality product. The minimalist yet classy design screamed 'chic' and perfectly embodied the Deascal brand's ethos. I couldn't wait to integrate it into my skincare routine.
I remember it was my birthday week and this little gem arrived just in time. Holding it in my hand, I thought, "Wow, this would make such a thoughtful birthday or anniversary gift for my skincare-savvy friends!" The aesthetic appeal of the bottle itself was enough to make anyone feel special.
When I first applied the serum, I was pleasantly surprised by the texture. It felt silky and smooth, almost like liquid silk sliding over my skin. It was lightweight and easily absorbed, making my skin feel instantly hydrated. I enjoyed every moment of massaging the serum into my skin, feeling it work its magic. I used about two drops each time, which turned out to be the perfect amount for me. The serum spread easily and left no residue, which was a major plus for me.
With my history of testing and reviewing skincare products, I have a pretty good sense of where a product fits into a skincare routine. Based on my experience, I would recommend using the Poreless Perfection Serum after cleansing but before your moisturizer. The serum is designed to penetrate deep into the skin, so applying it early in your routine will ensure you reap all the benefits of the active ingredients. Trust me on this, you'll feel your skin thanking you.
Each time I applied the serum, whether it was a rushed morning before work or a calming evening routine, it brought a sense of luxury and care to my day. It was a small act of self-love that left a big impact, and it truly elevated my skincare experience. From the first touch of the glass dropper to the feeling of the serum absorbing into my skin, using the Poreless Perfection Serum became a joy that I looked forward to every day.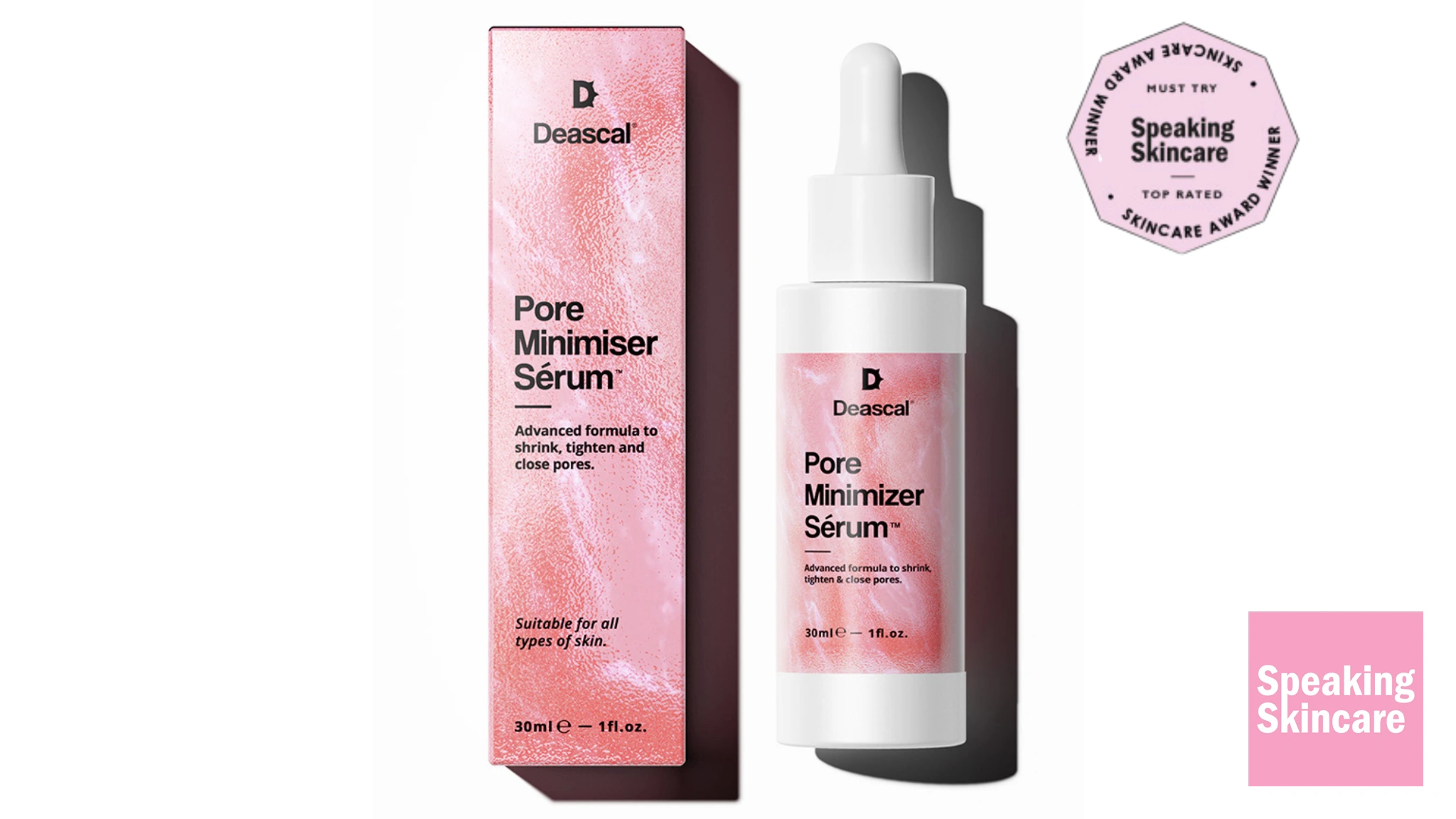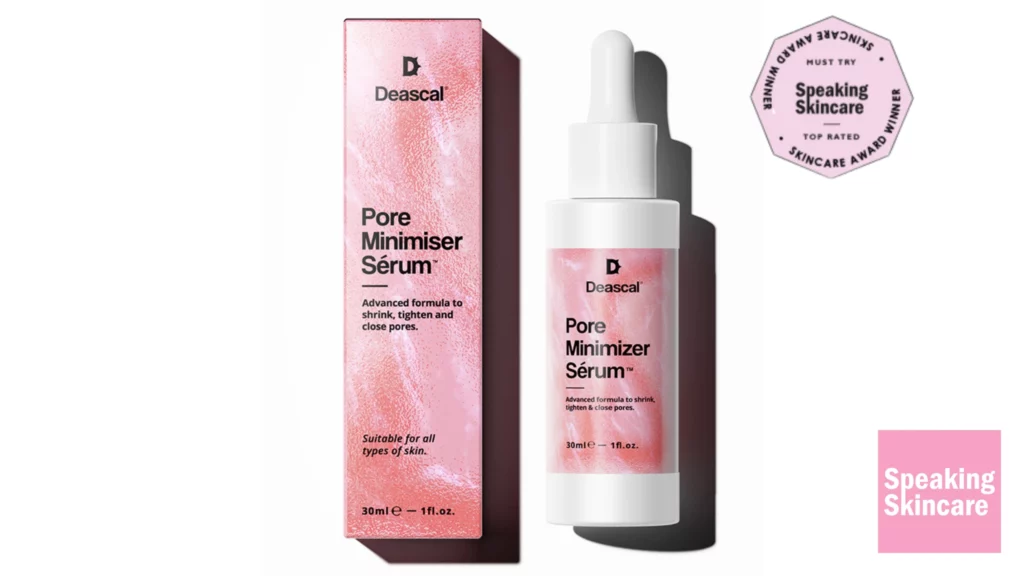 The Ingredients
Let me break down for you the superb elements that go into the making of Deascal's Poreless Perfection Serum. Understanding these ingredients is crucial to making an informed decision about the skincare products you use. So, let's dive right into what each ingredient in this product does.
Evermat: Extracted from a plant, Evermat is known for its effectiveness in controlling sebum. It's a game-changer if you're struggling with oily skin or enlarged pores. It helps reduce pore size, control shine, and improves the overall skin texture. For me, this was a crucial ingredient that made a visible difference in my skin health.
Niacinamide: This powerhouse ingredient is known for its wide range of benefits. It enhances skin radiance and improves texture. I personally love Niacinamide for its reparative properties, it has a proven record of improving the overall health of your skin barrier.
Succinic Acid: An excellent alternative to the more aggressive salicylic acid, Succinic acid works wonders on blemishes. It helps reduce pimples, improve skin texture, and boosts radiance. It worked very gently on my skin, and I noticed a marked improvement in my skin texture over time.
Allantoin: An excellent skin conditioning agent, Allantoin is known for its soothing properties. If your skin is on the sensitive side or you often feel dry, this ingredient will be your skin's best friend. It moisturizes and soothes the skin, leaving it plump and happy. For me, Allantoin was the soothing endnote after a long day.
Panthenol: Also known as Provitamin B5, Panthenol is a star moisturizer. It not only hydrates the skin but also attracts and locks in moisture, ensuring your skin stays hydrated for longer. This was the ingredient that gave my skin that juicy, dewy look I love.
Wrapping it up, the ingredient list of Deascal's Poreless Perfection Serum is an impressive mix of high-quality, effective components. Every ingredient has a clear function that contributes to the overall potency of the product. It's evident that Deascal has put a lot of thought into this product to ensure it delivers on its promises. I was impressed, and I think you will be too!
Final Word – Would I Recommend It?
In a world overflowing with pore minimizer serums, the Poreless Perfection Serum stands tall. Given its outstanding performance, I have to give it a 10/10 rating. I would highly recommend it to all Speaking Skincare readers.
I've had the pleasure of trying many products, and as far as pore minimizer serums go, this one is a star player. From its stylish packaging to its impressive ingredient list, and, most importantly, the results it delivers, it's a clear winner in my book.
The stand-out ingredients for me were Evermat, for its sebum-controlling properties, and Niacinamide, which worked wonders for my skin's radiance. Overall, the meticulous formula really gave my skin the rejuvenation it desperately needed. I'm super happy with my progress.
Before you jump into using this product, do remember to conduct a patch test, as everyone's skin is different and can react in many ways to various ingredients.
Ready to give the Poreless Perfection Serum a try? You can grab your bottle from Deascal's website today. PLUS, if you use our exclusive discount code SpeakingSkincare10 you can get an awesome 10% off of your purchase.
Until next time, friends.
Tina, out!