In the ever-evolving world of skincare, the quest for perfection seems endless. But, what if we told you that the secret to poreless, picture-perfect skin is just a serum away? Welcome to our exclusive roundup of the top 10 best pore minimizer serums for 2024! This year, we've scoured the beauty realm, sifting through countless products, to bring you the crème de la crème of pore-minimizing wonders.
Whether you're battling with oily skin, aiming for that ultra-smooth finish, or simply seeking a magical elixir for your daily routine, our meticulously curated list promises something for everyone. Dive into a world where science meets beauty, and discover the transformative serums that are set to redefine your skincare game.
Oh! And keep your eyes open for some exclusive discount codes!
Alright, let's get it. Here is our comprehensive list of the best pore minimizer serums you can get!
1. Poreless Perfection Serum by Deascal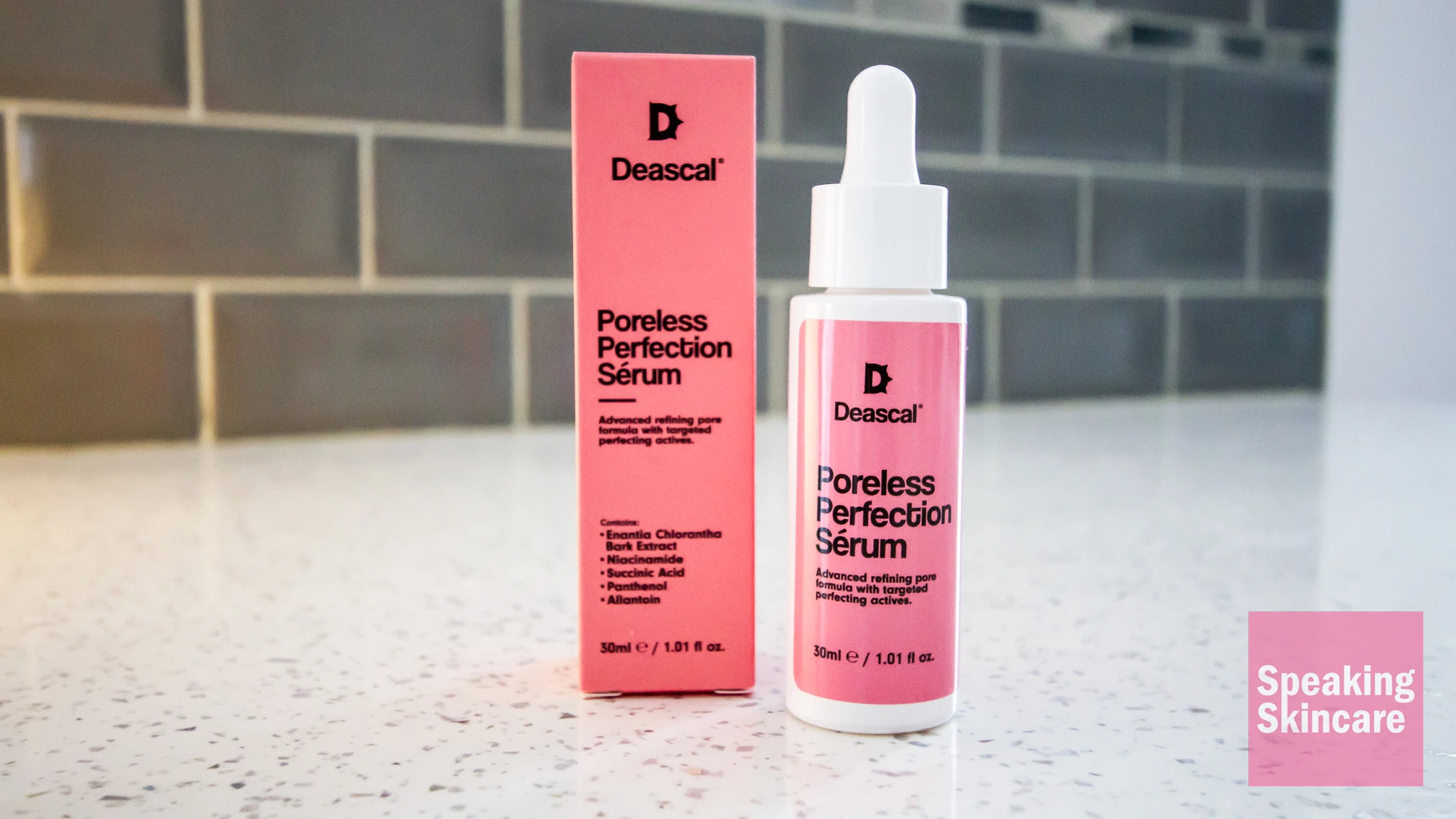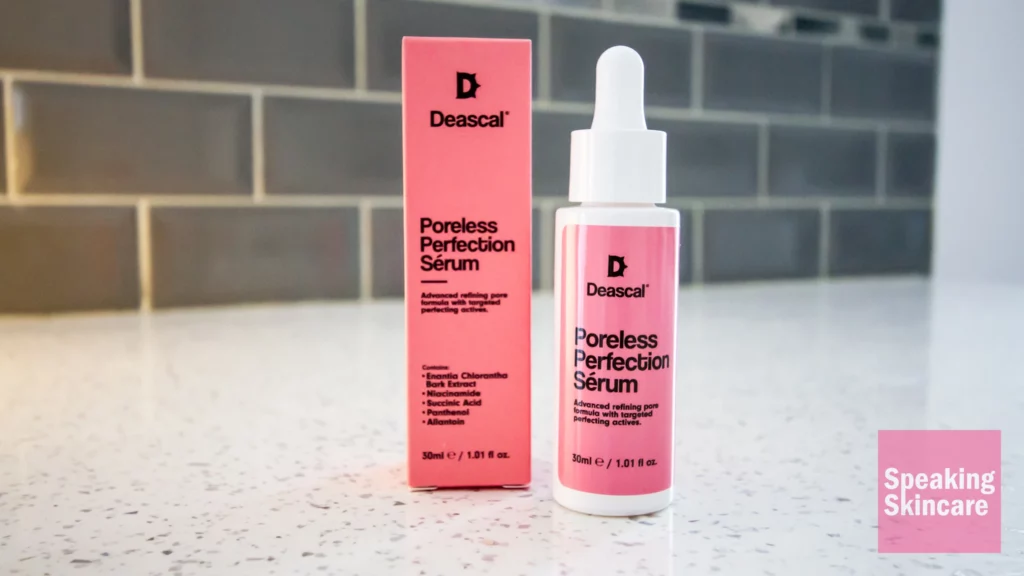 In the ever-expanding universe of skincare, Deascal's Poreless Perfection Serum emerges as the undisputed champion of pore minimizers! This phenomenal serum isn't just another addition to the beauty shelves; it's a skincare revolution. Customers rave about its extraordinary ability to transform skin, making it an absolute must-have for anyone dreaming of a poreless, radiant face.
The magic lies in its expertly crafted formula, boasting a powerhouse of ingredients. Evermat takes center stage, working miracles in shrinking pore size and controlling shine, brilliant for those battling oily skin. Niacinamide, a true skincare hero, elevates your skin's radiance and texture to celestial levels. Then there's Succinic Acid, a gentle yet effective warrior against blemishes, and Allantoin, the soothing maestro for calmed, happy skin. And let's not forget Panthenol – the hydration hero that leaves skin irresistibly dewy and plumped.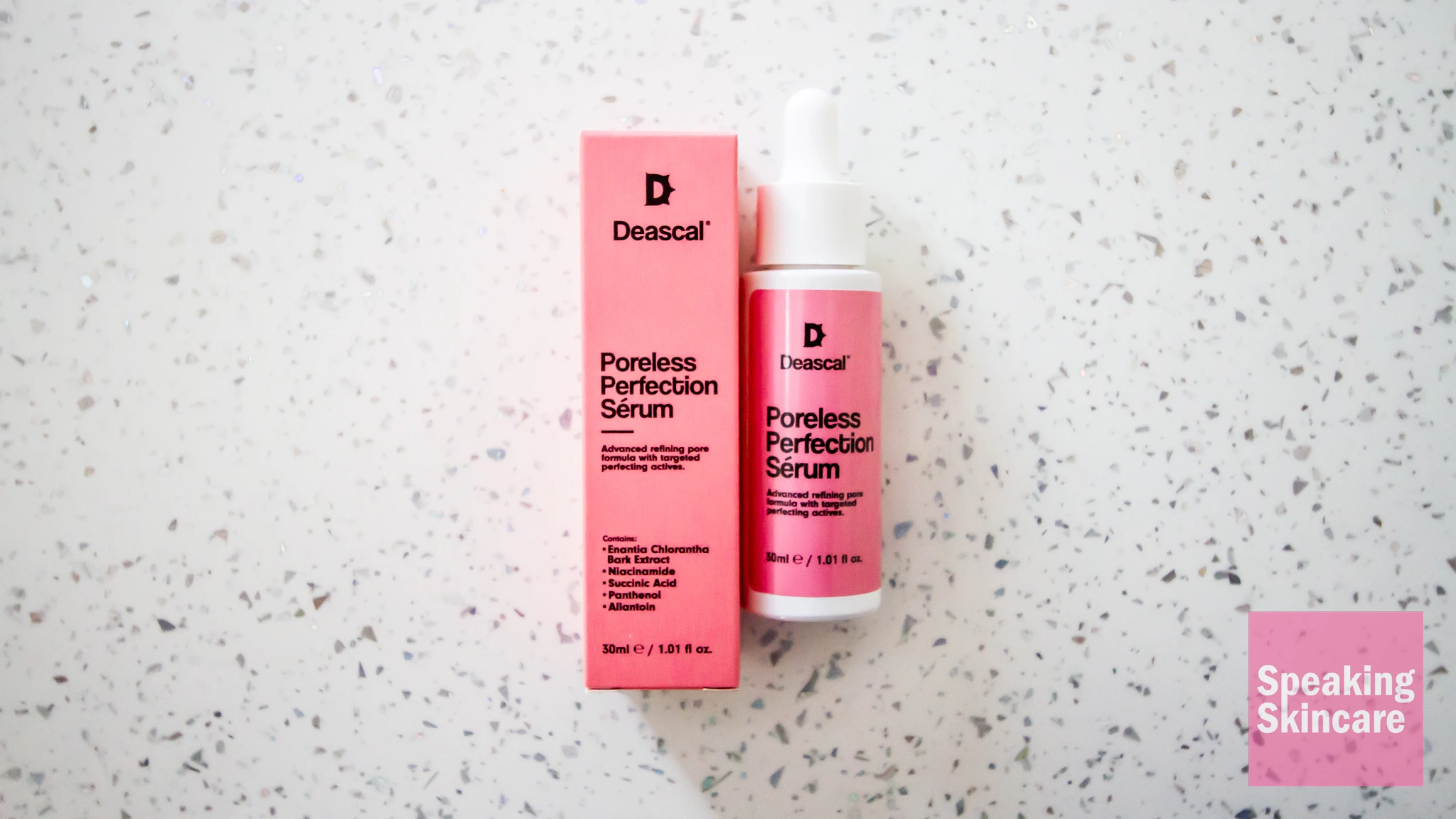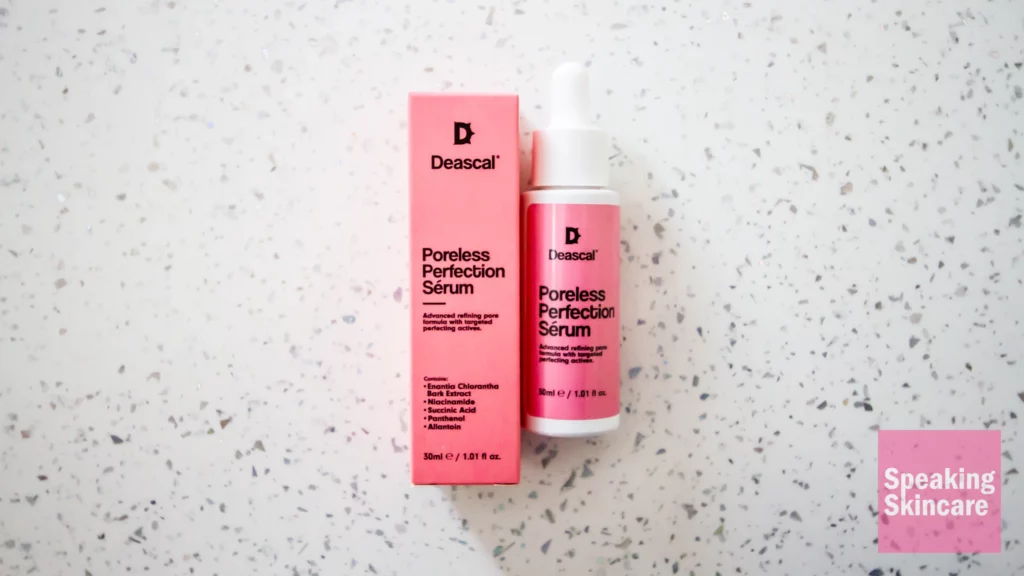 Users have been astounded by the rapid, visible changes. Imagine, within just a week, touching your face and finding it as smooth as silk, your pores seemingly vanished! By the second week, the results are even more astounding – skin not only glows but looks and feels rejuvenated, healthier, and more youthful. The Poreless Perfection Serum is not just a skincare product; it's a confidence booster in a bottle.
The user experience is a luxurious journey from start to finish. The serum's texture is like liquid velvet, gliding over the skin with ease and absorbing instantly – no sticky residue, just pure skin bliss. And the packaging? A sleek, chic bottle that speaks volumes of the premium quality inside.
But it's not just the incredible results that make Poreless Perfection Serum a cut above the rest – it's the chorus of compliments users receive. Imagine logging onto a Zoom call and being greeted with "Your skin is glowing!" or friends inquiring eagerly about your secret to flawless skin. That's the daily reality with this serum. Read Tina's full review to hear it first-hand!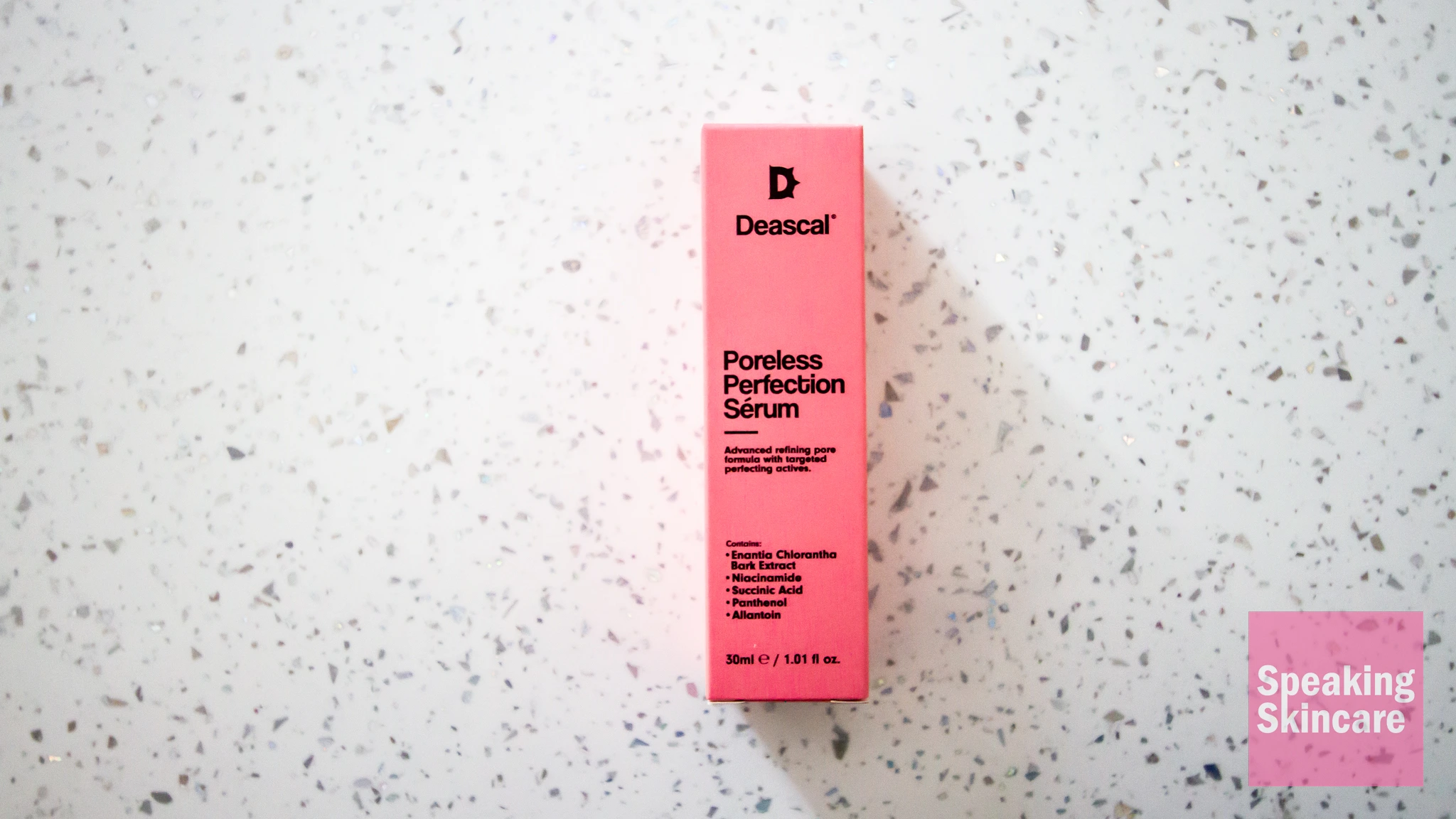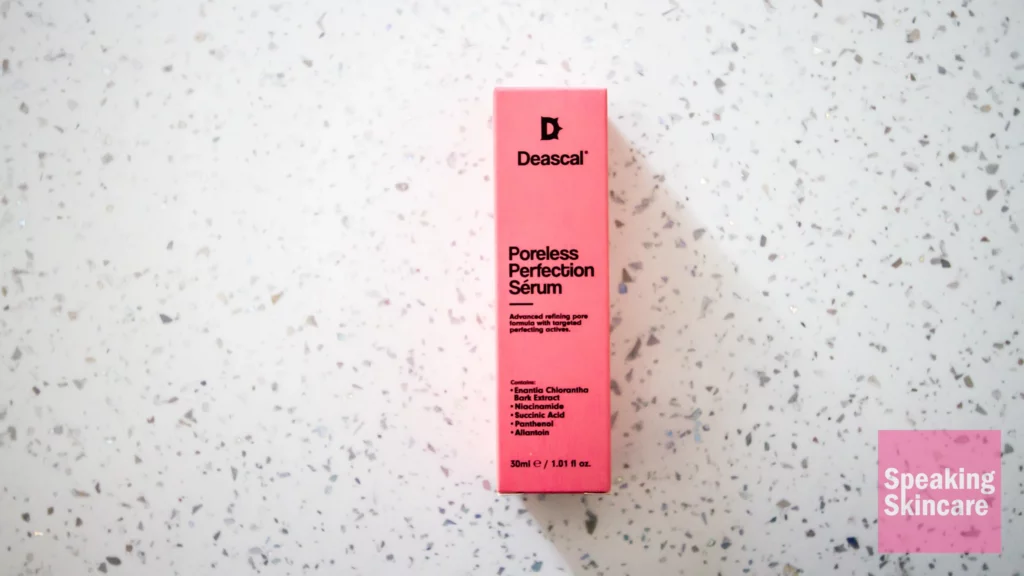 Cruelty-free and suitable for various skin types, especially those with combination skin, the Poreless Perfection Serum is changing the game in skin health. Its careful balance of ingredients caters to a range of skin concerns, making it a versatile and inclusive choice.
In a realm of endless pore minimizer options, Deascal's Poreless Perfection Serum stands tall as the pinnacle. It's not just recommended; it's celebrated as one of the best pore minimizer serums on the market today, if not the very best. Don't miss out – grab your bottle with an exclusive 10% off using the code SpeakingSkincare10 on Deascal's website. This isn't just a serum; it's a journey to your best skin ever. Join the multitude of customers who've made the Poreless Perfection Serum an essential part of their skincare regime and witness the transformation for yourself!
2. Pore Refining Solutions Correcting Serum by Clinique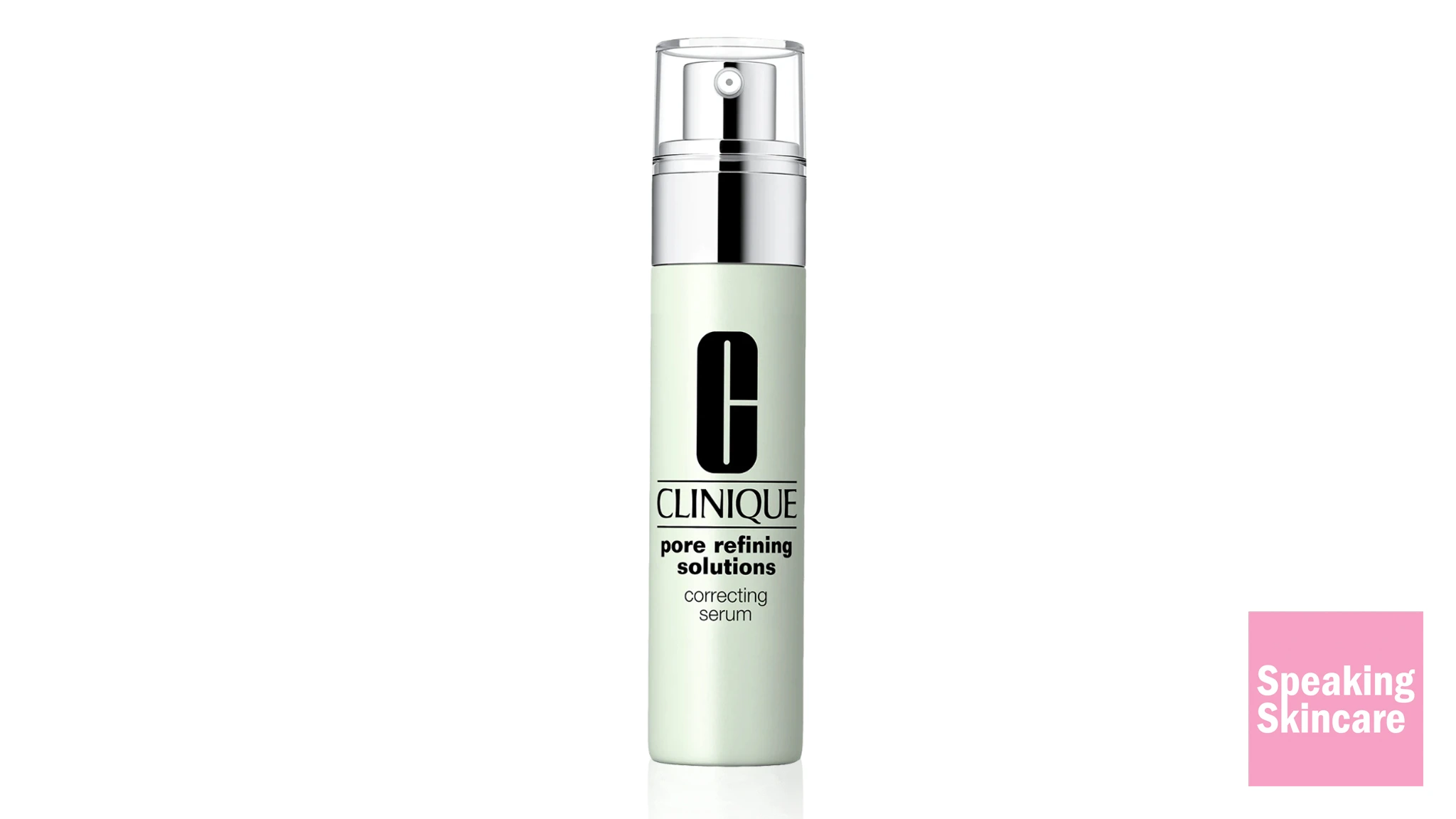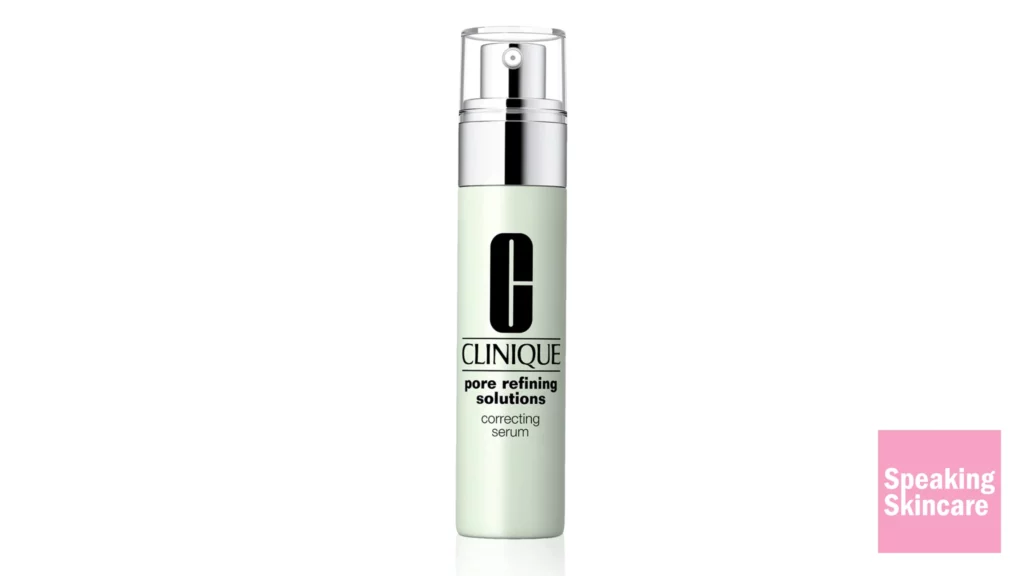 Clinique's Pore Refining Solutions Correcting Serum is a big hit in skincare, delivering incredible results for anyone dreaming of flawless, porcelain-like skin. This revolutionary serum, celebrated for its lightweight, oil-free formula, has rapidly become a must-have for those eager to diminish the appearance of pores and achieve a smoother, more refined complexion.
From the very first week of use, customers rave about the serum's immediate impact. Its delightful texture glides effortlessly onto the skin, leaving it feeling irresistibly soft and refreshed. As days turn into weeks, the transformation becomes even more remarkable. Pores around the nose and cheeks visibly shrink, giving way to a smoother, more even skin tone that radiates youthfulness and vitality.
But the magic of Clinique's serum doesn't stop there. By the end of a month-long journey, users are astonished by the dramatic improvement in their skin's texture and appearance. The serum's advanced Pore Resurfacing Complex works wonders, tightening and smoothing the skin to such an extent that pores seem to vanish, leaving a stunning, youthful glow in their wake. Read our full review for more details!
The secret lies in its powerhouse blend of ingredients. Dimethicone, Acetyl Glucosamine, Rosemary Leaf Extract, Salicylic Acid, Sodium Hyaluronate, and Vitamin E come together in a symphony of skincare perfection. Each ingredient plays a pivotal role, hydrating, protecting, and rejuvenating the skin to deliver unmatched results.
Clinique's Pore Refining Solutions Correcting Serum is more than just a skincare product; it's a transformative experience. It's no wonder that users are enthusiastically adding it to their daily routines, witnessing firsthand the incredible benefits it brings. This serum rightfully earns its spot as one of the best pore minimizer serums on the market.
3. Pore Control Serum by Clarins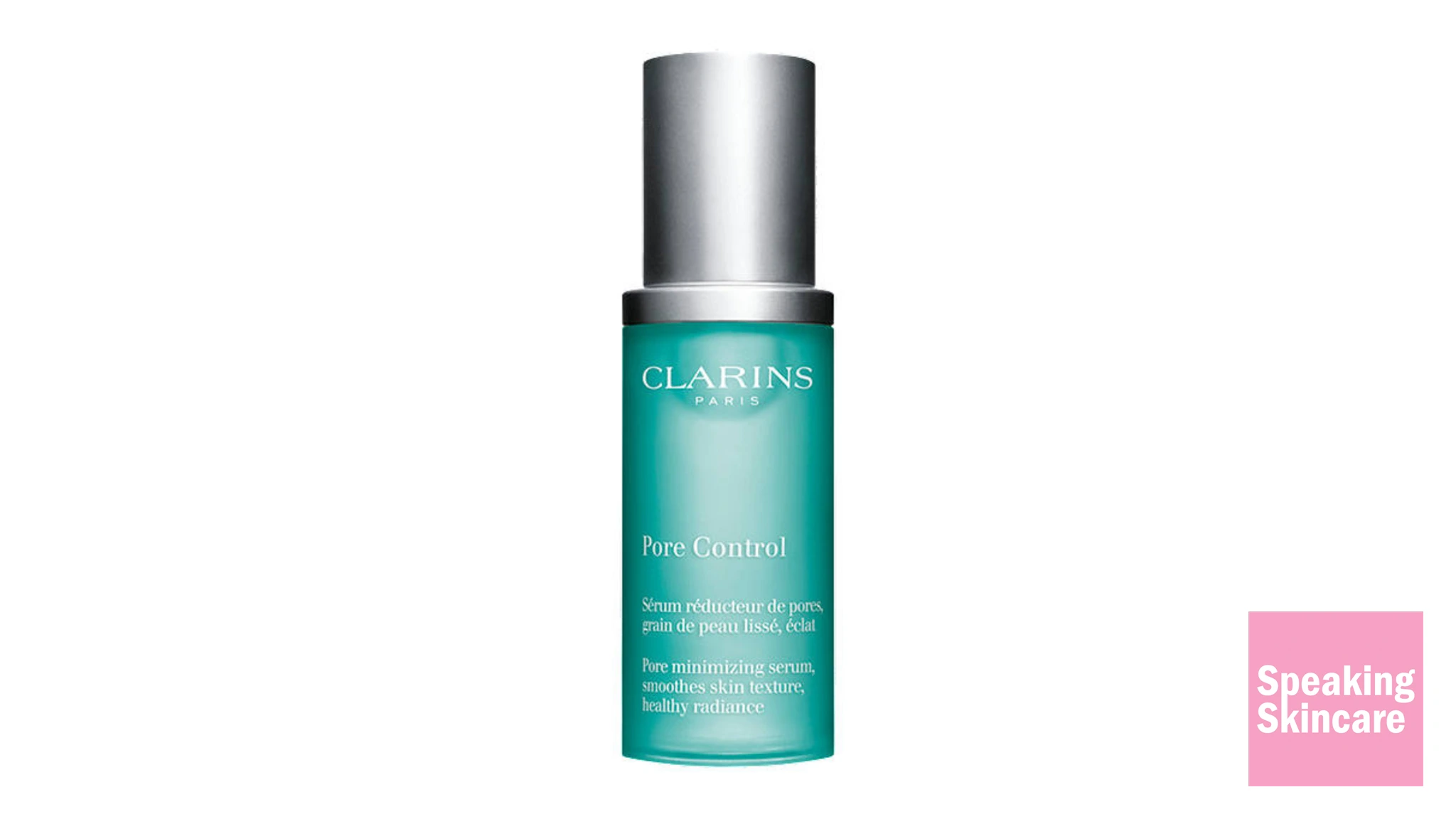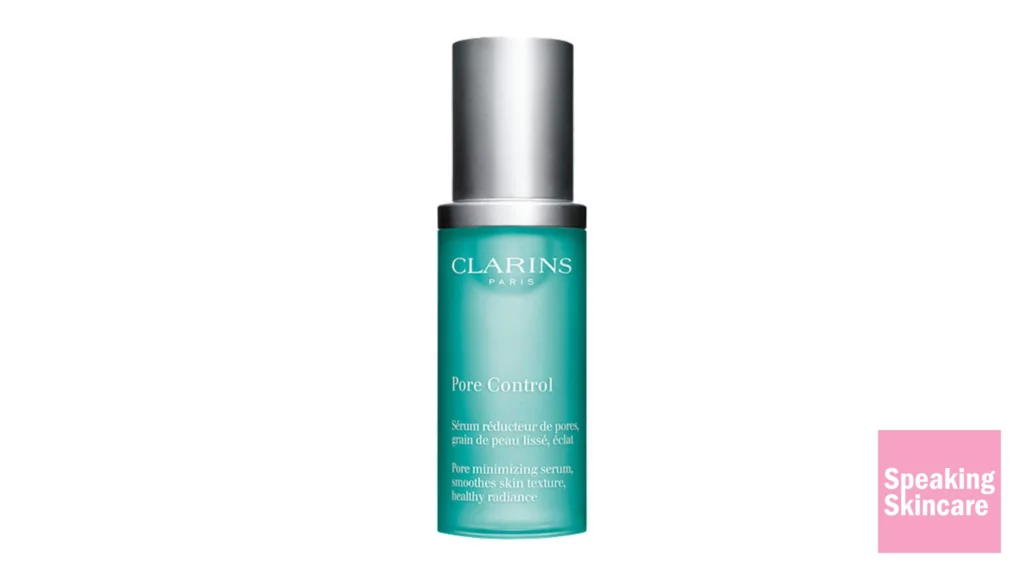 Clarins' Pore Control Serum is the go-to solution for anyone battling with enlarged pores. This little wonder comes in a sleek, minimalist 30ML bottle that's not only a stylish addition to your skincare lineup but also perfect for on-the-go. Here's one of the best pore minimizer serums we've encountered!
The magic of this serum lies in its unique blend of ingredients. It packs a powerful punch with firming Vine Flower cells and mattifying Organic Strawberry Tree fruit extracts. These components work wonders in tightening and purifying enlarged pores, making them virtually disappear. And for that extra glow? The tamarind pulp acid steps in to refine your skin's texture and bring out that sought-after radiance.
But that's not all. Clarins' serum has a special "blur effect" texture, combining mattifying powders and light-enhancing pigments. This means you get to enjoy minimized pores and a smooth, radiant finish that's totally free from shine.
Users are loving the instant smoothing effect, similar to a high-end primer, and the light gel consistency that glides on like a dream. It absorbs in a snap, leaving no sticky feeling behind, making your makeup application flawless. Real progress starts showing in just a few weeks – pores, especially around the tricky nose and cheek areas, start looking smaller and less noticeable. The skin becomes smoother, and that glow? Absolutely noticeable! Read our in-depth review for more.
The serum is a hit for its ability to refine skin texture, reduce the look of pores, and boost overall skin radiance. It's no wonder it's becoming a staple in skincare routines. It fully deserves its spot on our list of the best pore minimizer serums. You can find it on AMAZON today!
4. Botanical Kinetics Pore Refiner by Aveda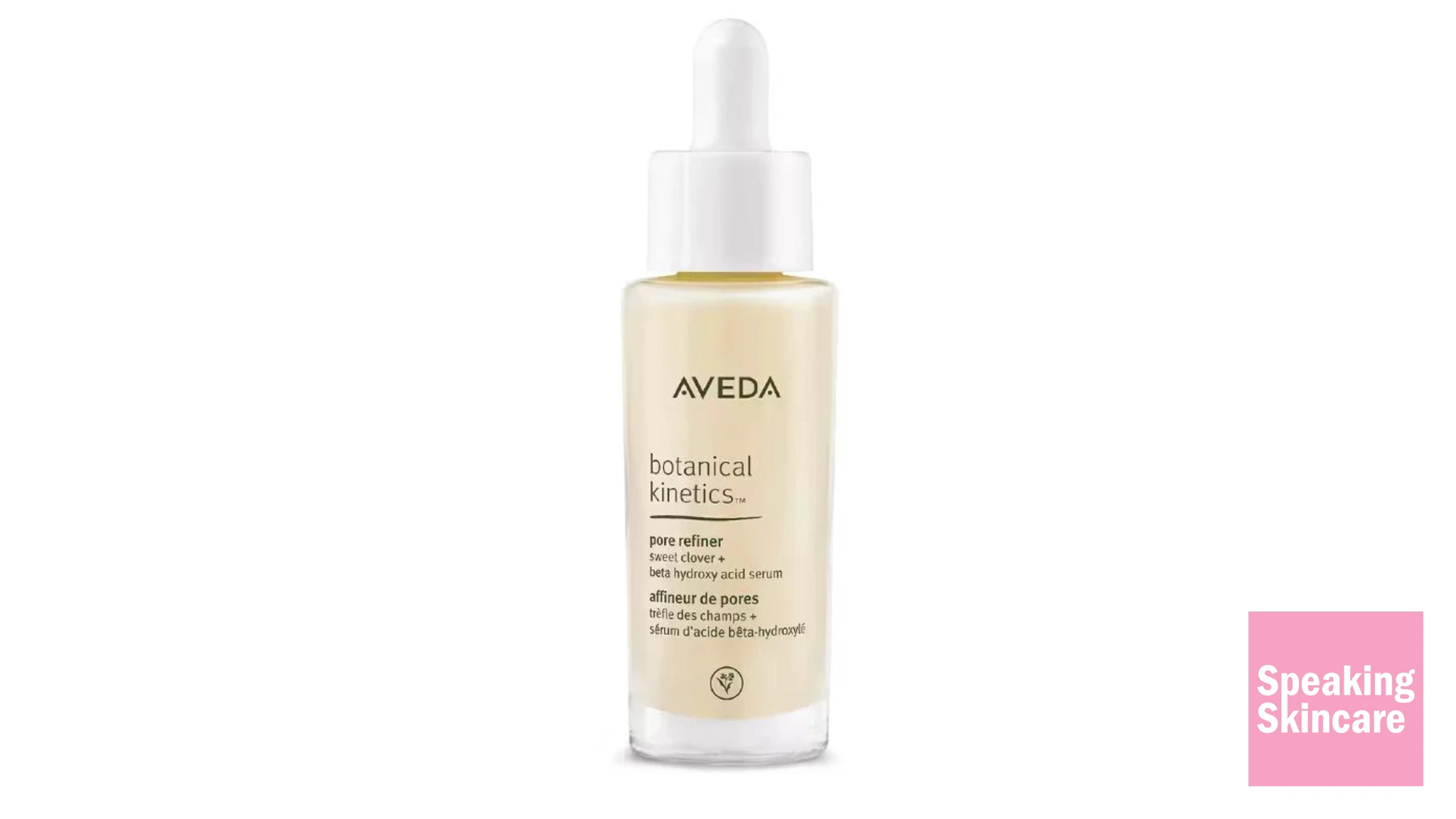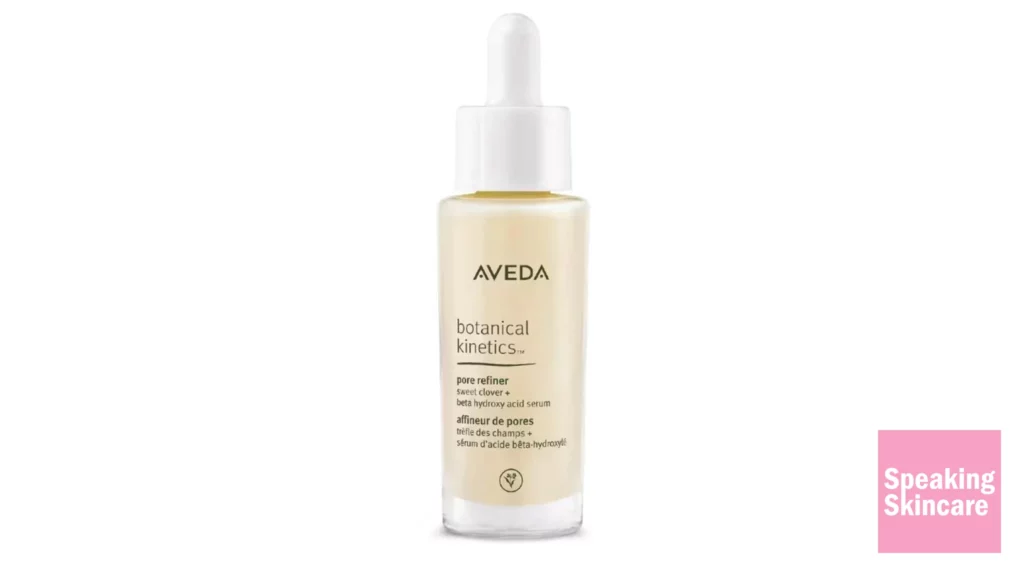 Aveda's Botanical Kinetics Pore Refiner is making waves in the skincare world, and for all the right reasons! This little gem, packed in a stylish 30ML bottle, is all about transforming your skin. It's a powerhouse for smoothing out your skin's texture and making those pores look way less noticeable.
What's super cool about this serum is that it's 97% natural and totally vegan and cruelty-free. Its key ingredients, like Sweet Clover stem cells and Plant-Derived Beta Hydroxy Acid, are the real deal for purifying and refining your skin.
People are seeing awesome results in just four weeks, with their skin looking clearer and feeling smoother. The serum itself is a breeze to use – it's lightweight and leaves your skin feeling fresh and rejuvenated. Plus, the subtle botanical scent? Absolutely invigorating! Our very own Tina wrote a hands-on review of her experience!
The ingredients list is like a who's who of skincare superstars. You've got Melilotus Officinalis Extract and Salicylic Acid teaming up to cleanse your pores and give you that fresh-face feel. Then there's Laminaria Saccharina Extract balancing your skin's oil without drying it out, and Witch Hazel and Sodium Hyaluronate keeping everything calm and hydrated.
In a nutshell, Aveda's Botanical Kinetics Pore Refiner is a real MVP in the world of pore minimizers. It's a must-try for anyone looking to up their skincare game. Ready to give your skin some love? Grab a bottle from Aveda's official site or Amazon, and get ready to see the magic happen!
5. Pore Vac by Zitsticka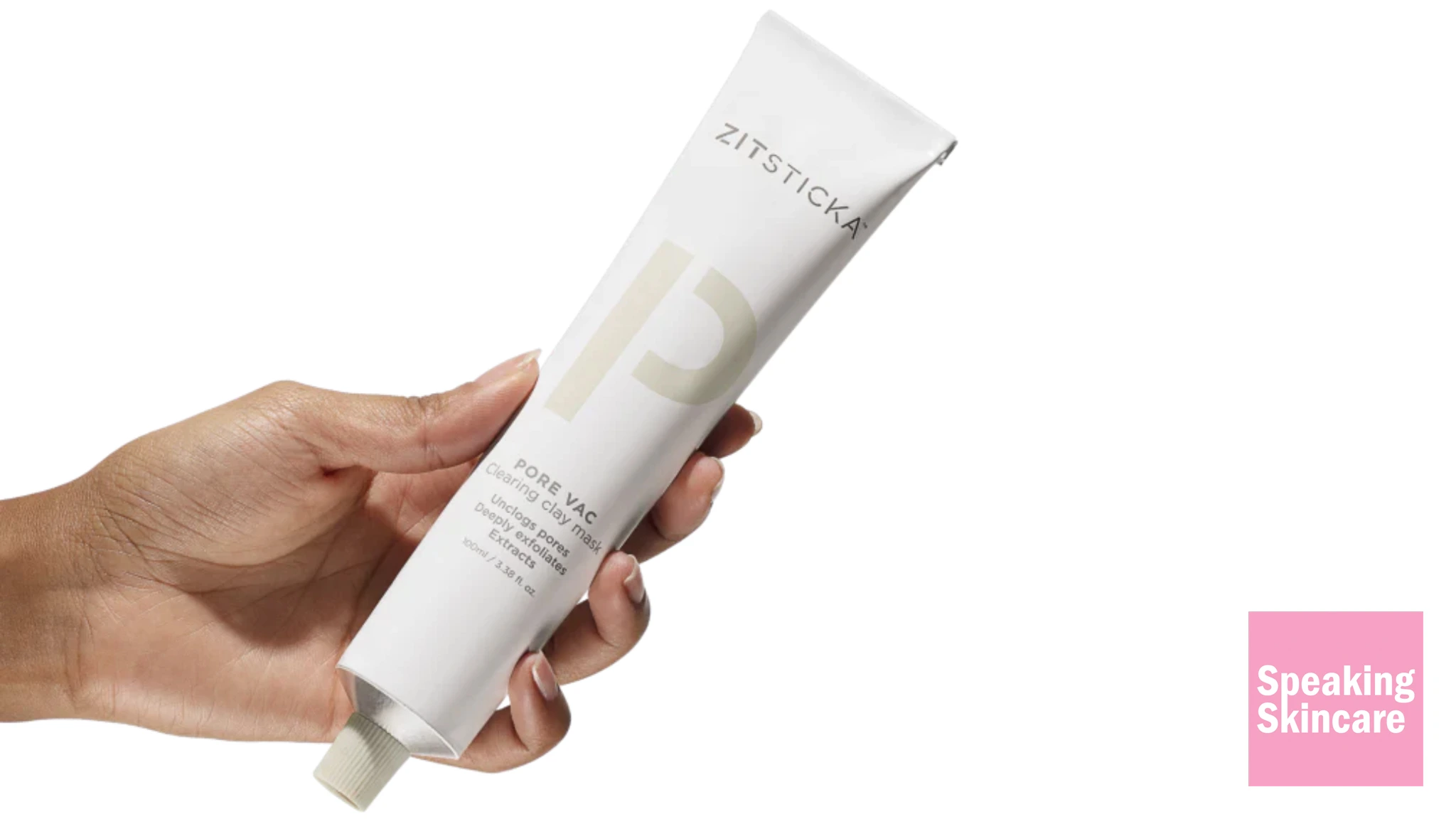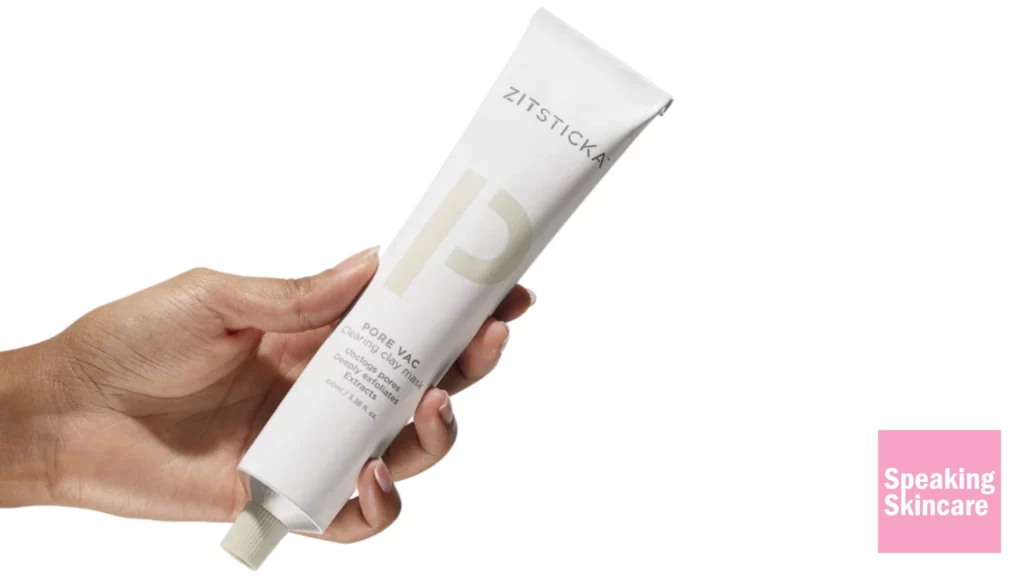 Okay, while this is technically a clay mask, we've decided to include it on our list of the best pore minimizer products because it truly deserves to be here for its impressive performance.
Zitsticka's Pore Vac might just be the hero you need! This cool, minimalist bottle packs a serious punch when it comes to giving your pores a deep, thorough cleanse. It's like a mini vacuum for your face, drawing out all the stuff that makes your skin look tired and dull.
What's inside this little wonder? A mix of awesome ingredients like bentonite and kaolin clays, salicylic acid, and sulfur. They work together to not just clean out those pores, but also gently exfoliate your skin, leaving you looking fresh and radiant.
Users are loving the changes they're seeing. In just a few weeks, you might notice less shine, especially if you've got an oily T-zone. And those annoying enlarged pores? They start looking smaller, giving your skin that smooth, refined look. Read our review for everything you need to know.
And let's talk about those key ingredients! Clays detox and soothe, aloe keeps your skin hydrated and calm, salicylic acid is your go-to for exfoliation and unclogging pores, and niacinamide helps with minimizing pores and strengthening your skin. Sulfur? It's great for keeping acne at bay and controlling that oily shine.
Pore Vac is making waves for its ability to transform skin textures and minimize pores, earning its spot as one of the best pore minimizer products out there. Get it on AMAZON today!
6. Prebiotics & Niacinamide Pore Refining Booster by Allies of Skin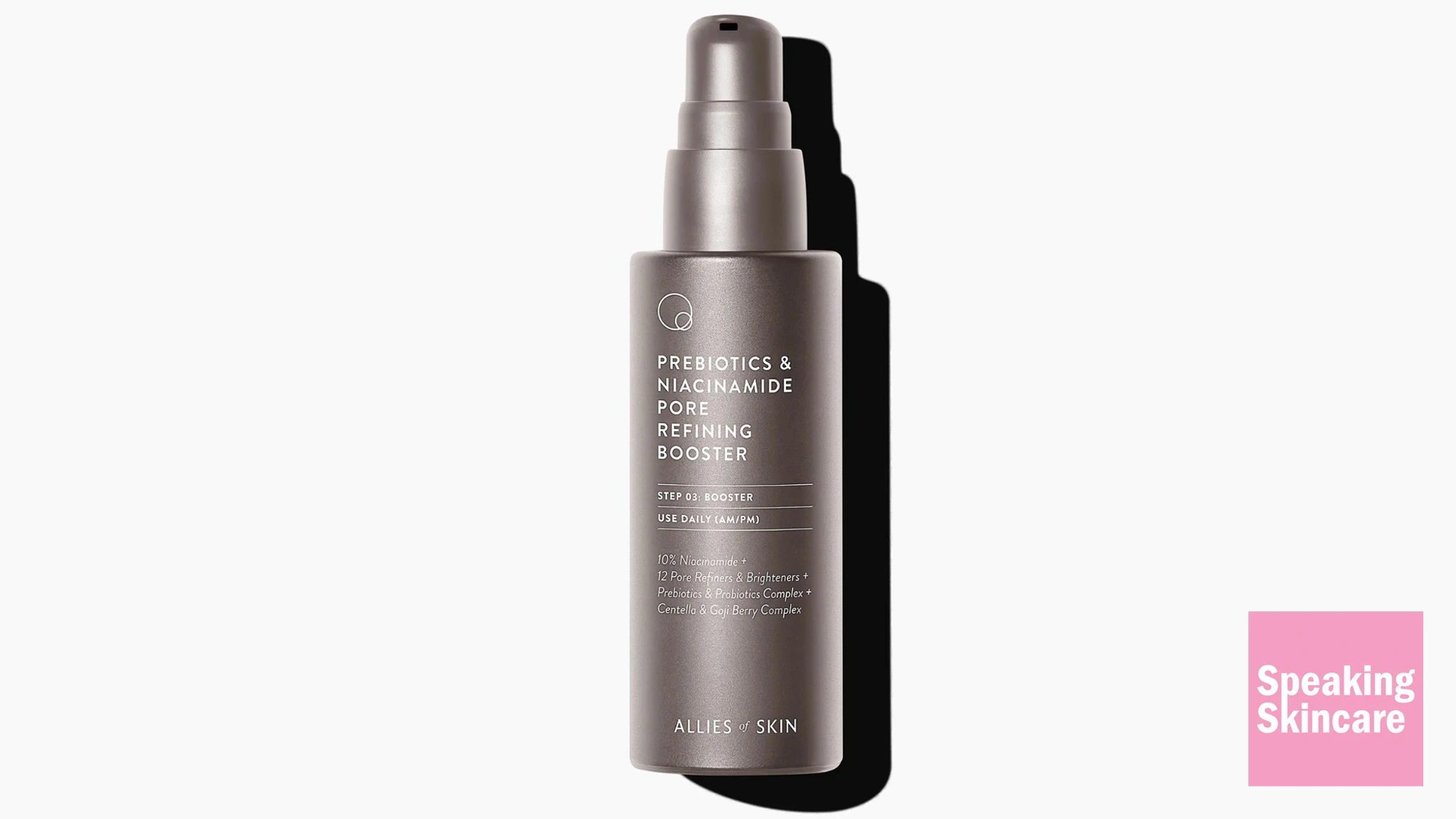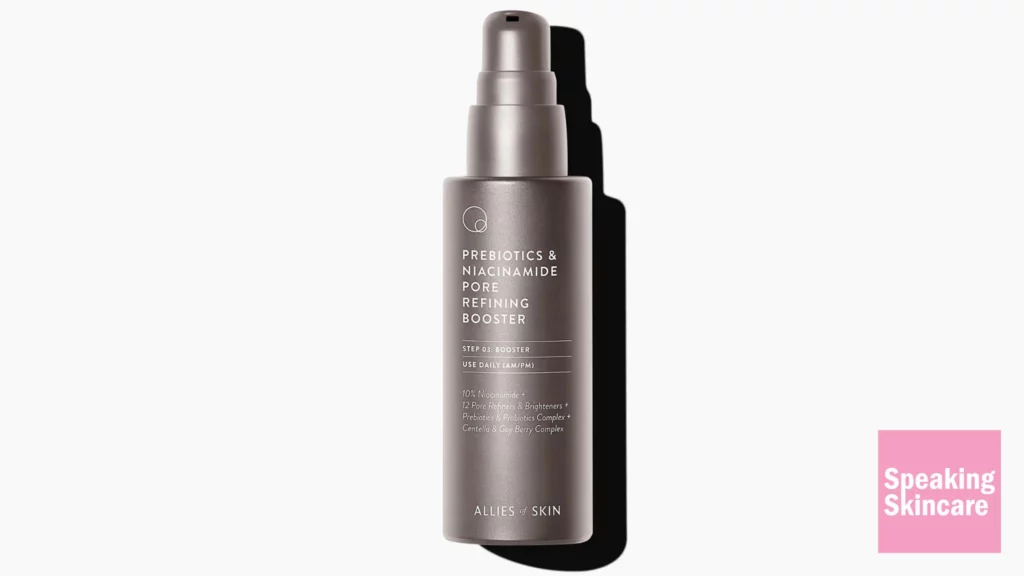 Have you heard about the Allies of Skin Prebiotics & Niacinamide Pore Refining Booster? This little gem is turning heads in the beauty world, and for good reason. It's packed with some seriously impressive ingredients like 10% Niacinamide, a mix of 12 pore refiners and brighteners, plus Pre and Probiotics. And let's not forget the Centella and Goji Berry Complex – talk about a lavish treat for your skin!
This booster is all about giving you that poreless, glowing complexion we all crave. It's designed to work with all skin types and is a breeze to use. Just apply it before your moisturizer or mix it with your fave serum or oil for an extra nutrient boost. It's loaded with antioxidants too, fighting off those pesky skin imperfections and dullness. Read our full review for more.
But what really makes this product a must-have? It's the results. Users are noticing their pores looking finer, especially around those tricky areas like the nose. And the brightening effect? It's like your skin got its own personal spotlight, making it look more even-toned and vibrant.
Now, it does come with a luxe price tag – we're talking $80+. But when you see the glow and the refined texture it brings to your skin, it feels like a worthy splurge. Plus, it comes in a chic, minimalist bottle that'll look gorgeous on your vanity. This might be a price you're willing to pay for one of the best pore minimizer serums on the market.
The blend of powerful ingredients like Niacinamide, Alpha-Glucan Oligosaccharide, Centella Asiatica Leaf Extract, Licorice Root, Pomegranate Extract, Goji Berry, Hyaluronic Acid, and Coenzyme Q10, works together in perfect harmony. They hydrate, soothe, brighten, and protect, leaving your skin looking and feeling its best.
7. Pore Minimising Tonic by Yourgoodskin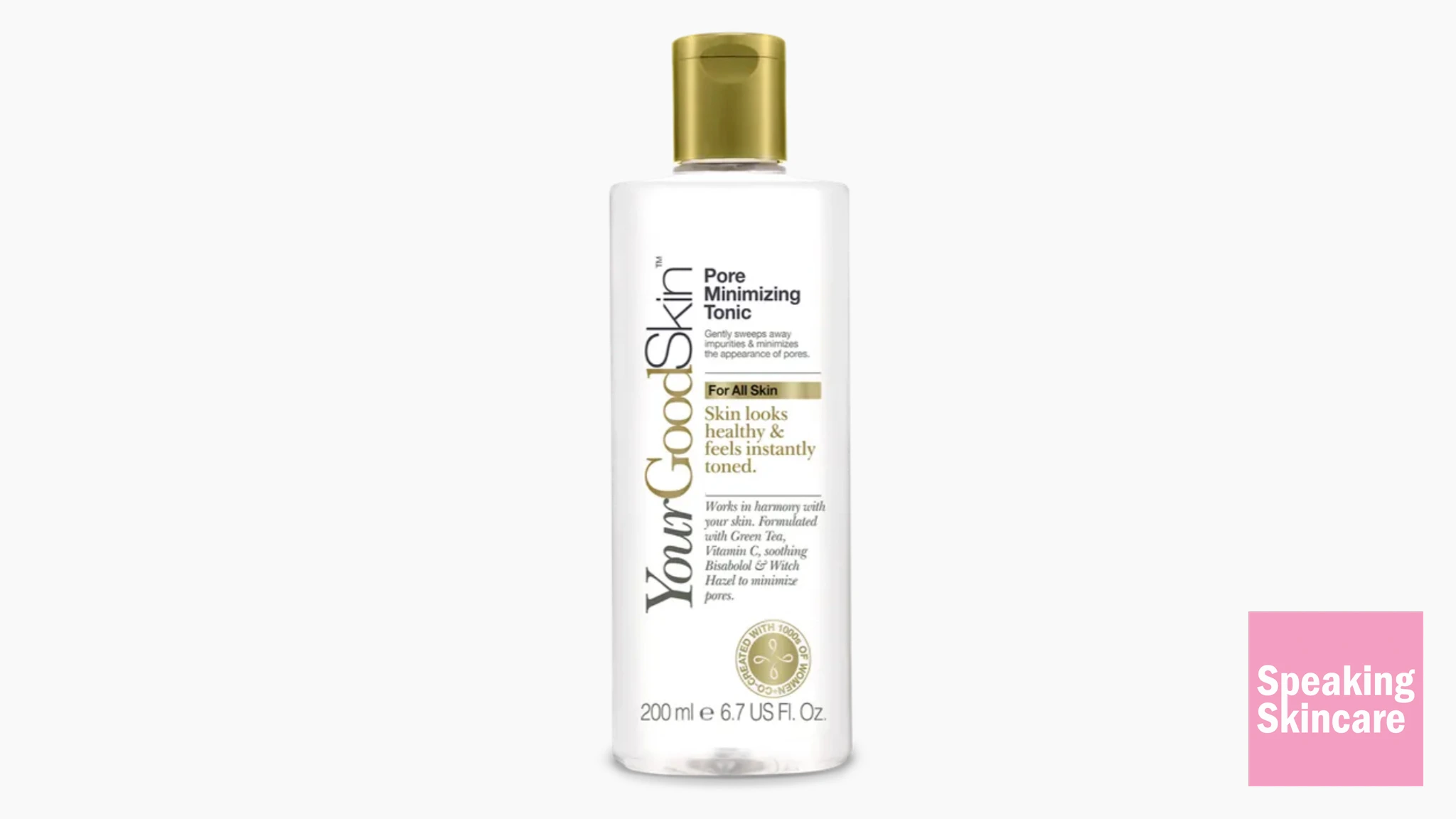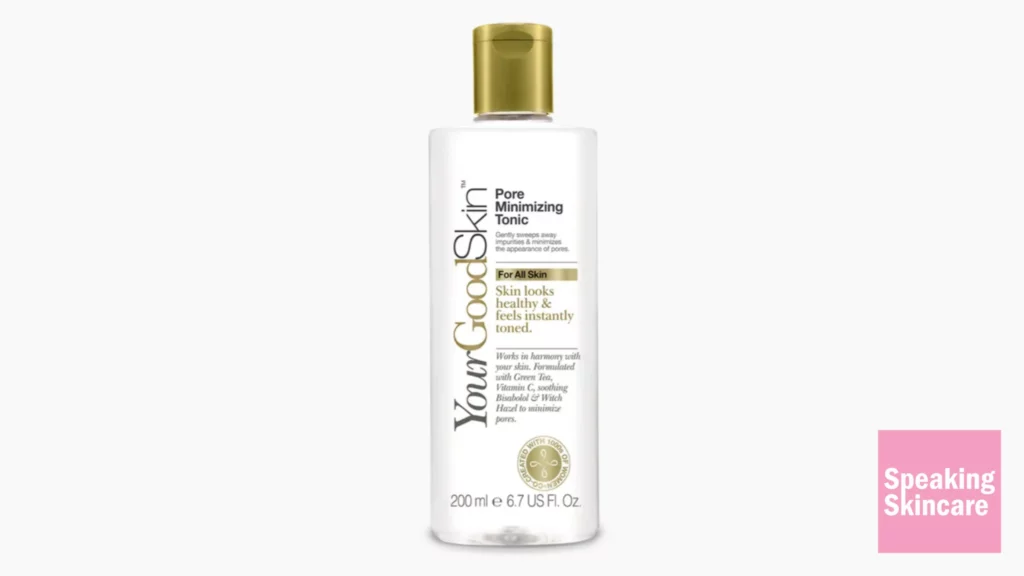 This tonic is a superstar from the YourGoodSkin line. It's not just any pore minimizer; it's a highly effective potion that starts working its charm right from the first use. Imagine that fresh, just-toned feeling – this tonic delivers that and more. It's perfect for all skin types, even the sensitive ones, and it's free from those pesky parabens and fragrances. So, it's all good stuff!
The ingredients are pretty cool too. Witch hazel tightens up your skin and helps control oil, while glycerin brings in the hydration big time, making your skin feel smooth and soft. Then there's panthenol, a.k.a. Pro-Vitamin B5, which keeps your skin hydrated and helps with healing. And let's not forget ascorbyl glucoside, a stable form of Vitamin C, which is great for brightening up your skin and fighting off environmental nasties. Lastly, the camellia sinensis leaf extract, from green tea leaves, is loaded with antioxidants and helps calm down any redness or swelling.
People are loving the results. After using this tonic, their skin texture improves big time, and those pores? They become way less noticeable, especially around tricky areas like the nose and cheeks. It's like having a mini spa moment every morning, leaving the skin with that healthy, I-take-good-care-of-my-skin glow. Read our full review for all the deetz!
It absolutely deserves its place on our list of the best pore minimizer serums. Check it out for yourself!
8. Peach & Willow Bark Deep Pore Scrub by Burt's Bees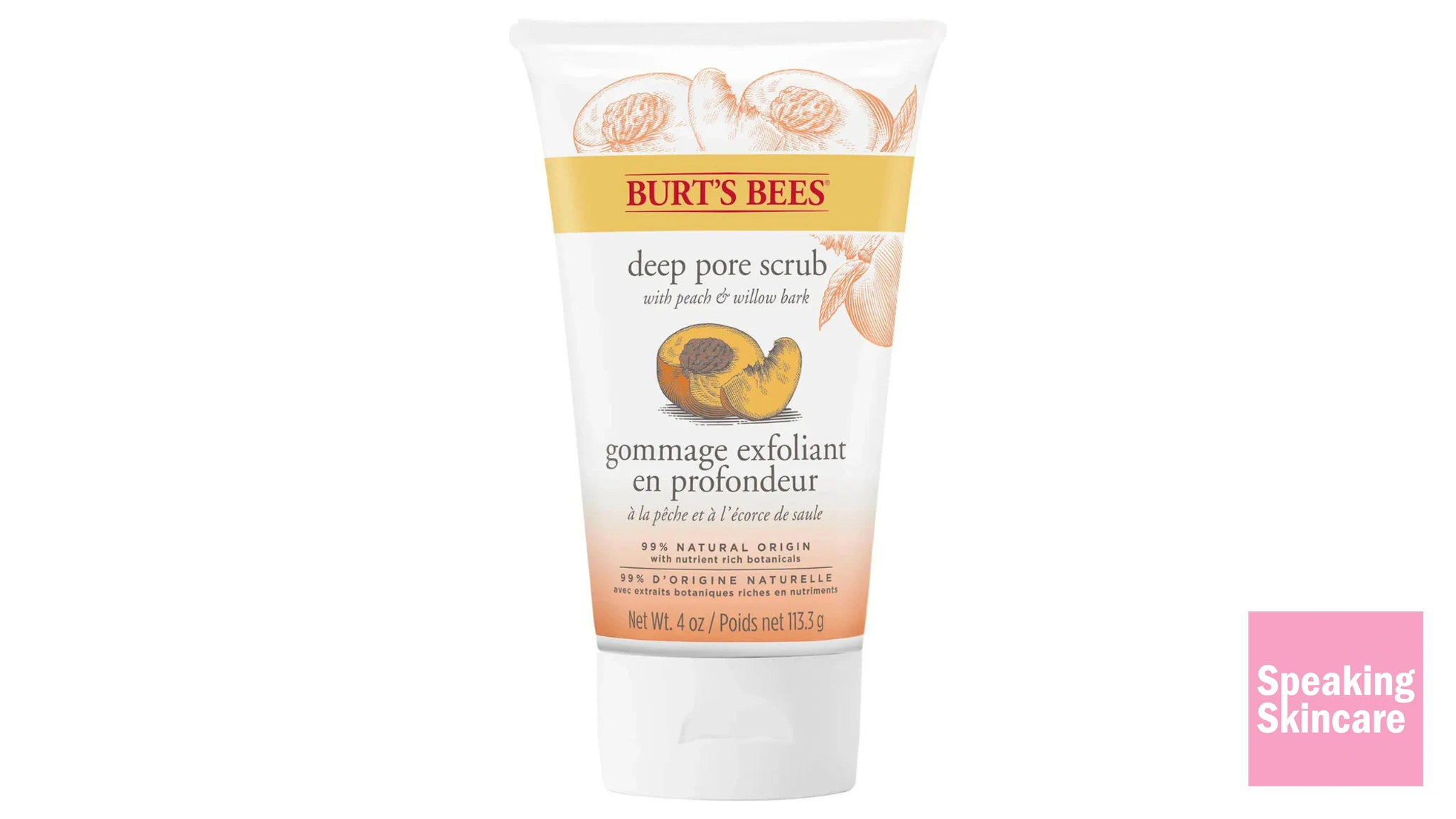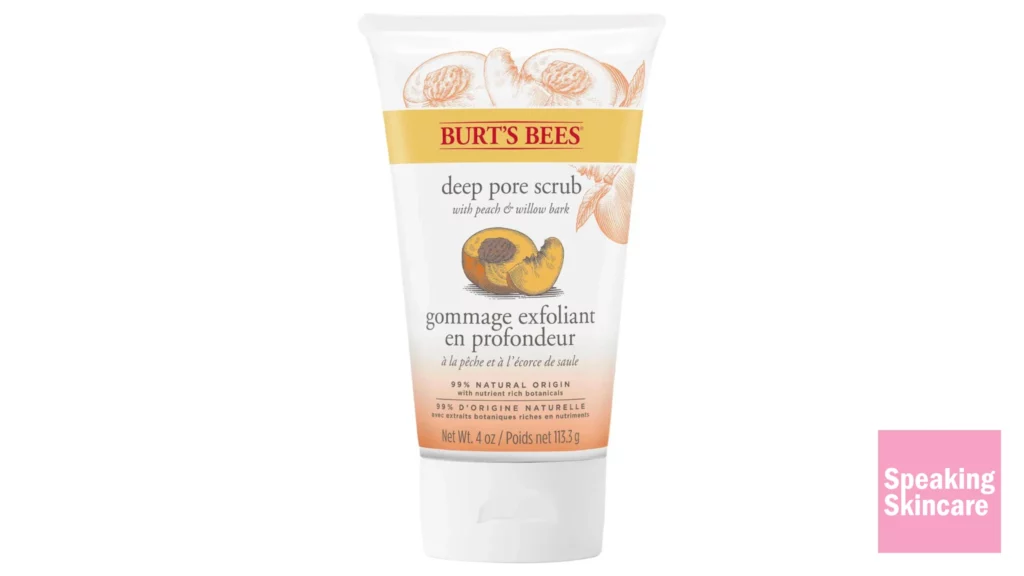 The Peach & Willow Bark Deep Pore Scrub by Burt's Bees is a total game-changer for anyone chasing that perfect-skin dream. It's got this amazing 99% natural formula that's just right for oily skin types. Plus, the peach scent? Absolutely refreshing! And at $15, it's a steal for how well it works.
Let's talk about what's in it – peach seed powder and willow bark extract are the stars. They gently exfoliate your skin, leaving it smooth and glowing. And don't forget the grape seed and coconut oils; they're like a hydration power duo that keeps your skin feeling soft and supple.
Using this scrub is a breeze. It glides on smoothly and rinses off easily, making your morning routine feel like a mini spa session. It's especially great at balancing out oily spots, giving you that fresh, matte look all day.
People are loving how this scrub makes their skin look naturally radiant and less greasy. It's like a secret weapon for a flawless makeup base. And, the best part? It's gentle enough for regular use without irritating your skin. Our in-depth review covers more of this!
Yes, we're aware that it's a scrub and not a serum, but when it comes to our face, we'll put any product that deservedly sits on our list of the best pore minimizers where it should be.
So, if you're on the hunt for a scrub that's natural, effective, and smells like a dream, the Peach & Willow Bark Deep Pore Scrub is the way to go. It's more than just a scrub; it's a daily treat for your skin. You can grab it on Amazon or at other skincare stores.
9. Global Perfect Pore Minimizer by Sisley Paris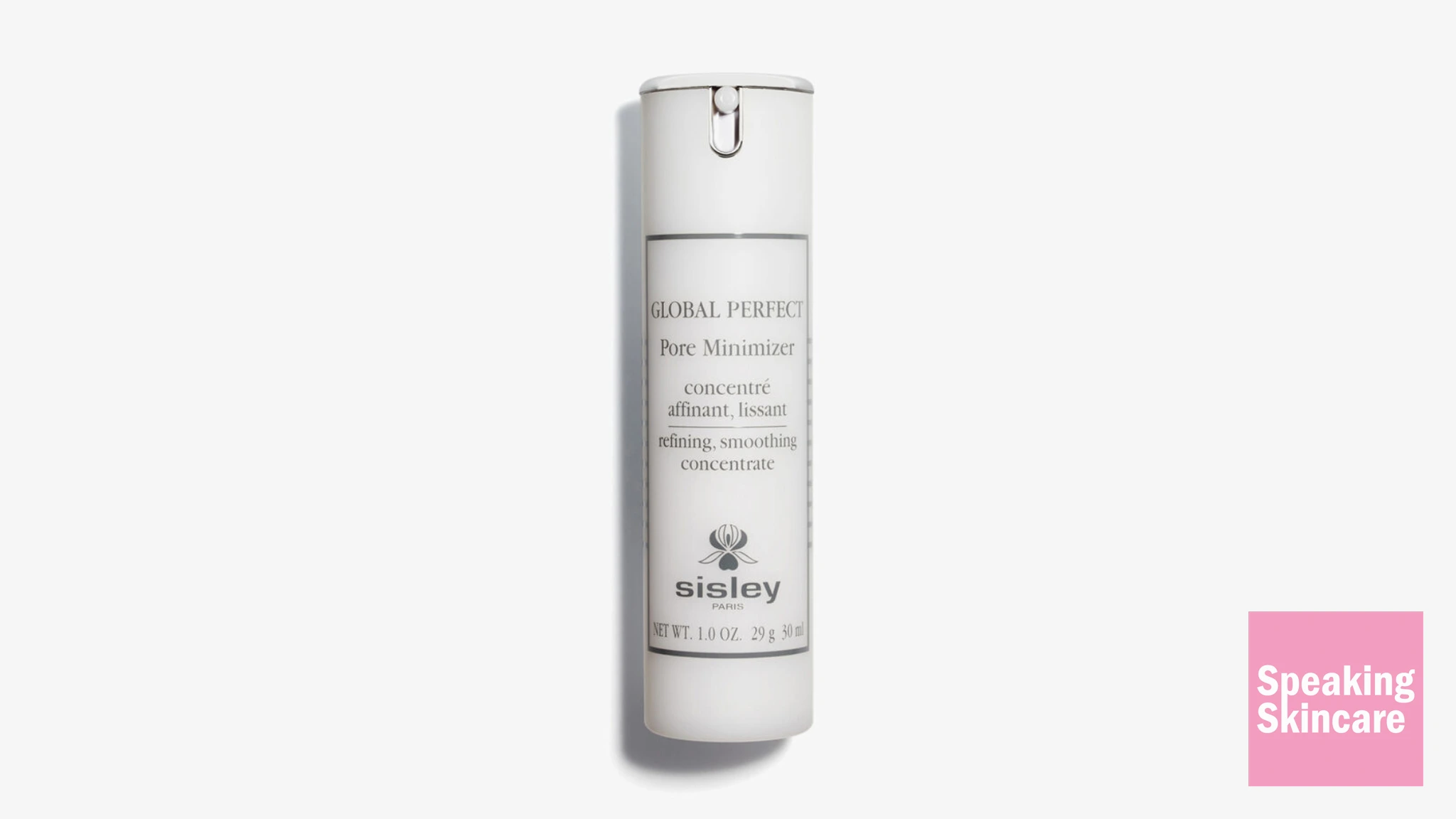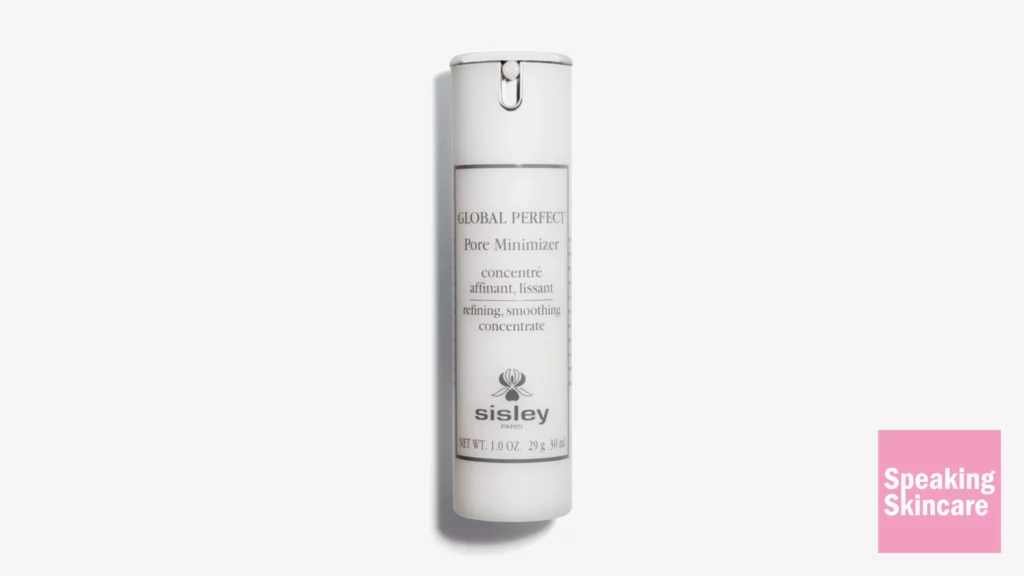 Sisley Paris' Global Perfect Pore Minimizer is turning heads in the skincare world, and it's easy to see why. This chic, luxe concentrate isn't just a pretty bottle – it's a game-changer for anyone chasing that flawless, matte skin look. It's a bit of a splurge, but totally worth it for the results it delivers.
Packed with some seriously cool ingredients like Ratanhia, Java Tea, and Lentil extracts, this little gem is all about giving your skin that smooth, poreless feel. Users have noticed their skin feeling more refined and their pores looking way smaller. Plus, the added bonus of hydration means you get that perfect matte finish without drying out your skin.
People are loving how this serum fits right into their daily routine, making their skin feel amazing and look super radiant. And let's be real, who doesn't love a compliment on their glowing skin? It's like a little confidence boost in a bottle! Read Tina's personal review to find out more!
So, if you're up for treating your skin to some high-quality care, the Global Perfect Pore Minimizer is definitely worth checking out. It's earned its spot as a top pick for the best pore minimizer serums out there. Grab yours on Amazon or at select skincare retailers, and get ready to glow!
10. So Poreless by Tula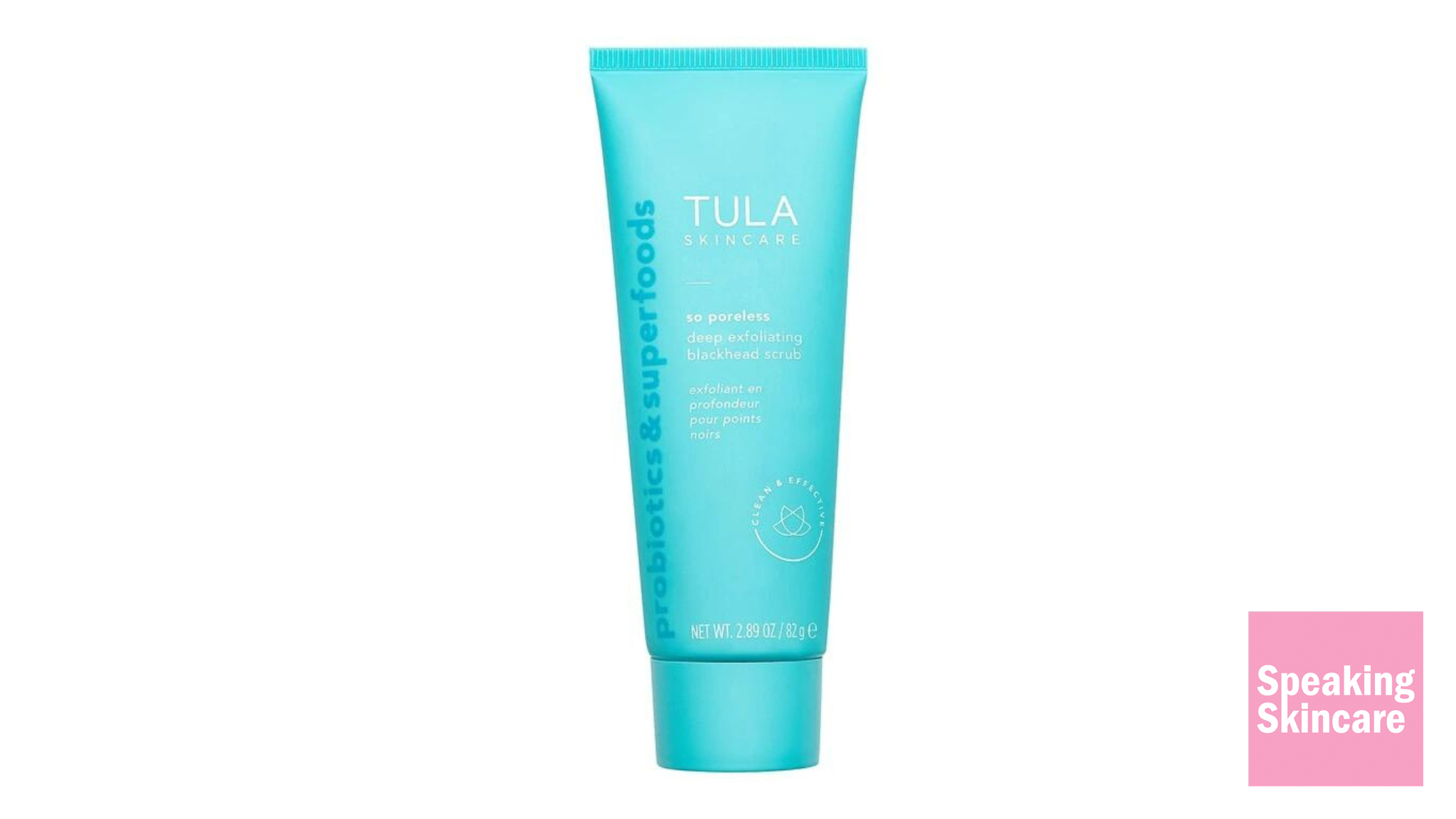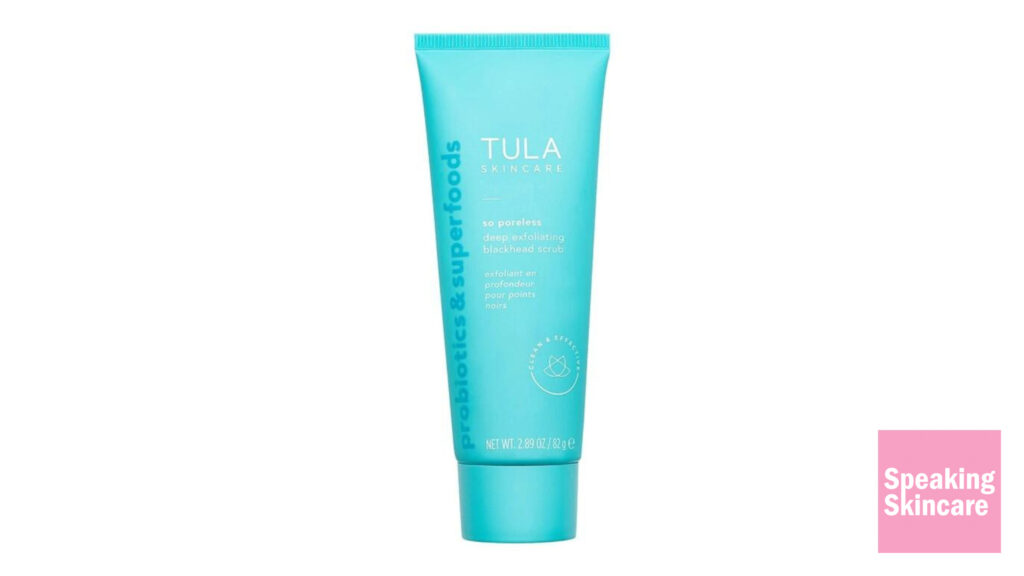 Tula's So Poreless Pore Minimizer Scrub is more than just a pretty face. It's packed with ingredients like pink salt, volcanic sand, and witch hazel, making it a go-to for anyone looking to tackle those stubborn pores. Plus, the blend of lactic acid and gentle hibiscus flower acid is a game changer for purifying your skin.
But wait, there's more. It's not just about deep cleaning; this scrub also cares for your skin's balance thanks to probiotic extracts, raspberry leaf, and pomegranate. And let's talk about the scent – a fresh, fruity mix of raspberries and pomegranate that makes using it feel like a treat.
Using it 2-3 times a week, you'll notice how your skin gets softer, smoother, and just feels right. Those pesky pores? They'll start to look way less noticeable. It's easy to use, too – just massage it onto your clean skin with some warm water, rinse, and you're good to go. Check out our detailed review for everything else you need to know.
In short, Tula's So Poreless is like that cool friend in your skincare group who knows exactly what your skin needs. It's fun, effective, and leaves your skin looking amazing. Definitely a must-try, and a solid pick for our list of the best pore minimizers. You can grab it on AMAZON today.
–
Enjoy reading our list of the best pore minimizer serums? Great! Just FYI, this article contains affiliate links that we may make a small commission on. Thanks!