Browsing through endless options of anti-aging serums can be a total maze of confusion. With so many products claiming miracle-like results, it's easy to feel overwhelmed. If you're reading this and find yourself nodding along, you're in the right place.
Thankfully, I think I may have found an answer!
Today, I'm diving deep into the Age Defy Serum by Deascal, sharing my firsthand experience and shedding some light on its unique formula. As someone who has been on a never-ending hunt for that magic potion to combat the subtle signs of aging creeping up on me, I was thrilled to find a potential solution in Age Defy Serum.
Deascal's Age Defy Serum caught my attention instantly, not just because of its promise but also because I've been a fan of Deascal products for a while now. They've never failed to impress me, so I was thrilled to get my hands on their latest anti-aging marvel.
In this review, I'll be speaking about Deascal as a brand, my personal hands-on trial with the Age Defy Serum, and spilling the tea on the incredible ingredients to be found inside it.
So sit back, relax, and let's see how this small little bottle can banish fine lines from our faces forever! And don't forget to claim your exclusive Deascal discount code at the end of the review!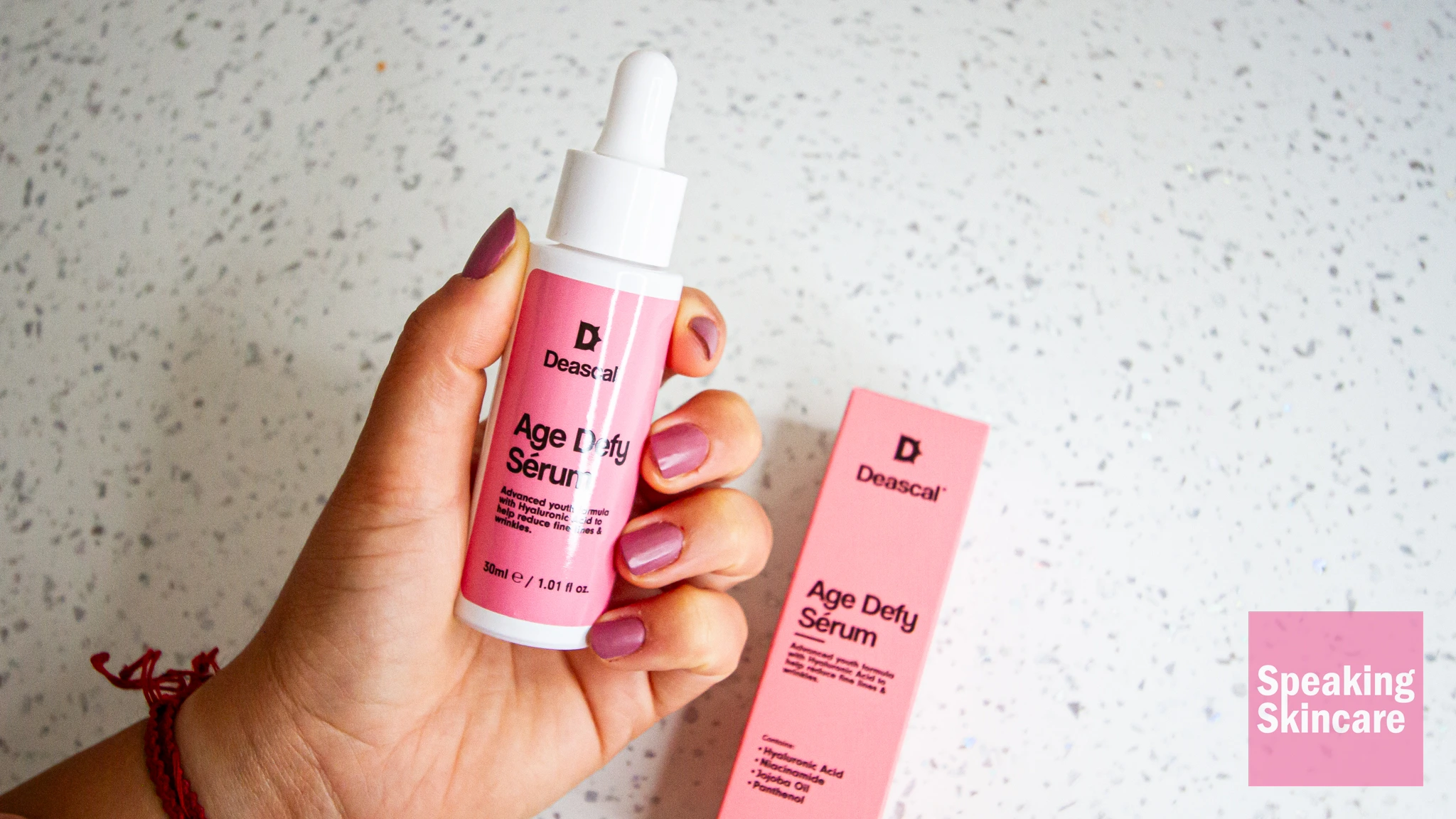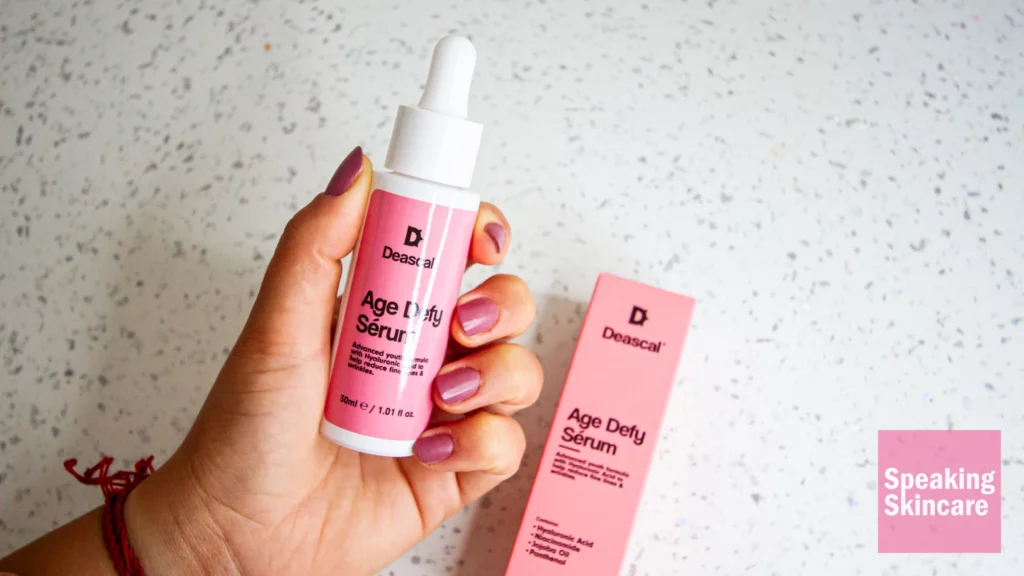 Meet The Age Defy Serum
Let's get up close and personal with our guest of honor today, Deascal's Age Defy Serum. Can it really be your skincare fairy godmother and turn back the hands of time? We'll see.
Imagine this – you've just finished your daily cleanse. Your skin feels squeaky clean but also a bit like a desert begging for moisture. You pick up this little bottle of wonder, and with a few swift motions, you're applying it to your face and neck.
With each stroke, it feels like you're rubbing away the years, gently massaging it into your skin. And you know what the best part is? You're doing this without causing any harm to our furry friends, as the product is 100% cruelty-free. Who said you can't look fabulous and be ethical at the same time? Big kudos to Deascal for having a conscience!
The Age Defy Serum is an advanced youth formula designed to reduce fine lines and provide deep hydration, thanks to its powerhouse ingredients like Hyaluronic Acid, Niacinamide, and more.
On average, considering you use it twice daily as suggested, this 30ml bottle should last you a good two to three months. It's suitable for most skin types, although if you have extremely oily skin, you might find it a tad rich.
For those not in the know, Deascal is a well-known brand in the skincare world, known for its effective and affordable products. I've personally been recommended their products by friends multiple times and have had positive experiences with most of them. In fact, I'd be lying if I said that Deascal hadn't become one of my absolute favorite brands right now. Whenever I'm given the taste of trialing a new product of theirs, I can't help but do my little happy dance.
But here's the million-dollar question – Does the Age Defy Serum actually work? Let me walk you through my month-long experience!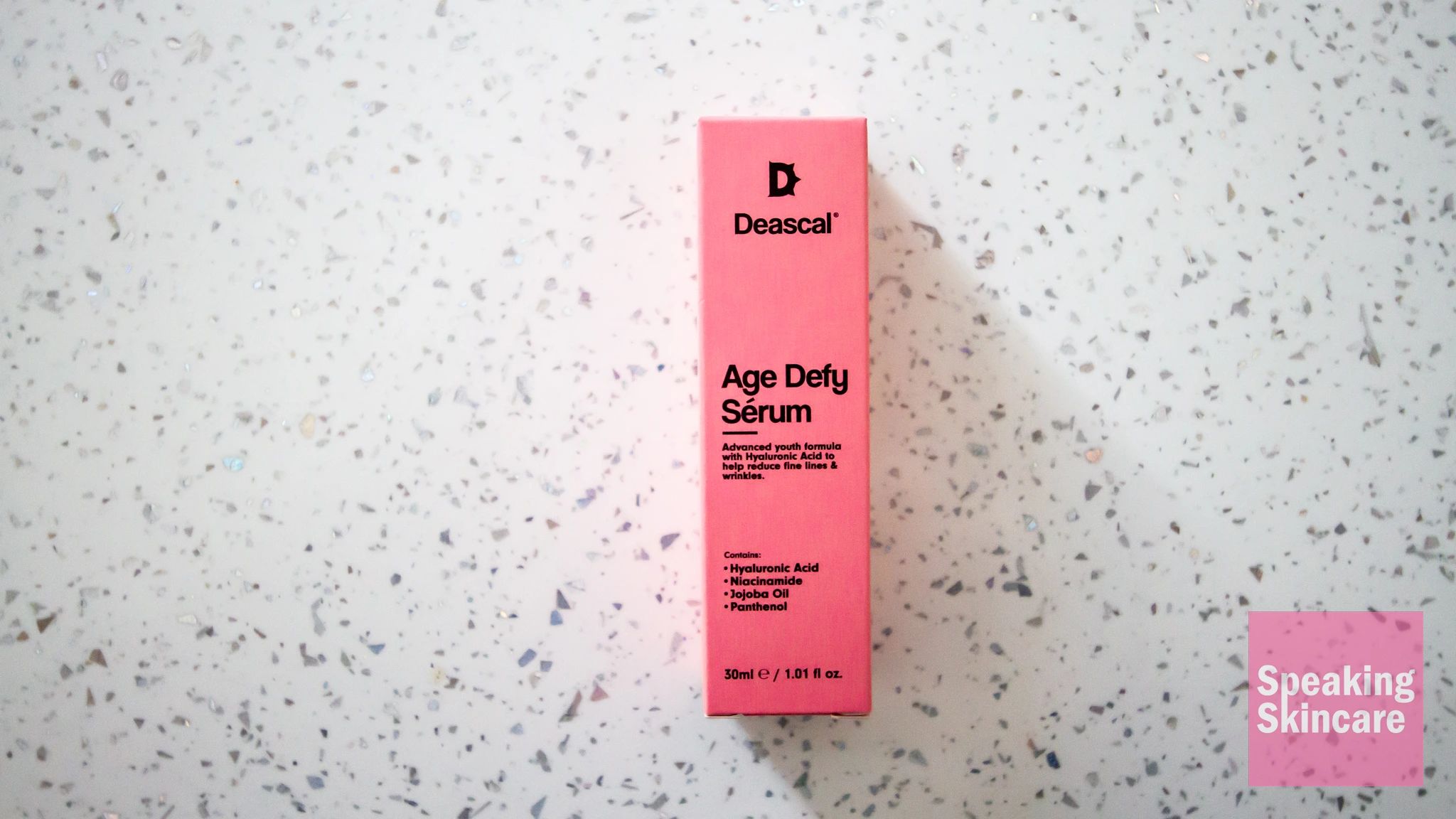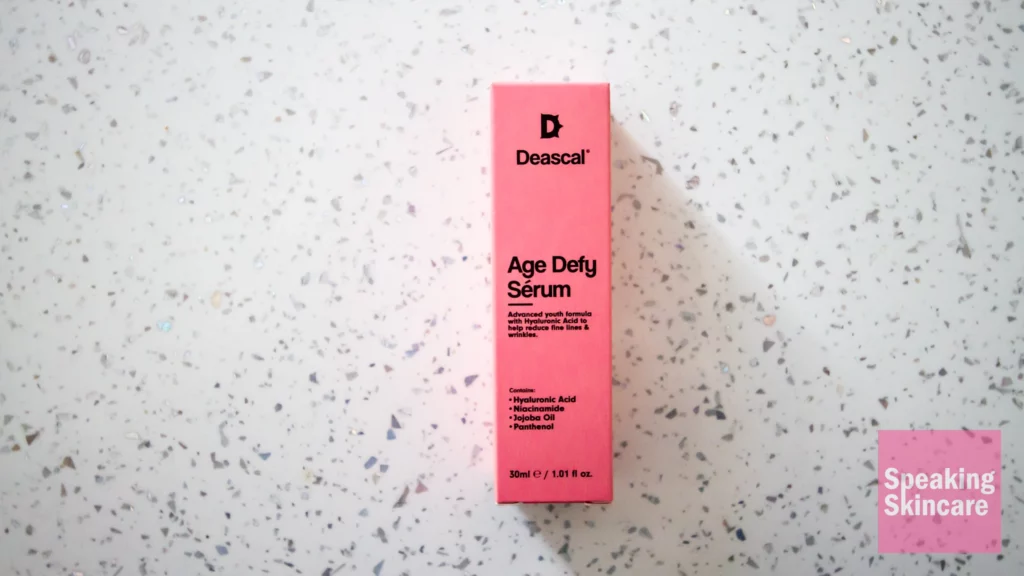 Put to the Test: Does The Age Defy Serum Deliver?
Oh, skincare routines. We've all had our highs and lows, right? I've had my fair share of disappointments with anti-aging serums in the past, so I was super duper excited when I got my hands on the Age Defy Serum. Trust me, this one doesn't disappoint!
Allow me to transport you to a chilly Monday morning. The kind of day when you would trade anything to stay cocooned in your bed. But no, I bravely ventured out of my snuggly fortress, all to put Age Defy Serum to the test. Each morning and evening for a month, I faithfully applied the serum post-cleansing and pre-moisturizing.
The very first thing I noticed was the consistency of the serum. It wasn't too heavy, nor too light – the Goldilocks zone of skincare, if you will. It glided onto my skin like a dream, and I could almost hear my skin cells singing in joy as they lapped up the moisture. There's no better feeling when something just works, right?
After a week of consistent application, things finally started happening. Honestly, the results were nothing short of spectacular. My skin felt like it was on cloud nine. Each day, as I looked into the mirror, I felt like a new woman. My face was beaming with a radiance I hadn't seen since my carefree college days.
And those pesky fine lines that had audaciously made my face their home? The Age Defy Serum showed them who's boss. In just a fortnight, those lines had faded into a mere echo of their former selves, no longer catching my eye every time I glanced in the mirror.
And oh, the hydration! I could write sonnets about how deeply moisturized my skin felt. Remember that feeling when you take a big gulp of water after a tiring workout? Yeah, that's how my skin felt every day.
What I truly adore about Age Defy Serum is how it made my skin feel loved. My skin wasn't just a passive canvas, it was an active participant in its transformation journey. The serum wasn't merely a product I was using; it felt like a friend I was embarking on a skincare adventure with. The bottle was also compact enough that if I was in a rush one morning to get to the office, I could easily pack it in my bag and take it with me.
Now, here's the cherry on top. My friends started noticing the change too. At a recent brunch, my best friend leaned in, scrutinized my face, and exclaimed, "Your skin looks amazing! What are you using?" A colleague at work, known for her no-nonsense attitude (Hi Anele), stopped me in the corridor to compliment my "glowing complexion". I almost had a heart attack as I assumed she was about to chastise me for something. Phew!
In conclusion, does Deascal's Age Defy Serum work? My glowing skin, the compliments I've received, and the newfound confidence I feel say an emphatic, resounding YES! I can't put it any better than that.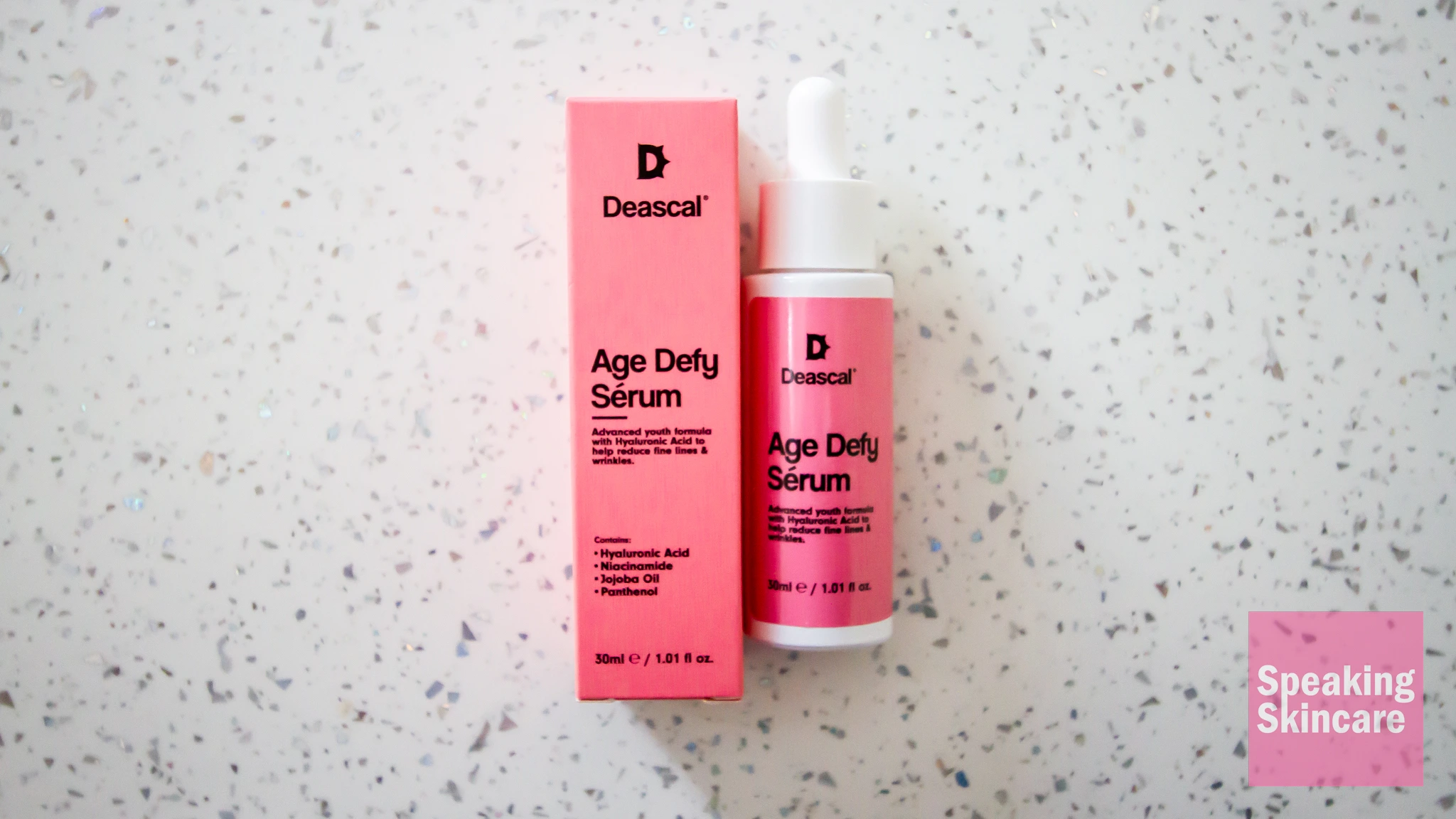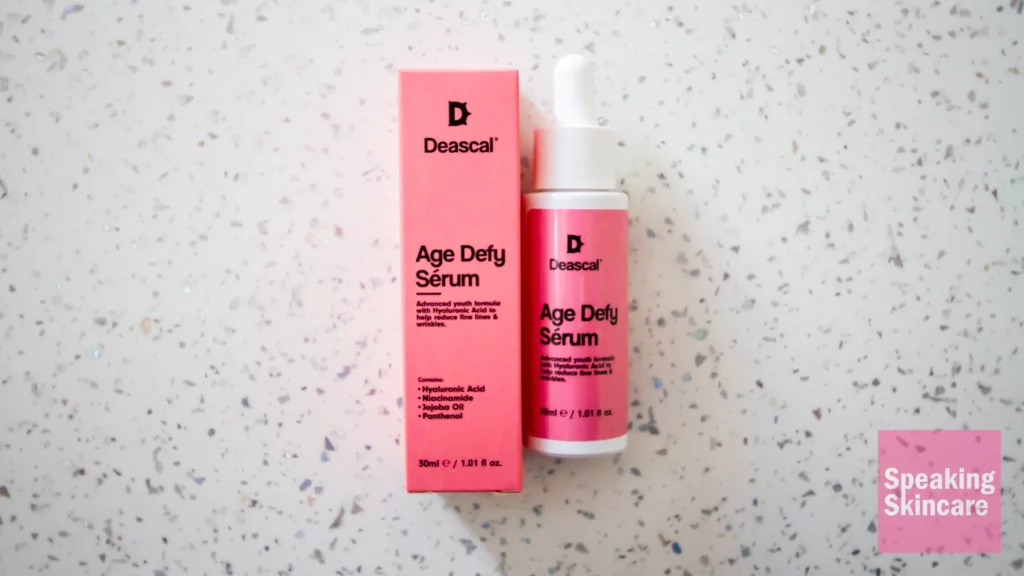 Getting Personal: How I Used The Age Defy Serum Daily
You can instantly recognize the quality of Deascal's Age Defy Serum as soon as you hold it in your hands. Picking it up, you can't help but admire the thoughtful design. It's sleek, sophisticated, and yet incredibly user-friendly, encapsulating the essence of Deascal's chic feel. It feels sturdy, yet not bulky, and definitely not flimsy. It's one of those products that you'd proudly display on your shelf, not just for its efficacy, but also for its aesthetics.
One of the best parts? The product feels like it would make a fantastic gift, thanks to its high-end presentation. In fact, I gifted one to my sister on her birthday. She had never heard of Deascal before, but I told her to trust me and enjoy herself. Sure enough, two weeks later, I get a FaceTime call where she is waxing lyrical about the results she is seeing. Told you so, sis!
Now, let's dive into the sensation of applying Age Defy Serum. With each pump, the serum greets your skin like an affectionate whisper. It's cool, soothing, and it feels like your skin is drinking up the serum, reveling in the surge of hydration. Each application felt like a spa treatment right in the comfort of my own home, making it an experience I looked forward to every day.
And the quantity you ask? One or two pumps were enough for my face and neck. But the beauty of it is that you can adjust the quantity based on your personal preference. Some days when my skin felt a bit drier, I used a bit more for that extra boost of hydration.
Now comes the question that's on everyone's mind. Where does Age Defy Serum fit into your skincare routine? After trialing and erroring with a plethora of skincare products, here's my two cents. Use it right after your cleansing and toning routine, but before you apply moisturizer. This ensures that the active ingredients penetrate deep into your skin and work their magic from within, making your skin glow brighter than the morning sun! (Well, not quite, but you get my point!)
Dissecting the Potion: Ingredient Analysis
We all know that the soul of any skincare product lies in its ingredients. They are the unsung heroes, working tirelessly behind the scenes to deliver those jaw-dropping results. And today, we're going to roll out the red carpet for these heroes and take a deep, in-depth look at what each of them brings to the table in the Age Defy Serum.
Hyaluronic Acid: The skincare world's favorite hydrating agent, this gem is revered for its ability to hold up to 1000 times its weight in water! Not only does it help your skin retain moisture, but it also firms up your skin, significantly reducing those pesky fine lines and wrinkles. After a few days of use, I couldn't help but notice that my skin looked more plumped up and my fine lines were less noticeable. Plus, it made my skin feel oh-so-soft, like a fluffy cloud!
Niacinamide: A superstar ingredient, Niacinamide works like a charm to enhance your skin's radiance and improve its texture. It was like someone turned on the light inside my skin – the dullness was replaced with a beautiful, natural glow, and the rough patches were smoothed out, making my skin feel like satin.
Panthenol: Often overlooked but deeply appreciated, Panthenol offers deep-penetrating moisture to your skin, keeping it hydrated and supple. It was like quenching my skin's thirst, giving it a much-needed drink of hydration. And trust me, my skin couldn't be happier!
Jojoba Oil: This vitamin-rich oil works wonders to improve your skin health and moisturize it. It's like a warm, nourishing hug for your skin that keeps dryness at bay. As a person who struggles with dry patches, I felt my skin becoming more balanced and hydrated with every use.
Sweet Almond Oil: Packed with high quantities of oleic acid, Sweet Almond Oil brings emollient properties to the table. This means it softens and soothes your skin, making it more radiant and youthful-looking. It was like my skin had a sip of the elixir of youth and woke up radiating health and glow!
Looking at this impressive line-up, I can't help but be astounded by the thought and research Deascal has put into their formula. Every single ingredient has a purpose and plays a significant role in transforming your skin. I couldn't be more thrilled to see such high-quality, effective ingredients in a product I use daily.
My Final Thoughts – Would I Recommend It?
It's always been a grand adventure for me, navigating through the labyrinth of skincare products. But finding Deascal's Age Defy Serum was like unearthing a treasure chest. My journey with this serum has been nothing short of amazing.
From its power-packed ingredient line-up to the notable changes I've witnessed in my skin, this serum earns a resounding 10/10 on my scorecard. The reason for such high praise isn't just the splendid results it delivered, but also the well-thought-out formula and Deascal's growing steadfast reputation in the skincare cosmos.
If you ask me, "Would you recommend it?" My answer is an unhesitant "Absolutely!" It gave my skin a beautiful, radiant glow, and my friends and colleagues started complimenting me on my new-found luminosity!
I'm certain that if anyone from the Speaking Skincare community gives it a shot they will end up loving it. The Age Defy Serum by Deascal is without a doubt one of the BEST anti-aging serums on the market right now.
And a personal shoutout to the potent ingredients from me, especially Hyaluronic Acid and Niacinamide, for their commendable role in enhancing my skin's health and appearance.
Just remember, skincare is deeply personal. Always consider your skin's unique needs and sensitivities before introducing a new product into your routine. And if you're eager to try out this game-changer, you can find it right on Deascal's website. PLUS, if you use our exclusive discount code SpeakingSkincare10 you can get a lovely 10% discount on all of your purchases!
That's all from my side! I hope this review was insightful and helps you make the best choice for your skincare regimen!
Ariel.