Hey Speaking Skincare fam! Blair here, and today I'm beyond excited to share my thoughts on a product that's been creating quite a buzz in the beauty sphere – the Prebiotics & Niacinamide Pore Refining Booster from Allies of Skin!
Ah, Allies of Skin, a brand that's no stranger to us skincare aficionados. They've been serving us some top-notch goodies, and this time, they're claiming to wow us with a serum that's all about refining those pores and giving our skin that sought-after glow. And let's be real, who doesn't crave that?
Housed in a chic, minimalist bottle, this little gem promises a powerhouse of ingredients like 10% Niacinamide, a plethora of pore refiners, and brighteners, not to mention Pre and Probiotics, all geared towards strengthening our skin barrier and reviving tired, stressed skin. I've been integrating this into my routine, eager to see if it lives up to the hype, and I'm here to spill the tea!
With a stylish bottle that screams elegance and a price tag that's on the luxe side – we're talking $80+, my friends – I'm delving into every nook and cranny of this product. From its texture, ingredients, to its overall performance, let's uncover whether this serum is the skincare hero we've all been waiting for, or if it's all just about the glitz and glam. Buckle up, it's going to be a radiant ride!
Product Overview
Diving right in, the Prebiotics & Niacinamide Pore Refining Booster is a serum designed to cater to all skin types. Allies of Skin have presented us with a formula supercharged with 10% Niacinamide, combining 12 unique pore refiners and brighteners, as well as Pre and Probiotics. The cherry on top? An infusion of Centella and Goji Berry Complex. Talk about a lavish feast for the skin!
This booster claims to visibly refine pores, brighten the complexion, and fortify the skin barrier. Allies of Skin describe it as a daily pore-refining supplement, aiming to lead us to that pathway of a healthy glow and a brighter-looking skin. Over time, it promises to strengthen the skin's delicate barrier and its microbiome, which, if you ask me, sounds like a dream for anyone on a quest for balanced and resilient skin.
The lightweight formula is designed to sink into the skin effortlessly upon application. It can proudly stand alone before any moisturizer or be mixed with your favorite serum, moisturizer, or facial oil for that extra boost of strengthening nutrients. And, for those who love antioxidants (count me in!), this formula is teeming with them, all ready to combat the root causes of imperfections and dull skin.
The cocktail of 12 pore refiners and brighteners includes ingredients like Licorice Root, Pomegranate Extract, Silver, Ribose, ATP, Chlorella, and Coenzyme Q10. These components are all set to promote skin wellness and revive our tired, stressed-out skin for a refined glow.
It's like Allies of Skin are handing us a magic potion, claiming to solve a myriad of skincare concerns, all in a sleek, minimalist bottle. I've been eager to see if this product could indeed be the charming prince for our skincare fairy tales, rescuing us from the dragon of enlarged pores and dull complexion!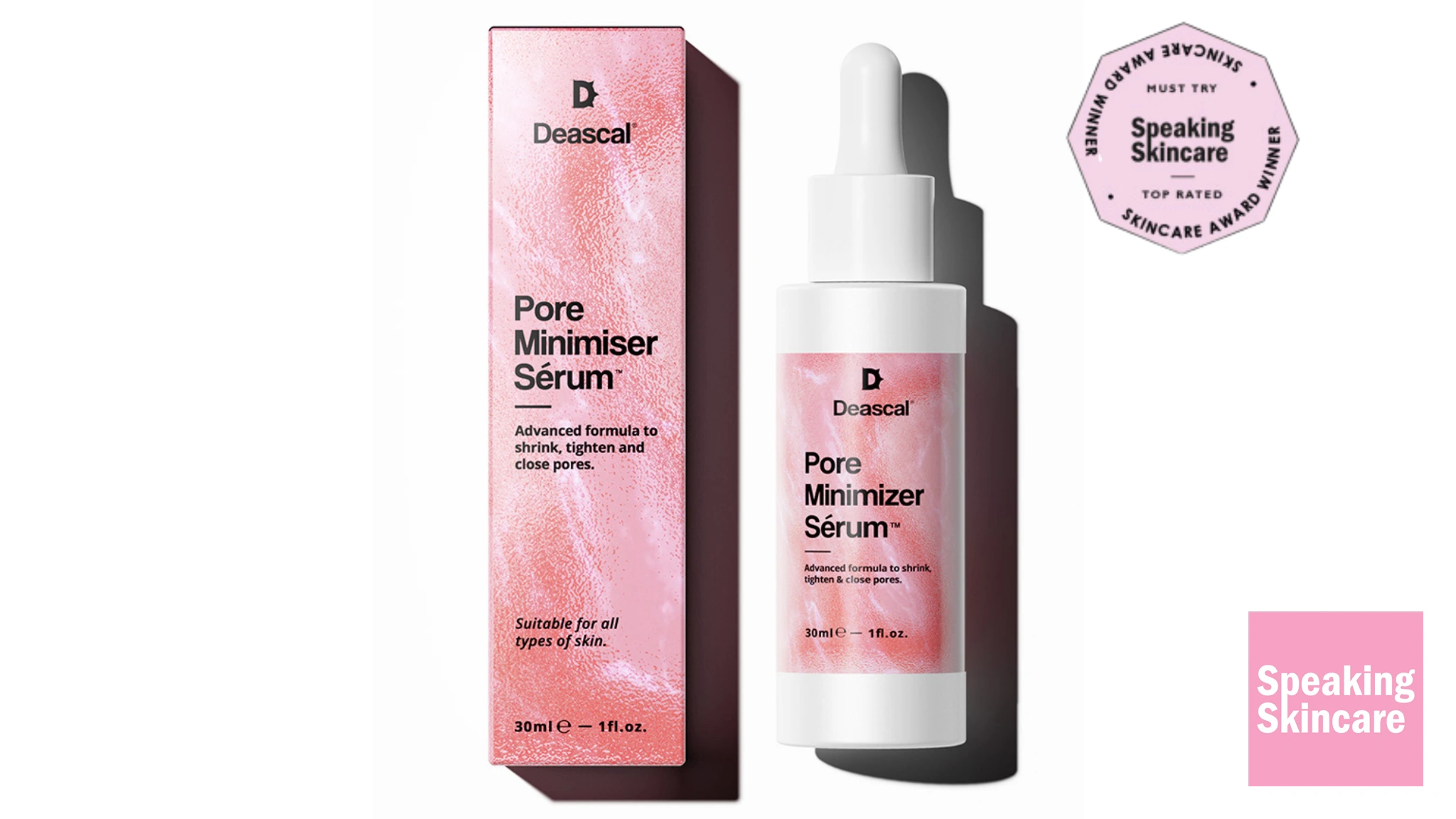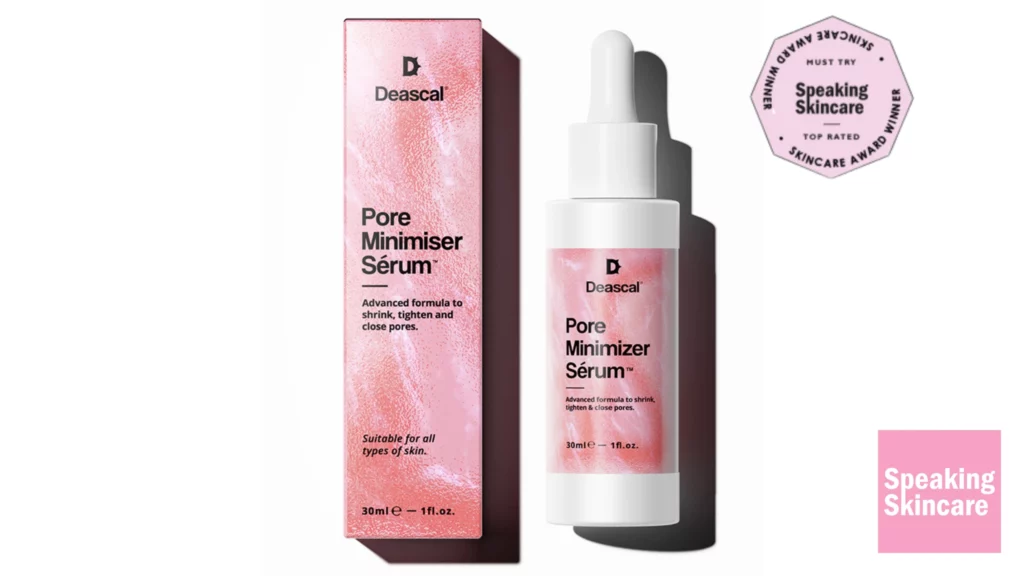 Putting It To The Test!
Embarking on this month-long journey with the Prebiotics & Niacinamide Pore Refining Booster was like stepping into a skincare adventure, filled with anticipation and high hopes. Integrating this booster into my daily regimen was a breeze – three pumps after cleansing and toning, followed by my usual skincare buddies, and voila! It seamlessly melted into my skin, leaving no trace but a subtle glow.
From the get-go, I noticed a certain 'je ne sais quoi' – a kind of liveliness to my complexion. It was as if my skin had been sipping on a kale smoothie while practicing mindfulness! I found myself peeking into mirrors more often, admiring the way my skin seemed to radiate a new-found luminosity.
One of my favorite moments was during a casual brunch with friends. Amidst bites of avocado toast and sips of almond milk lattes, a friend leaned in and whispered, "Blair, your skin is glowing! Spill, what's the secret?" Oh, the joy of sharing my recent rendezvous with this Allies of Skin masterpiece!
The real charm unfolded around the two-week mark. I began to observe a notable refinement in my pores, especially around the nose – my long-time trouble area. It was like each application was softly whispering to my pores, "Shh, it's time to relax."
Additionally, the brightening effect was undeniable. I found my skin embracing a more even tone, with a certain vibrancy that had me reaching for less concealer. The mornings greeted me with a reflection that seemed more awake, more rejuvenated – and who doesn't love a fresh morning face?
I must confess, though; there was a slight adjustment period. The texture was a bit different from what I was used to – not in a bad way, just different. It felt lighter, and I found myself wondering, "Is it really sinking in?" But the radiant results spoke volumes, reassuring me that, yes, the magic was indeed happening!
Being on the pricier side, I had my reservations, but watching my skin embrace the glow and exhibit a more refined texture had me thinking, "Well, perhaps some treasures are worth the splurge!" The minimalist, chic bottle sitting pretty on my vanity was a daily reminder that sometimes, elegance comes with efficacy.
In a nutshell, my month with this booster felt like a skincare ballet – graceful, enlightening, and oh-so-satisfying. The glow-up was real, and my pores seemed to be dancing to a tune of refinement and relaxation. It was a harmonious blend of self-care and skin love, all bottled up in a sleek, minimalist charm!
What About The Negatives?
While my journey with the Prebiotics & Niacinamide Pore Refining Booster was predominantly smooth sailing and glow-giving, there were a couple of minor hiccups along the way – nothing too dramatic, but worth mentioning.
Firstly, let's talk about the texture. While it's lightweight and sinks into the skin, it took me a while to get used to it. It's slightly different, a tad lighter than the serums I'm accustomed to. Initially, I found myself questioning whether it was absorbing and working its magic. However, the visible results did ease my concerns, and it became a trivial matter of personal preference.
Another point to touch upon is the price tag. Sitting at $80+, it is an investment. For those of us who love a beauty splurge, it might not be a deal-breaker, but I can see how it might make some skincare enthusiasts think twice. That said, considering the benefits and the visible changes I noticed in my complexion, it became easier to justify the splurge as a treat for my skin.
And lastly, a quick note on the ingredients list. While it's packed with an impressive lineup of skin-loving components, those with particularly sensitive skin might want to do a patch test, especially given the presence of several active ingredients. I experienced no irritation, but we all know, when it comes to skincare, it's always better to be safe than sorry!
Ingredients Breakdown
Diving into the pool of ingredients, let's uncover the superheroes that make this Prebiotics & Niacinamide Pore Refining Booster the potion of radiance it claims to be. Here are some key players and their roles in this skincare symphony:
Niacinamide (10%)

This vitamin B3 superstar is known for its multitasking abilities.
Works to visibly improve the appearance of enlarged pores.
Helps in evening out skin tone and tackling dullness.
Known for its anti-inflammatory properties, aiding in calming redness and soothing the skin.

Alpha-Glucan Oligosaccharide

A prebiotic that helps balance the skin's microbiome.
Works to protect and strengthen the skin's natural defense.
Aides in maintaining the skin's overall health and resilience.

Centella Asiatica Leaf Extract

Also known as Gotu Kola, it's a plant extract known for its soothing properties.
Helps in calming inflammation and is a boon for sensitive skin.
Supports collagen production, contributing to skin's firmness and elasticity.

Glycyrrhiza Glabra Root Extract (Licorice Root)

A skin brightening maestro, it helps in diminishing the appearance of dark spots and hyperpigmentation.
Comes with anti-inflammatory benefits, making it a friend for those with sensitive skin.
Works to improve skin radiance and overall tone.

Punica Granatum Extract (Pomegranate Extract)

Rich in antioxidants, it fights against free radicals and environmental damage.
Supports skin regeneration and helps in improving skin texture.
Contributes to maintaining skin's hydration and elasticity.

Lycium Barbarum Fruit Extract (Goji Berry)

Another antioxidant-rich ingredient, it protects the skin from oxidative stress.
Known for its hydrating properties, keeping the skin plump and happy.
Aides in improving skin tone and bringing about a youthful glow.

Hyaluronic Acid & Sodium Hyaluronate Crosspolymer-3

These hydration heroes work to keep the skin quenched and moisturized.
Known for their ability to hold 1000 times their weight in water.
Contribute to reducing the appearance of fine lines by plumping the skin.

Ubiquinone (Coenzyme Q10)

An antioxidant that helps defend the skin against environmental aggressors.
Supports the skin's natural collagen and elastin production.
Works to rejuvenate and revitalize tired, stressed skin.
These ingredients, among others, harmoniously work together in this formula, each bringing its unique tune to the composition, aiming to create a melody of radiant, refined, and resilient skin.
Final Score
And there we have it! After a month of embracing the Allies Of Skin Prebiotics & Niacinamide Pore Refining Booster in my regimen, I'm swayed by the glow and refinement it's lent to my skin. From the visible pore minimization to the boost of brightness, it truly felt like a pampering treat for my complexion.
Sure, the texture was a tiny bit unfamiliar initially, and the price tag leans towards the higher end, but the results spoke volumes, making these aspects seem like minor footnotes in an otherwise glowing chapter. And, not to forget, a little patch test might be your friend if your skin tends to be on the sensitive side.
Gracing it with an 8.5/10, I believe this Booster is a commendable addition for those looking to invest in their skin's radiance and health. It's a symphony of ingredients that plays well to the tune of refined, brighter-looking skin.
If you're keen on introducing this little gem to your skincare routine, you can find it at Allies Of Skin's website and select skincare retailers, both online and in stores worldwide. Here's to stepping into a world of refined pores and radiant glows!