Have you ever found yourself wandering down the skincare aisle, utterly baffled by the endless array of cleansers? Rows upon rows of bottles, each promising radiant, clear skin, yet leaving you more confused than when you started. I've been there, trust me!
Today, I'm diving deep into a product that's been the talk of the town lately: the Daily Face Cleanser by Deascal. As someone who's always on the hunt for that perfect skincare gem, I was intrigued to see if this cleanser lived up to its hype. In this review, I'll share my personal journey with the Daily Face Cleanser, my firsthand experiences, and all the juicy details about its formula.
Speaking of personal journeys, my skin has always been a bit of a drama queen – sensitive and picky. Finding a cleanser that doesn't irritate or strip away essential moisture has been a challenge. Enter the Daily Face Cleanser. Could this be the soothing solution I've been searching for?
Now, I must admit, I've had a bit of a love affair with Deascal's products in the past. Their commitment to quality has never disappointed me, so you can imagine the excitement I felt when I got my hands on their popular cleanser.
So without further ado, let's break this beauty down!
Oh! If you want to grab a bottle of Deascal's Daily Face Cleanser after reading this review, you can use our exclusive discount code SpeakingSkincare10 to get 10% off any purchase from Deascal's website. Pretty neat, huh!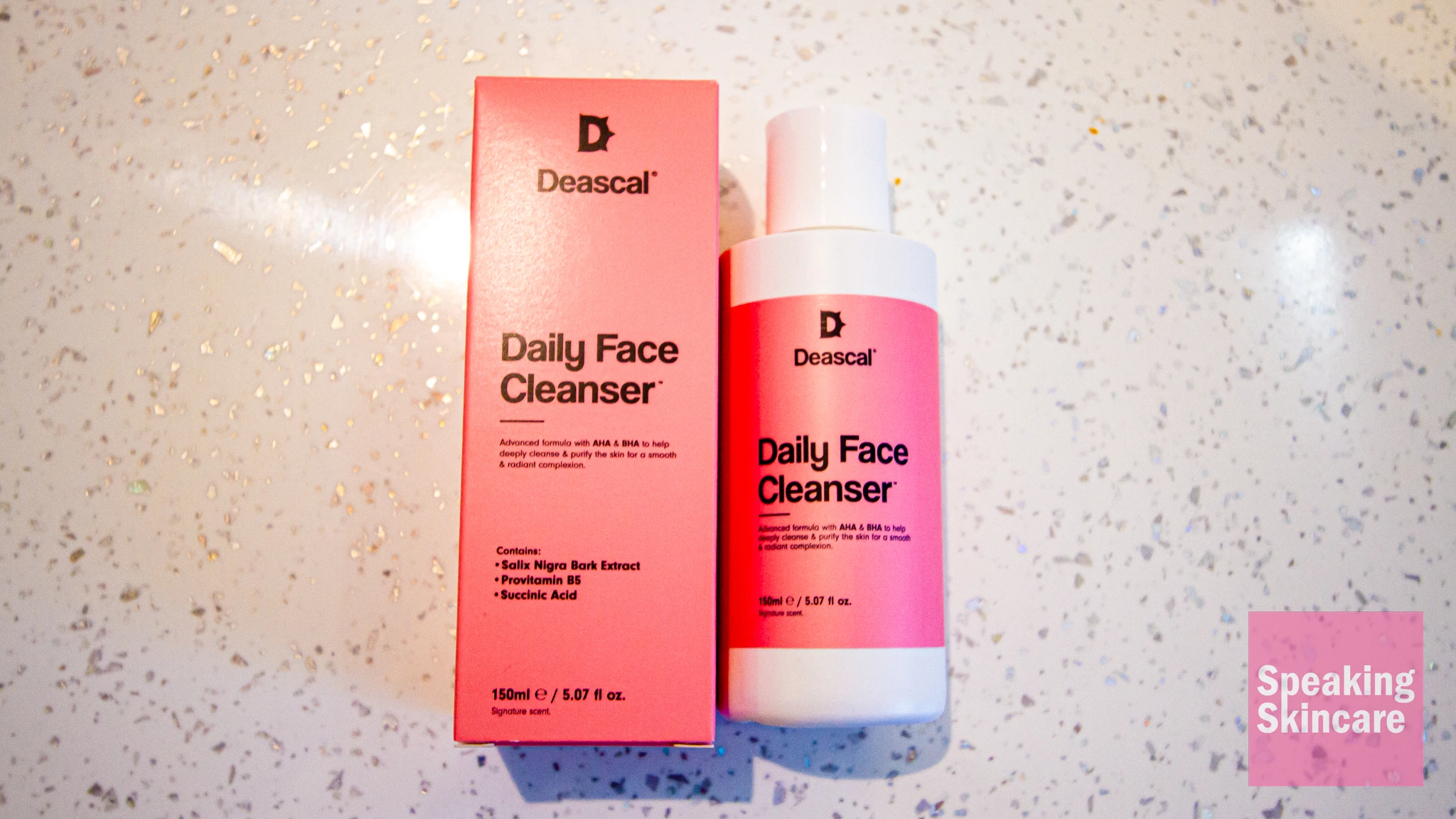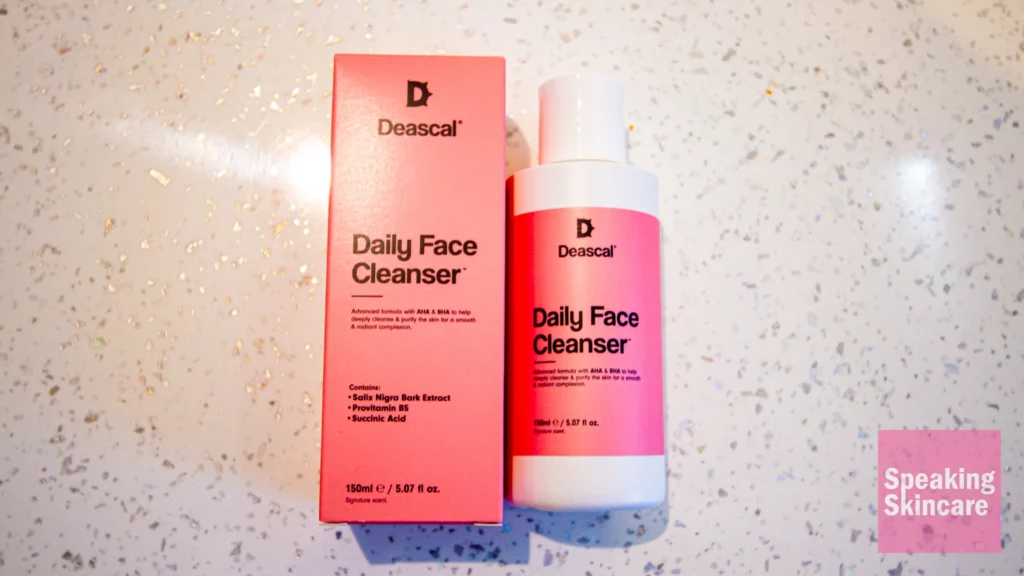 Here's What You Need To Know About Deascal's Daily Face Cleanser
Let's get into the heart of the matter: the Daily Face Cleanser by Deascal. This isn't just any cleanser; it's a concoction designed to deeply cleanse, gently exfoliate, and bring out your natural glow. As someone who's juggled between cleansers that were either too harsh or too meek, finding this balance is like striking gold.
Where does this magic happen, you ask? Primarily on your face, but don't hesitate to extend its reach to your neck – an area we often overlook. Its gentle nature makes it perfect for the delicate skin of these areas.
Now, for my fellow animal lovers and ethical beauty enthusiasts, you'll be happy to know that Deascal stands firm in their cruelty-free ethos. No furry friends were harmed in the making of this cleanser, which is always a big tick in my book.
Regular usage is key with skincare, and with a 150ml bottle, the Daily Face Cleanser is set to last. Using a small amount daily, I found it goes a long way, making it both effective and economical. You could easily get 2-3 months of quality usage from one bottle, which is pretty incredible.
Who's it for, you might wonder? I'd say it's a versatile player suitable for a variety of skin types. However, if you have extremely sensitive skin, a patch test might be prudent – better safe than sorry! It's ideal for those seeking a daily cleanser that can handle the delicate balancing act of thorough cleansing without over-drying.
Deascal is not a new name in the skincare game. Their reputation precedes them, and for good reason. Their products come highly recommended not just by skincare enthusiasts but also by friends who know their way around a good beauty routine.
As for the star players in this cleanser, we're talking about a mix of Ammonium Lauryl Sulfate, Cocamidopropyl Betaine, and more. Don't worry, I'll delve deeper into these ingredients later on. But just know, they are the secret behind that fresh, glowing complexion post-cleanse.
Does Deascal's Daily Face Cleanser Work? My Hands-On Trial!
Embarking on my journey with the Daily Face Cleanser, I was filled with a blend of curiosity and excitement. Having been let down by countless cleansers in the past, I wondered, "Could this be the one?" So, with a spirit of adventure, I welcomed it into my daily skincare ritual.
Every evening became a little spa moment. After dampening my face with warm water, I'd apply a small dollop of the cleanser – a little goes a long way. Its unique texture, neither too creamy nor too gel-like, felt intriguingly luxurious. As I massaged it into my skin in gentle, circular motions, it lathered into a soft, rich foam that felt like a gentle hug for my face. Rinsing it off, I'd catch myself in the mirror, patting my face dry, and couldn't help but notice the immediate freshness and subtle glow.
Within just a week, the compliments started rolling in. "Your skin looks amazing, what's your secret?" became a common refrain among my friends. Even on video calls, colleagues would remark on how bright and clear my skin looked. It wasn't just the external validation though; when I touched my face, it felt smoother, more alive, and genuinely refreshed.
The real magic, however, unfolded over time. My skin, which usually swung unpredictably between dry and oily, found its happy medium. The gentle exfoliation from the AHA and BHA was doing its job splendidly, revealing a smoother, more radiant complexion day by day. Breakouts, which were part of my weekly woes, became a distant memory. It felt like this cleanser was not just cleansing but also nurturing my skin.
The long-term effects were just as impressive. My skin's texture became more even, the dry patches vanished, and there was this natural, healthy glow that I hadn't seen in years. It's as if the Daily Face Cleanser understood my skin's needs better than any product I'd tried before.
In summary, Deascal's Daily Face Cleanser has been a revelation in my skincare journey. It's transformed my daily cleansing routine into a moment of self-care and luxury. More than just a cleanser, it's become a trusted ally in my quest for healthy, glowing skin. The only regret? Not discovering it sooner!
How I Used The Daily Face Cleanser
The moment I held the Daily Face Cleanser in my hands, I knew I was in for a treat. The bottle's minimalist design, adorned with beautiful pastel colors, exuded a sense of elegance and simplicity. It felt like holding a little piece of art – a delightful addition to my bathroom shelf. And let me tell you, it's not just a cleanser; it's a statement piece that would make for a gorgeous gift on special occasions like birthdays or anniversaries.
Now, let's talk about the experience. When I first applied the pink-hued liquid to my skin, it was like a gentle caress. The texture was something to behold – it wasn't just another face wash; it was a sensory experience. As I massaged it onto my face, it transformed into a luscious lather that felt soothing and luxurious. It was like my skin was being pampered with each circular motion.
Regarding the amount, I found that a little went a long way. A penny-sized amount was enough to cover my entire face and neck. However, this can be subjective. Some might prefer a bit more, and that's perfectly fine. It's all about what feels right for your skin.
Drawing from my experience with a myriad of skincare products over the years, I'd recommend using the Daily Face Cleanser right at the start of your skincare routine. Its deep cleansing action paves the way for the products that follow, allowing serums and moisturizers to penetrate more effectively. Plus, the gentle exfoliation it provides ensures that your skin is perfectly prepped and primed for the rest of your skincare steps.
In essence, the Daily Face Cleanser is more than just a product; it's an experience that elevates your daily routine into a moment of self-care and indulgence. It's not just about cleansing; it's about rejuvenating your skin and soul alike.
Ingredient Deep-Dive!
When it comes to skincare, ingredients are the heart and soul of every product. Understanding what goes into your skincare is crucial, as it directly impacts the health and appearance of your skin. In this section, I'll be taking you through a deep dive into the ingredients of Deascal's Daily Face Cleanser, explaining what each component does and why it's beneficial.
Aqua (Water): The base of most skincare products, water is essential for providing hydration and creating a spreadable, easy-to-apply product.
Ammonium Lauryl Sulfate: This is a surfactant that helps cleanse the skin by allowing water to mix with oil and dirt so they can be rinsed away. Despite some concerns, in a well-formulated cleanser like this, it works effectively without stripping the skin.
Cocamidopropyl Betaine: Derived from coconut oil, this ingredient aids in cleansing and lathering, making the product feel luxurious on the skin. It's known for being gentle and effective, suitable for most skin types.
Coco-Glucoside: A mild cleansing agent that's great for sensitive skin. It helps to form that lovely lather and leaves the skin feeling soft and smooth.
PEG-120 Methyl Glucose Dioleate: A thickener that also helps in creating a stable and pleasing texture in the cleanser.
Polysorbate 20: This is an emulsifier that ensures the mix of oil-based and water-based ingredients blend well, providing a consistent and effective cleansing experience.
Glycerin: A hero ingredient for hydration, glycerin draws moisture from the air into the skin, keeping it hydrated and plump.
Phenoxyethanol: A common preservative used in cosmetics to ensure the product remains safe and effective during its shelf life.
Succinic Acid: This ingredient works as an exfoliant, gently helping to remove dead skin cells and revealing brighter, smoother skin underneath.
Sodium Chloride: Essentially salt, this ingredient is used to thicken the consistency of the cleanser.
Benzophenone-4: A sunscreen agent that protects the product (and your skin) from UV rays, which can cause ingredients to degrade and lose efficacy.
Parfum (Fragrance): Adds a pleasant scent to the product, enhancing the cleansing experience.
Salix Nigra (Willow) Bark Extract: A natural source of salicylic acid, this extract helps in gently exfoliating the skin and unclogging pores.
Sodium Hydroxide: Used to balance the pH of the product, ensuring it's gentle and non-irritating on the skin.
Panthenol: Also known as Pro-Vitamin B5, this ingredient is a skin protectant with anti-inflammatory properties. It helps the skin attract and retain moisture.
Benzoic Acid: A preservative that helps to prevent the growth of bacteria and fungi in the product.
Linalool, Hexyl Cinnamic Aldehyde: Fragrance components that give the product its unique and pleasant aroma.
Tocopherol: A form of Vitamin E, an antioxidant that helps protect the skin from environmental stressors.
CI 17200, CI 15985: These are colorants used to give the cleanser its beautiful pink hue.
After thoroughly analyzing the ingredients, I'm genuinely impressed by the thoughtful formulation of the Daily Face Cleanser. Deascal has managed to combine cleansing and hydrating agents with gentle exfoliants and skin soothers, creating a well-rounded, effective product suitable for a wide range of skin types.
My Final Thoughts – Would I Recommend It?
In a world brimming with endless choices of facial cleansers, the Daily Face Cleanser by Deascal is a product that genuinely stands out. I've always been eager to try it, considering the buzz it has created in the skincare community, and now I understand why.
After thoroughly testing it, I am delighted to give the Daily Face Cleanser a perfect 10/10. This rating is a testament to the remarkable results I witnessed – from the immediate refreshing sensation after each use to the long-term benefits for my skin. The cleanser's ability to strike a perfect balance between effective cleansing and gentle care is commendable.
Deascal's reputation in the skincare world is well-earned, and this product further solidifies their standing. Its formula, combined with the brand's commitment to quality, makes it a standout. Having tried numerous products over the years, I can confidently say that, in the realm of facial cleansers, the Daily Face Cleanser is a top contender.
My experience with this cleanser was nothing short of delightful. It was a joy to use, and the results were evident in the compliments I received. My skin felt rejuvenated, looked healthier, and had a natural glow I hadn't seen in a long time. Would I recommend it to the readers of Speaking Skincare? Absolutely, without a doubt! I believe it could be a star in many skincare routines. Its standout ingredients, particularly the gentle exfoliants and hydrating agents, left a hugely positive impression on me.
Before you consider adding it to your skincare arsenal, it's important to reflect on what your skin needs. The Daily Face Cleanser is a fantastic choice for those seeking a product that offers deep cleansing without compromising on skin's natural moisture.
For those interested in giving it a try, the Daily Face Cleanser is available at Deascal's official website and various other select skincare retailers, both online and in stores worldwide. Also, don't forget to use our exclusive discount code SpeakingSkincare10 for 10% off!
Embark on your journey with this cleanser, and who knows, it might just be the skincare companion you've been looking for!